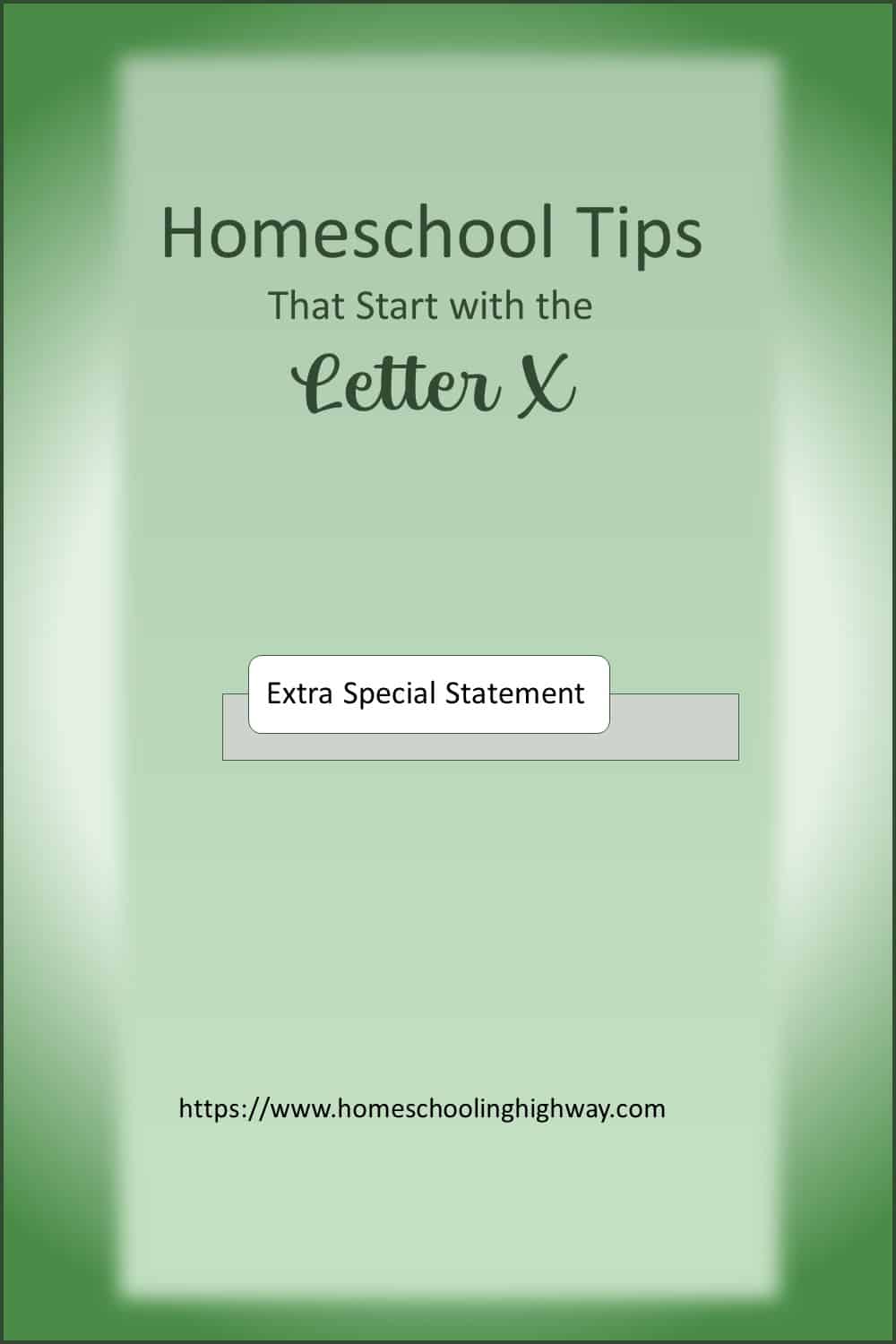 Let's EXAMINE this topic of the Letter X for homeschooling tips.
First of all, it's ok to use other people's EXAMPLES as your own. I mean how will we as homeschoolers know what to do, unless we at least see a tiny EXCERPT from someone else?
With a small EXPLANATION, any one of our homeschooling days can turn into something EXHILARATING.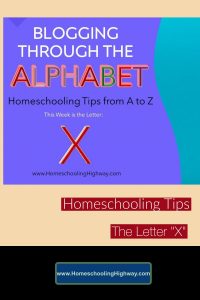 There are a few EXCEPTIONS though, like when your child wants to give you a ton of EXCUSES for why something can't be done. Don't let that be EXCRUCIATING.
Try EXPLAINING the lesson and EXPRESS the importance and the EXTRA EXPANSE of knowledge that they will obtain.
They might be filled with so much EXUBERANCE for their EXTRAVAGANT amount of knowledge, that they may want to EXPRESS their learning by means of an EXHIBIT!
Don't fret over possible EXPENSES. If an EXHIBIT doesn't work out, just try a simple EXAM. There is more than one way that EXISTS to EXPRESS knowledge.
While homeschooling can be quite EXHAUSTIVE at times, most of the time it is EXTREMELY EXCEPTIONAL.
And when your child is EXITING the twelfth grade, you will look back on the EXPANSE of memories that were made, and you may wonder where the time went. 🙂
If you missed any of last weeks posts from other great homeschool bloggers, just click on the article title that you would like to read.
W is for World: Lego ABC's from Desiree at Our Homeschool Notebook
Writing Cursive from Chareen at Every Bed of Roses
Winter Nature Study from Chareen at Every Bed of Roses
Whitacre & Wilson: Composer ABC's from Lori at At Home: Where Life Happens
W is for Wingspan: A Board Game about Birds from Desiree at Our Homeschool Notebook
If you would like to read more Homeschooling Tips from A to Z, just click on the alphabet letter below.
Homeschool Tips – A
Homeschool Tips – B
Homeschool Tips – C
Homeschool Tips – D
Homeschool Tips – E
Homeschool Tips – F
Homeschool Tips – G
Homeschool Tips – H
Homeschool Tips – I
Homeschool Tips – J
Homeschool Tips – K
Homeschool Tips – L
Homeschool Tips – M
Homeschool Tips – N
Homeschool Tips – O
Homeschool Tips – P
Homeschool Tips – Q
Homeschool Tips – R
Homeschool Tips – S
Homeschool Tips – T
Homeschool Tips – U
Homeschool Tips – V
Homeschool Tips – W
Homeschool Tips – X
Homeschool Tips – Y
Homeschool Tips – Z