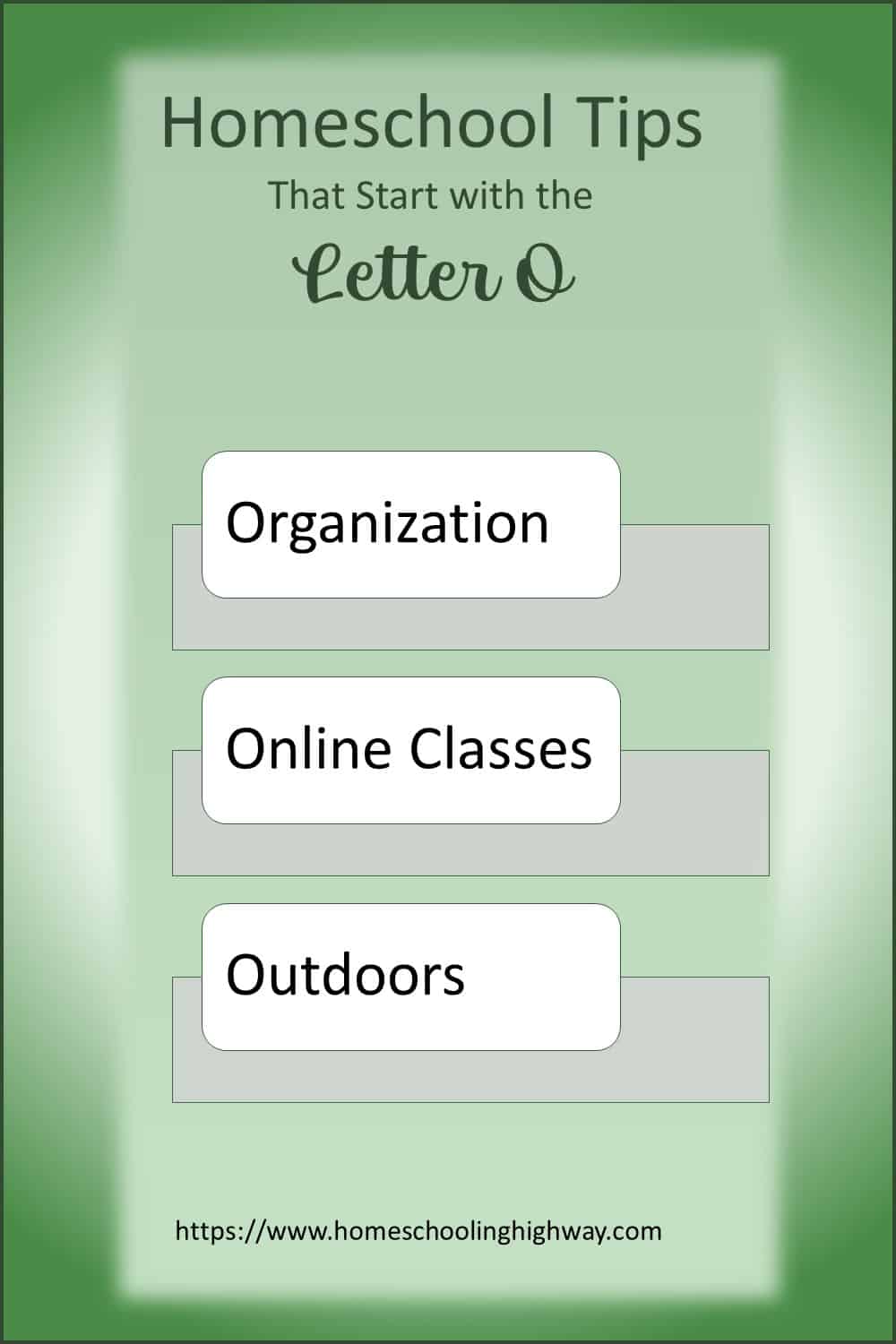 Hi Friend,
Welcome back to this week's Homeschooling Tips that Begin with the Letter "O".
Homeschooling Tip #1: Organization
I've always enjoyed having all of my "ducks in a row". Being organized just helps my head stay clear. The house may not be perfectly clean, but I do like it organized!
What does a new homeschooling family need to know about organization? Well, in my Homeschool Tips – L post, we discussed how to organize your home library, that's always helpful, especially if you love books.
There's also other things that you may want to keep organized.
Art/craft supplies
Math manipulatives
Science experiment supplies
Timeline pictures/labels
Office/school supplies
Device charging cords
Flash cards
Bulletin board supplies
Educational posters/visuals/charts/maps
Wall space
Daily schedule
Mom's planner
Lesson plans
Field trip information
Book lists
Homeschool area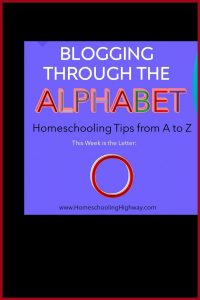 How do you keep it all organized, you ask?
Well, I can't go into each topic individually in this post, but I will give you a list of common items that I have found helpful to use.
Bookshelves
3-ring binders, assorted sizes and colors
Colored school folders
Colored spiral notebooks
Notebook dividers
Sheet protectors
Post-it notes different colors, sizes, and shapes
Label machine
Cupboard or drawer space
Supply caddys
Clear storage boxes of all sizes
Clear storage bags of all sizes
Filing boxes
Colored file folders
Colored pencil boxes
If you've been following along with this series, then you know that I really like SchoolhouseTeachers.com, and so I am an affiliate for them.
SchoolhouseTeachers.com did not disappoint me with their supply of organizational helps, especially for parents.
Everyday Organization is a list of 116 tips that will get any parent on the correct path to organization.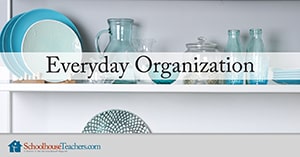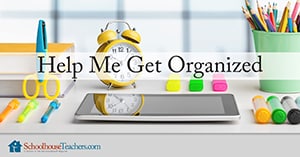 Help Me Get Organized is five downloadable ebooks full of information and practical tips for any parent.
Once you become a member of SchoolhouseTeachers.com, you have access to these five books.
Inexpensive Organization
Organize Your Homeschool
Dreams and Designs: Homemade Supplies to Compliment Your Homeschool
From Chaos to a Symphony of Routines
How I Homeschool: Twelve Families share Their Lifestyles of Learning
Homeschooling Tip #2: Online Classes
Online classes are becoming more and more popular. It's because you can access your classes from almost anywhere.
The publishers don't have to spend so much money to make hard copy books, and their online content can be interactive and engaging.
Do you feel like your child might be too much alone with homeschooling? With online classes, teachers can have group class time where the kids get to meet each other, and/or they could all sign in and watch the teacher do a demonstration and chat in the chatbox with other kids.
With the capabilities of sending class assignments to the teacher via email, some classes offer that the grading be done by the curriculum company. Some curriculum software has even been created to check the schoolwork while the child is actually doing the assignment.
It's pretty neat what our technology can do these days and the opportunities that our kids now have.
Homeschooling Tip #3: Outdoors
There's plenty of benefits, as we all know, of being outside; the fresh air, the exercise it promotes, the Vitamin D from the sun, etc., but the best benefit is because it is fun! It also creates wonderful memories and opportunities for picture taking.
You don't have to have any fancy supplies. A blanket would suffice, if that's all you have.
If you have a picnic table or some other outdoor table and chairs, that's great too. Lawn chairs, hammock or even a swing is great.
A word of caution though, it's very easy to get distracted, so you'll want to know ahead of time what you want to get done, while you're outside.
Outdoor Homeschool Ideas
One of the most popular homeschooling reasons to do school outside, is to do a nature journal. Chareen from Every Bed of Roses has two different posts about nature journaling that you should have a look at. (The links are at the end of this post.)
Scavenger hunts are a great way to learn things outside. Here is a free, printable outdoor scavenger hunt that has the children looking up Bible verses to identify the item that they need to find.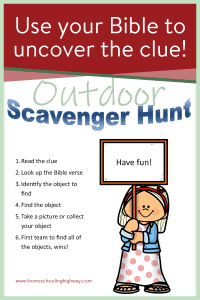 Obstacle courses are also educational, practice creating, measuring, and building the coolest course around. It doesn't have to be for people, it could be for a well-loved pet to do!
Gardening provides plenty of learning while outside. It doesn't matter if it's vegetables, fruits, or even flowers, keeping notes on seed varieties, fertilizers, weather conditions and more is an excellent outdoor learning experience.
Camping. Does your child know how to prepare for a camping trip? How about the safety of a campfire? Have your child study the do's and dont's before going and they'll be well on their way to having a great time outdoors.
Life skills. Do you live around a lot of wild vegetation? You could always learn about the plants and the plant's parts that are edible or that could be used medicinally in some way.
Hunting is a good thing to learn too. Not just trying to catch a fish, but learning gun safety to shoot for your own food. Maybe shooting an animal is not your thing. How about animal trapping?
Local nature parks provide a wealth of knowledge that the staff just loves to share. In my area, they have a whole schedule of events and classes for kids to attend. They learn about animals, go on nature walks, identify trees, etc. There's plenty to look at and to do right around the corner.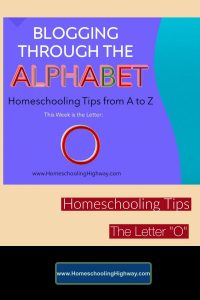 National parks is another great way to learn while being outside. It could be a park centered around a historical event or a park centered around a scientific or natural phenomenon.
Last but not least is your own backyard. Take a magnifying glass, clipboard, paper and pencil, and choose one square foot of your backyard. Start at the top where the grass is, and identify it. Then work your way around the square, very slowly, and see what you find. Once you're done with your observations above ground, maybe you could dig a little bit and see what's under the soil.
Have a microscope? Is there any microscopic activity going on inside the dirt? Any little critters that you didn't see with your naked eye? It's a real world of wonder out there, even in your own backyard.
Read a book. Remember that blanket, lawn chair or picnic table that you have outside? Getting comfy and reading a school book, makes it even more fun.
Writing assignments. The outdoors can give us all sort of inspiration for writing assignments. Start with some of your senses. What do you hear, see, or touch? How are you feeling at the moment, being outside?
Science experiments. There are some science experiments that you have to do outside. I'll never forget the experiment where my kids created smoke. I forget what materials were used, but it created so much smoke behind our house, that it stopped traffic. People thought our house was on fire. It was really cool to watch though, we had a great time.
Outdoor Classes from SchoolhouseTeachers.com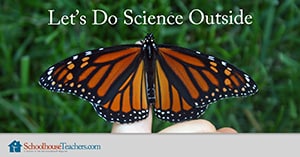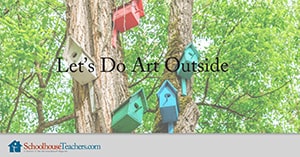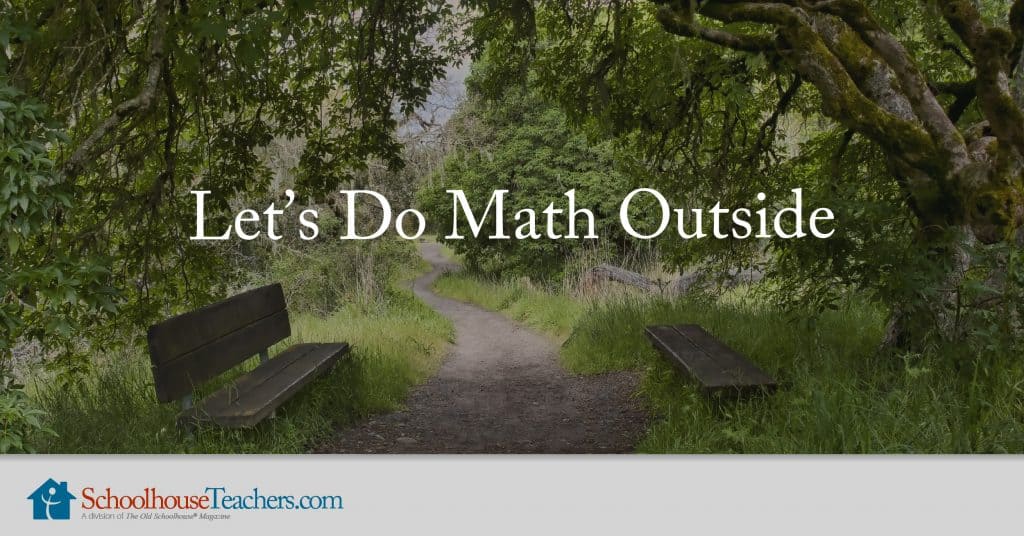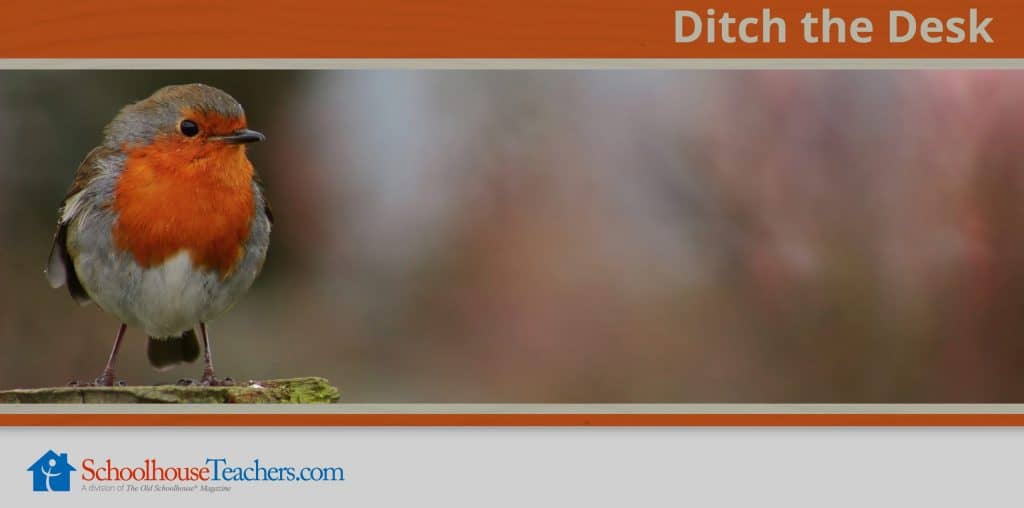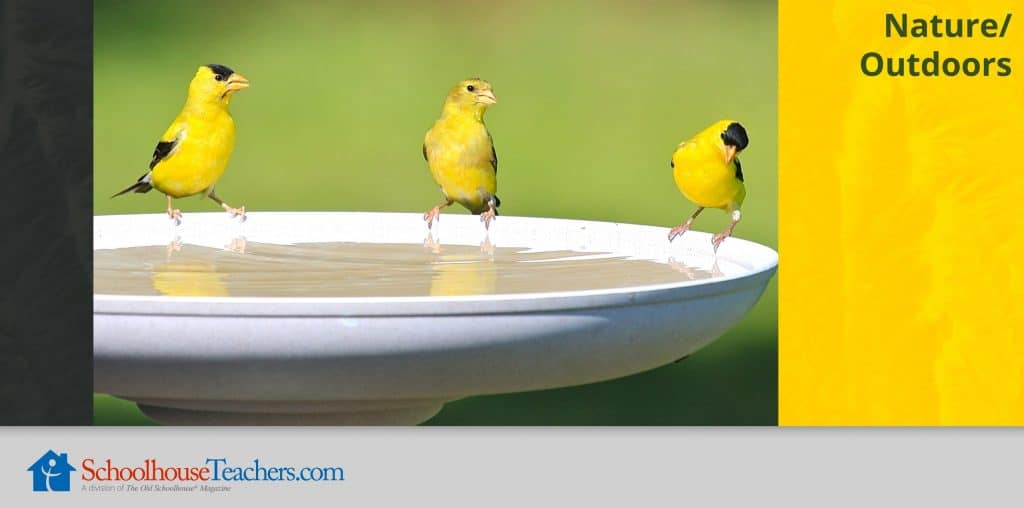 Can you think of any other homeschooling tips that begin with the letter "O"? If so, just let me know in the comment section below. I always love to hear from my readers.
Also, don't forget, that if you missed any of the letter "N" posts just click on the link below for the post that you would like to read. See you next week!
N is for Ninjago: Lego ABC's from Desiree at Our Homeschool Notebook
N is for Names from Kristen at A Mom's Quest to Teach
N is for Saying No from Annette at A Net in Time
No Longer Wanted from Annette at A Net in Time
Discovering the "N" Bunnies of the World from Annette at At Home Pets
Keeping a Nature Journal from Chareen at Every Bed of Roses
Nature Journaling Resources from Chareen at Every Bed of Roses
Netflix in Your Homeschool from Chareen at Every Bed of Roses
Nelson, Ron: Composer ABC's from Lori at At Home: Where Life Happens

If you would like to read more Homeschooling Tips from A to Z, just click on the alphabet letter below.