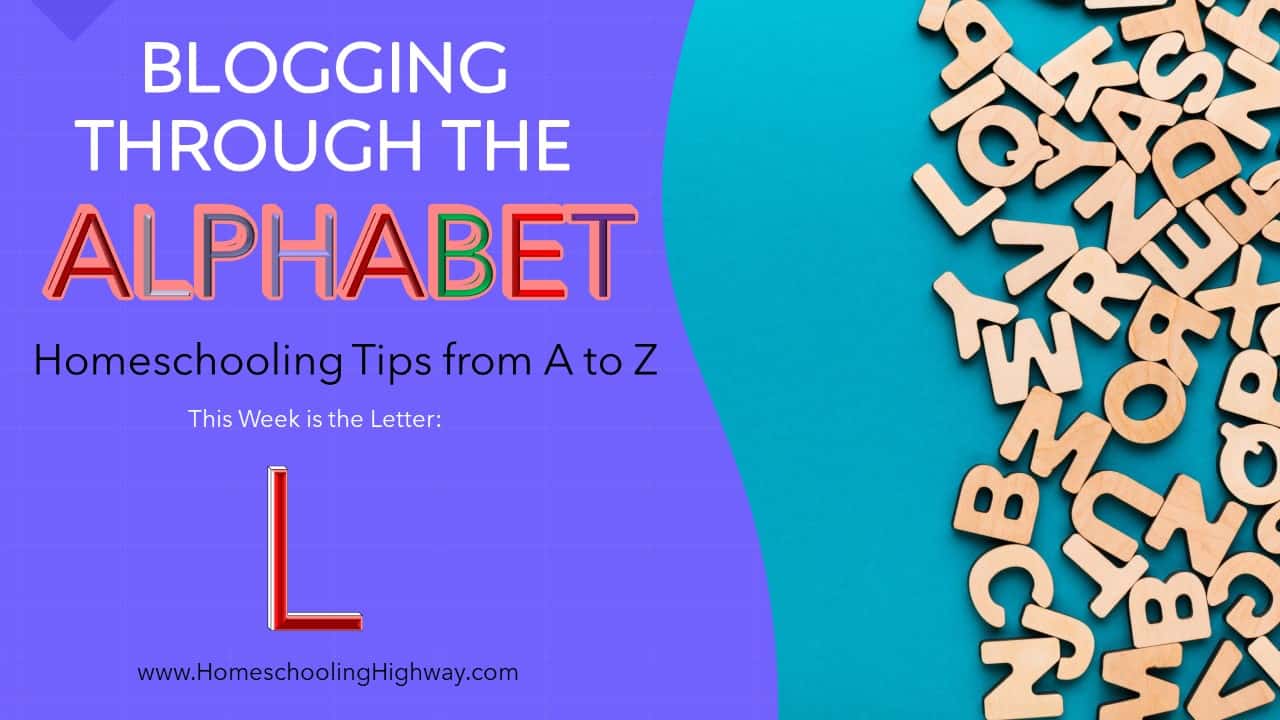 Homeschooling Tip #1: Library
I love books. and more books. and more books.
Actually, I've never met a homeschooling mom that doesn't like books.
And herein lies my problem. Where do I store them? How do I keep them organized so that I can find the one book that I'm looking for?
Well, no reason to fear dear, I have a plan.
And I'm willing to share it with you! I hope this gives you at least a starting point.
First of all, I have to say that I love the public library. In fact, I love it so much that I wanted (notice I made it past tense) to make my own library at home.
I mean, who feels like bundling all the kids up and heading to the public library on a cold, windy, rainy day! Not me.
So when my kids were young, I set out to find books to own at home on as many different topics as possible. You have to have all your bases covered and be ready for that spur of the moment topic that you need to read about, ya' know?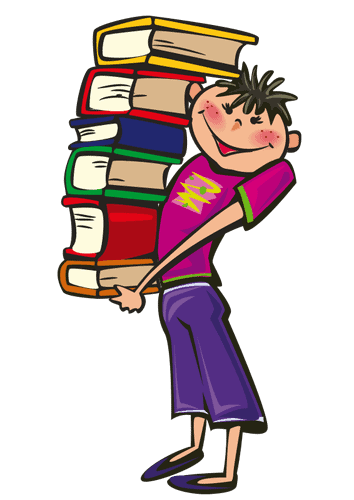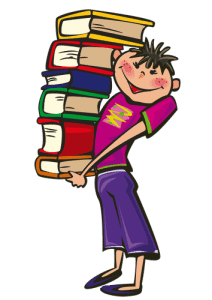 Where did I find all these books? Yard sales, library book sales, public book sales that were held at fire departments and thrift stores.
My family knows how much I love books, so they too would give the kids books for their birthdays or Christmas.
Very soon, I ran out of shelf space. My wonderful father made me more shelves, and I bought shelves of all sizes and colors at yard sales. And they too, filled up, and I quickly realized that I couldn't keep going like this. I had to admit that I had a problem.
A very addictive buying and collecting problem.
It had to stop. I had to think. Do I really NEED all these books? No, I do not need all these books.
Time to reevaluate things. What types of books do I like the most? What types of books do I use the most? What types of books do my kids enjoy and read the most?
Was it science topics on volcanos and gemstones? Nope. Time to get rid of them.
I realized that the internet has that same information for kids on it, and I don't have to store it!
So reducing my book count, I decided to get rid of 99% of my non-fiction science books.
I'm sure the thrift store was very happy to get this pile.
With my personal policy of paying no more than 50¢ for a used reference book, I wasn't out too much money.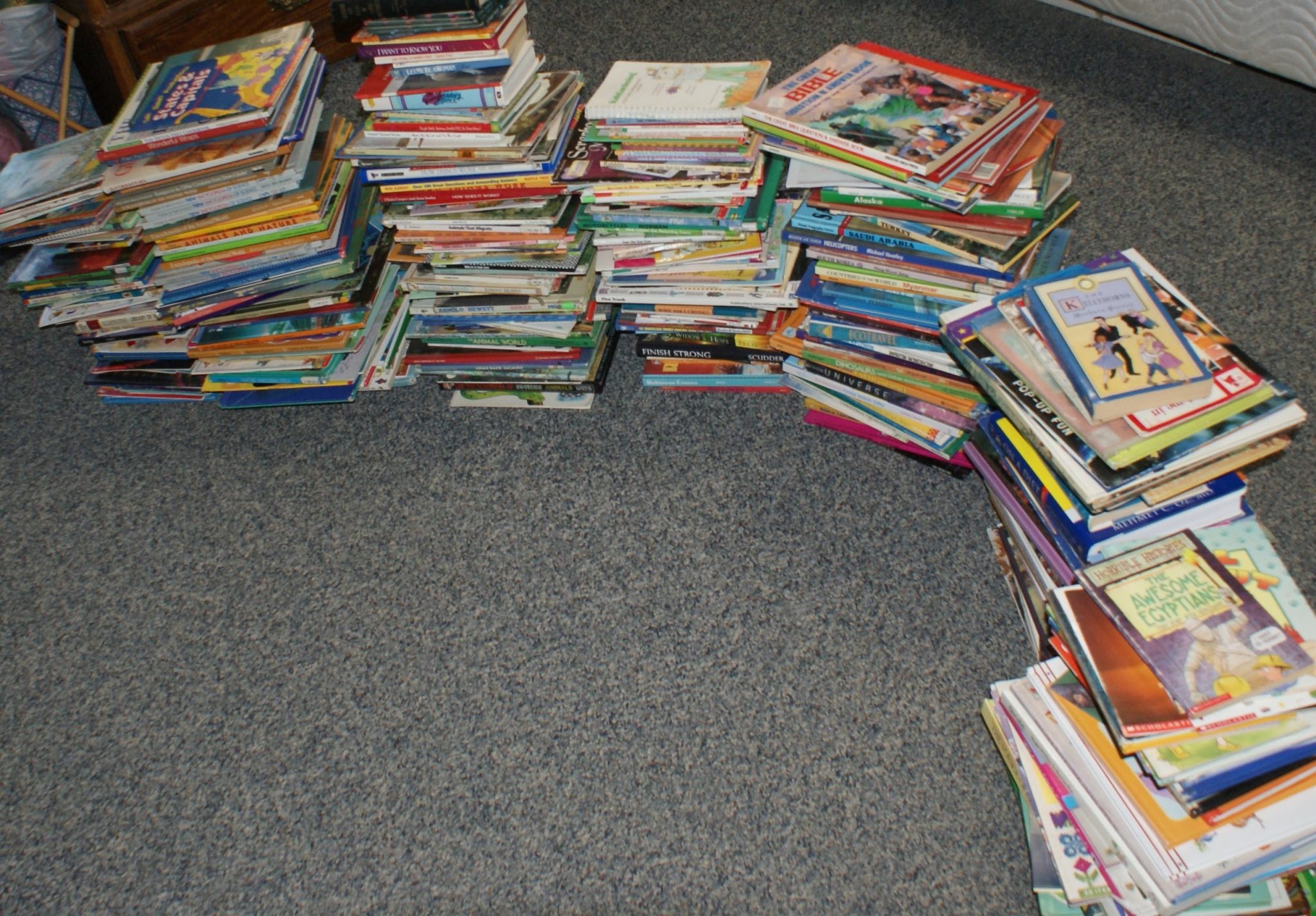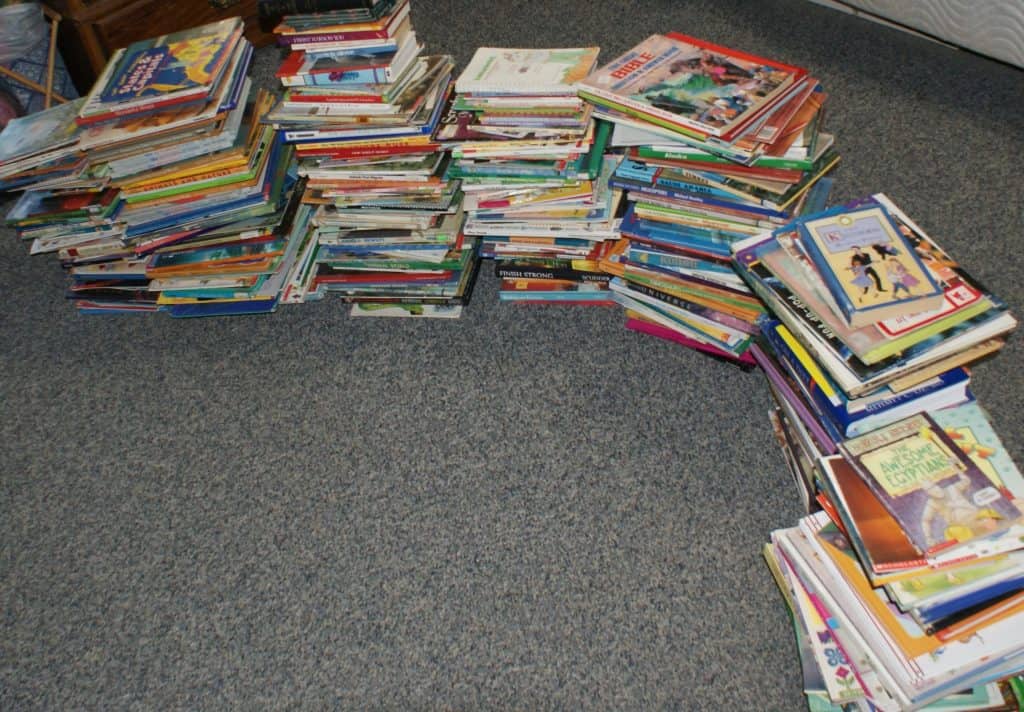 Now, what did I have left? I still had some reference books, stories, and books that I or my kids personally loved.
How to Organize Your Homeschool Library
Step One: Keep Your Book Series Together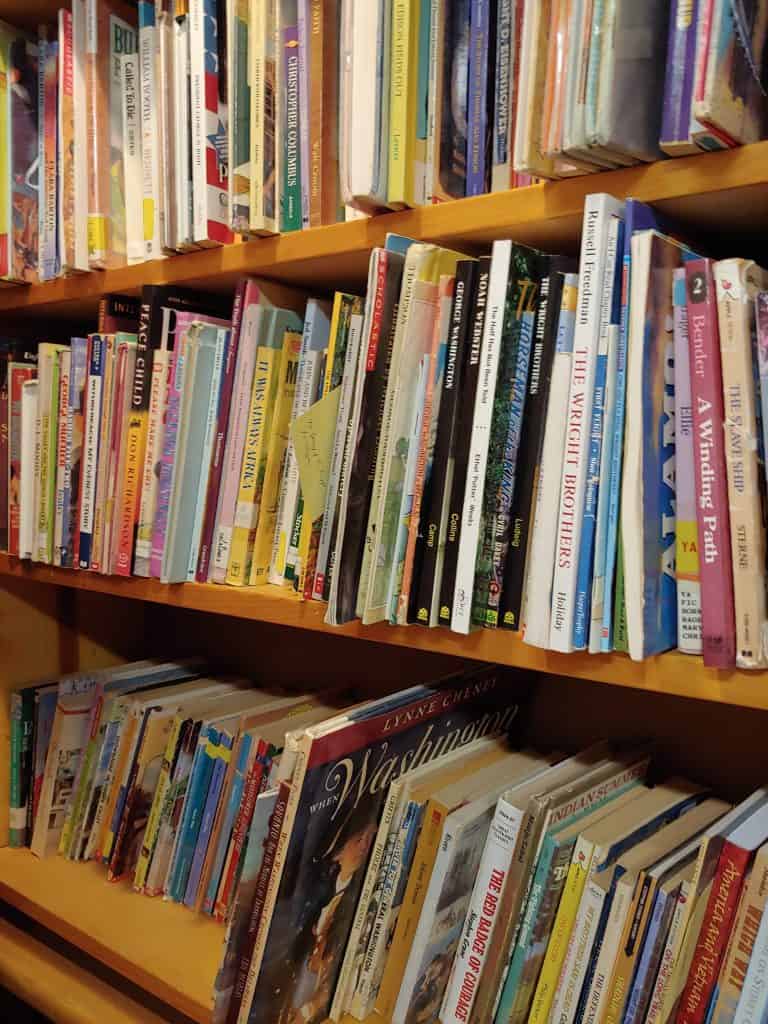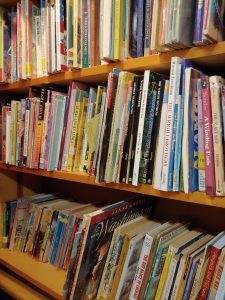 I started with my sets of books that were full series. I like to keep them together.
I don't know, call me weird, but I just like to see all the matching book spines of a series all together. For example, all my Youth With a Mission (YWAM) books are together.
I have to put a plug in here for YWAM, just because I love them so much. They're great, they really are.
Step Two: Organize Your Biographies
My biographies are grouped together by person and then arranged alphabetically on the shelf by last name.
When you are purchasing small chapter books or readers on a particular person, sometimes you'll get more than one book on that particular person.
That's ok. Just keep all the George Washington's together…. and Abraham Lincoln…… and Harriet Tubman…. you get the picture.
Step Three: Group your Events
What I did next was to take all my World War I, World War II, Underground Railroad, Westward Expansion, Alamo, The Great Depression, Pilgrims, etc. and put them into their little piles, then place them on the shelf in event order.
Don't worry if you have non-fiction books with your historical fiction stories, it's ok.
Step Four: Keeping it Organized
My next obstacle was to figure out a way to keep track of what books that I had (so that I didn't buy double), and also who – family, relative, another homeschool mom – borrowed a book and what that book was.
So let's enter the wonderful world of sticky notes. Whenever me or my kids take a book off the shelf, we put our name, date, and the book title on the sticky note, and then place that sticky note on a book that was beside it, so that the place is marked to be returned.
Voila' wonderful. that solution has worked wonders for us.
Next issue was my inventory. There was nothing worse for me then coming home from a book sale with at least one book that I already owned.
So I made my inventory notebook. I sat down and typed up every title I owned. I know…. it's real devotion….. but I had to do it.
Then I organized the titles on my paper exactly the way I had them on my shelves. Series. Biography. Event. Curriculum. etc. I even kept track of my personal novels and the kids' novels as well.
Do you know how many books the Boxcar Children series has in it? It's a ton. Of course, I could never remember the ones I had or didn't have, so since we owned a lot of them already, I wrote down the numbers we didn't have, and then crossed out the number after we bought it.
Everytime I went to a book sale or I went out yard saling, that notebook came along.
Many times I'd collect my pile of books and then sit down in the grass and look through my notebook, just to check.
It did save me some money, but it's more of just…..I don't know…. obsession, mental illness.?.?
As I've said, I love the library. I tried to teach my kids to love the library too.
I let them each get their own library card and they learned how to sign their book out. I signed out all the school topic books and they could get a couple of fun books on their own card.
We always printed our book receipts and kept them on the refrigerator.
At home, we had one basket that was designated for the borrowed library books and that was where they were kept unless they were in a child's hands.
It was a really nice system, when the books were kept there. There was a time or two when we had to go scrounging around for a book or two on the return day.
I kept all my public library trips to one day a week, and I utilized their system of putting books on hold.
Now that the kids are older, we don't go to the physical library anymore. We just get our books on Kindle or we listen to audiobooks.
Kind of sad but that's the way it is.
Homeschooling Tip # 2: Living Books
My favorite type of school books are living books.
What is a living book? For me, a living book is not just a book of dates and lists of information.
Rather , it's a story written in a way where the characters come alive. Sure, there's factual information in the story, but it's not a textbook format.
It's memorable.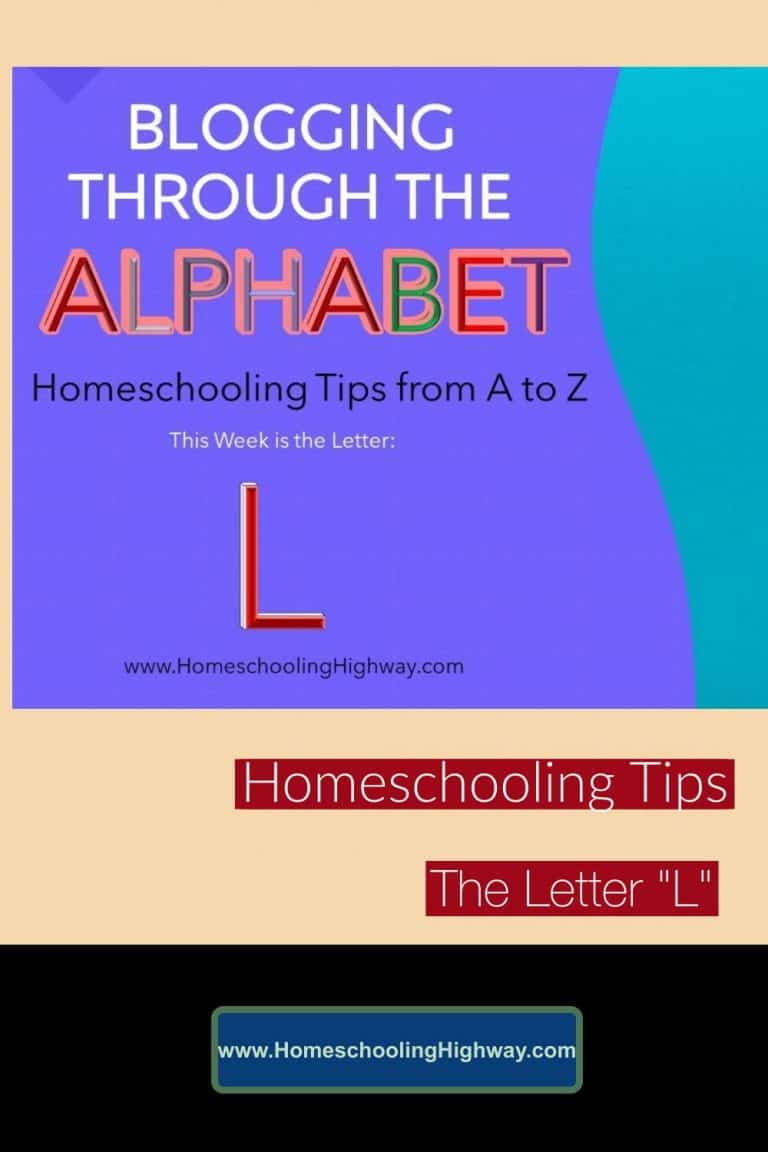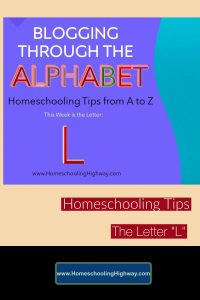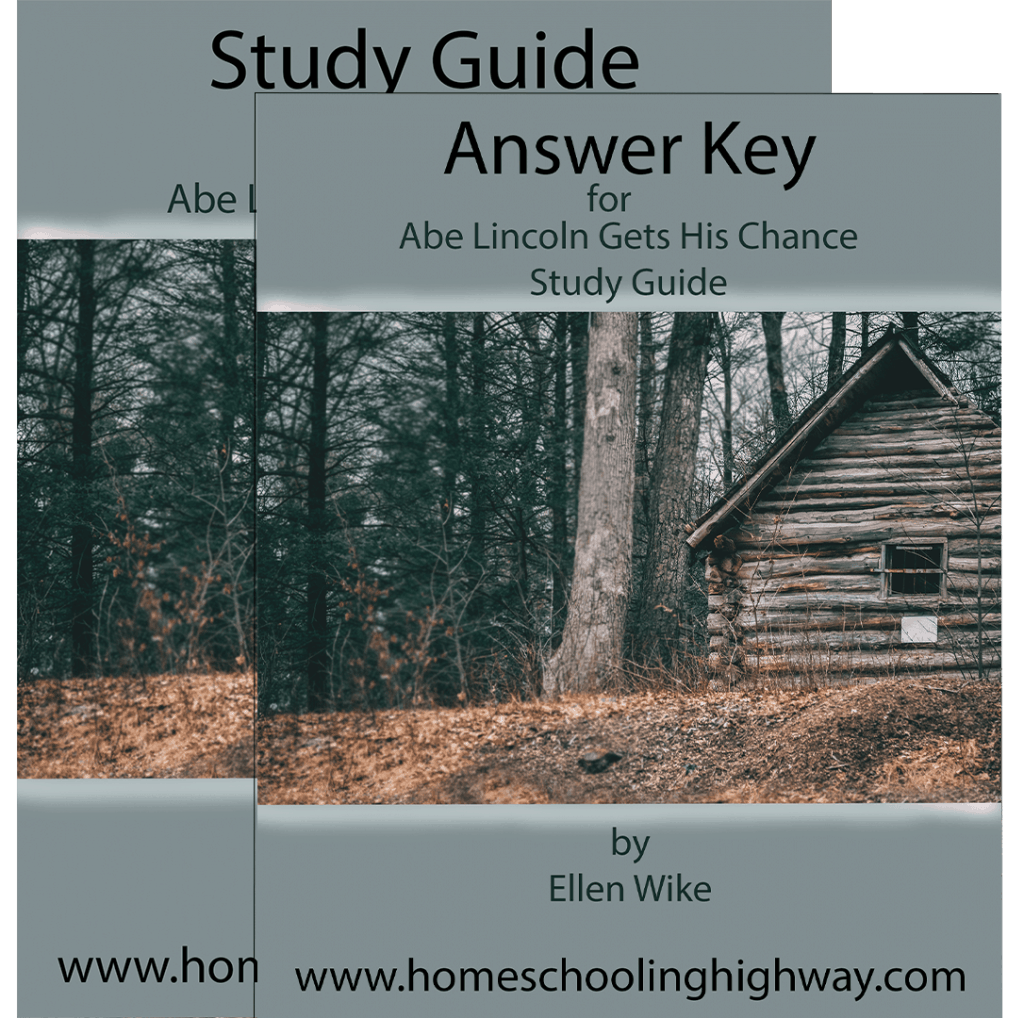 One of my favorite living books on Abraham Lincoln is the free kindle edition on Amazon. The book is called Abe Lincoln Gets His Chance.
I've created this study guide to go along with it that you can download and print for free.
For more information, just click Abe Lincoln Gets His Chance.
Homeschooling Tip #3: Literature Classes
What is Literature? In my opinion, if a book is considered "literature" it has stood the test of time. It has been enjoyed and talked about by many people. The book teaches of culture, experiences, knowledge, and growth.
Are "living books" considered literature? If I'm right on this, the modern books we love, that are written in the living book way, are not considered literature to our culture right now. Maybe some day it will. But time is the judge on that.
When we talk about literature classes, like the ones I have listed below, the teacher has already chosen a group of books that are related in some way, and that have been loved and learned from, by many people over the years.
These classes can be found at SchoolhouseTeachers.com. Click here to see my review of SchoolhouseTeachers.com and more information.
Homeschooling Tip #4: Lapbooking
What is Lapbooking? Lapbooking is a hands-on activity where the kids can use colored folded paper to draw or write information in a creative way.
Usually, there's colored paper envelopes, moveable tags, staggered paper stacks, and other types of fun paper projects to include in a manilla folder that the kids can decorate for the topic that the lapbook is about.
SchoolhouseTeachers.com has some classes that heavily include lapbooks for the kids to reinforce and share their knowledge.
Homeschooling Tip #5: Languages
If your child is interested in going to college after he graduates, it is a good idea to get at least two years of a foreign language class.
Here's what SchoolhouseTeachers.com has to offer.
Homeschooling Tip #6: Leadership
Studying Jesus' life example and looking at some well known fast food restaurants, this course teaches kids how to run a team of employees and be a great leader.
Homeschooling Tip #7: Language Arts
LightSail for Homeschoolers is a complete, online, Language Arts curriculum that we had the privilege to use and review.
This curriculum has thousands of digital books, audiobooks and more available to encourage your child to read more and have their reading skills improve.
LightSail for Homeschoolers also included grammar, vocabulary, spelling and fluency helps.
Just click on the colored words to read my review of LightSail for Homeschoolers Review.
Homeschooling Tip #8: Life Lessons
In my opinion, life lessons are just as important as school lessons, if not more.
Giving the kids a chance to make mistakes (and learn from them) is invaluable.
Also, with the kids being around us all of the time, they are seeing how we deal with the real world with real problems, real jobs, real people, etc. We can take the time to talk with the kids about why and how we react to certain people or situations and why we decide to do the things we do.
Don't ignore the life lessons.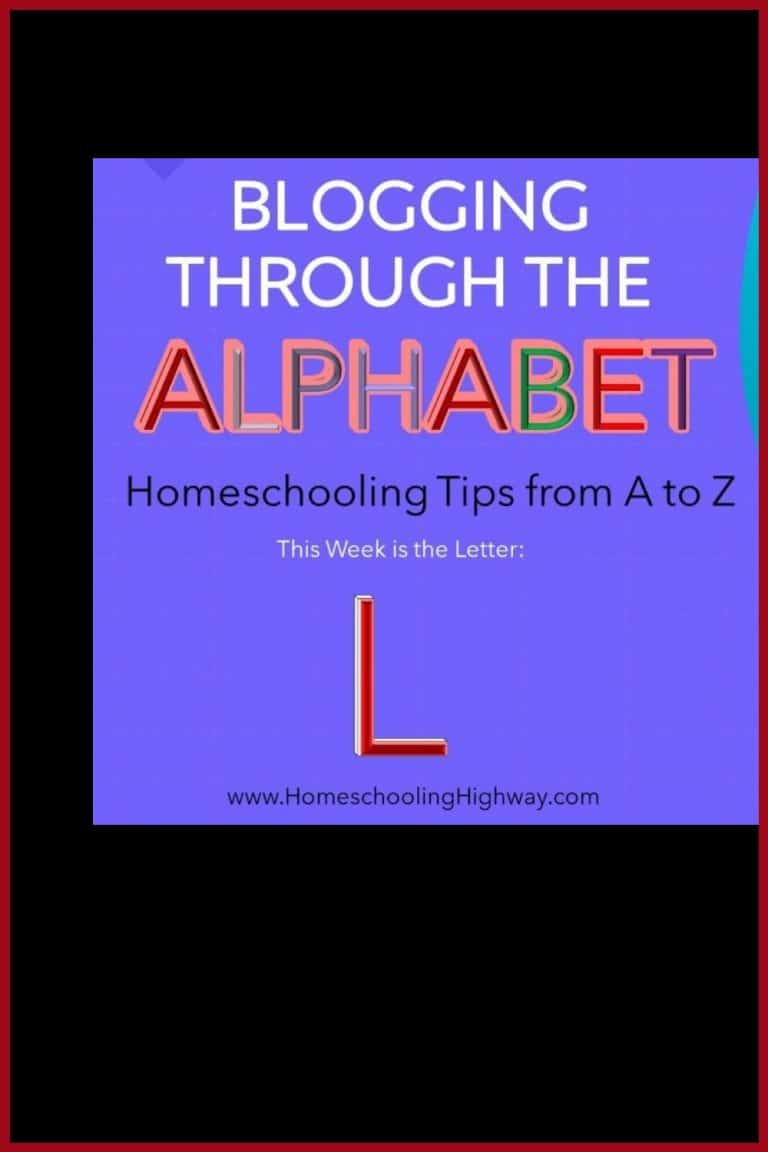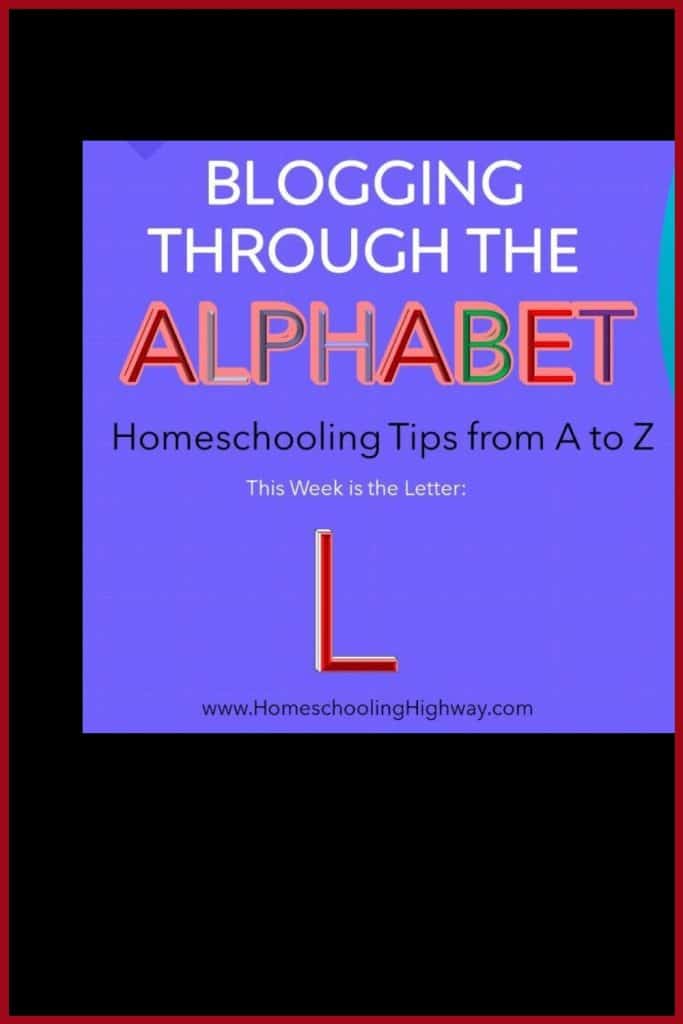 Homeschooling Tip #9: Learning Styles
I know there are multiple ways that a person can learn things. I am not an expert at them.
I do know though, that a mom knows best how her kids learn. With that knowledge, you can adapt your lessons the best way to foster that love of learning.
For more information about learning styles, please visit Learning Styles Online.
Homeschooling Tip #10: Legos
When I was growing up, I never dreamed that playing with Legos could be used as school.
It's amazing. There is a whole section of Lego Education on Lego's website.
Desiree has also been blogging through the alphabet with her Lego ideas. I'd encourage you to take a look.
Homeschooling Tip #11: Love and Laughter
You can buy or use all the courses and curriculum that you can find for your kids, but the best times are spent with love in the air and plenty of laughter mixed in.
Don't forget: A merry heart doeth good like a medicine. Proverbs 17:22
If you missed any of the Letter K posts, just click on the title that you missed and it will take you right there.
Can you think of any other homeschooling tips that start with the letter L? If so, just let me know in the comments.
If you would like to read more Homeschooling Tips from A to Z, just click on the alphabet letter below.