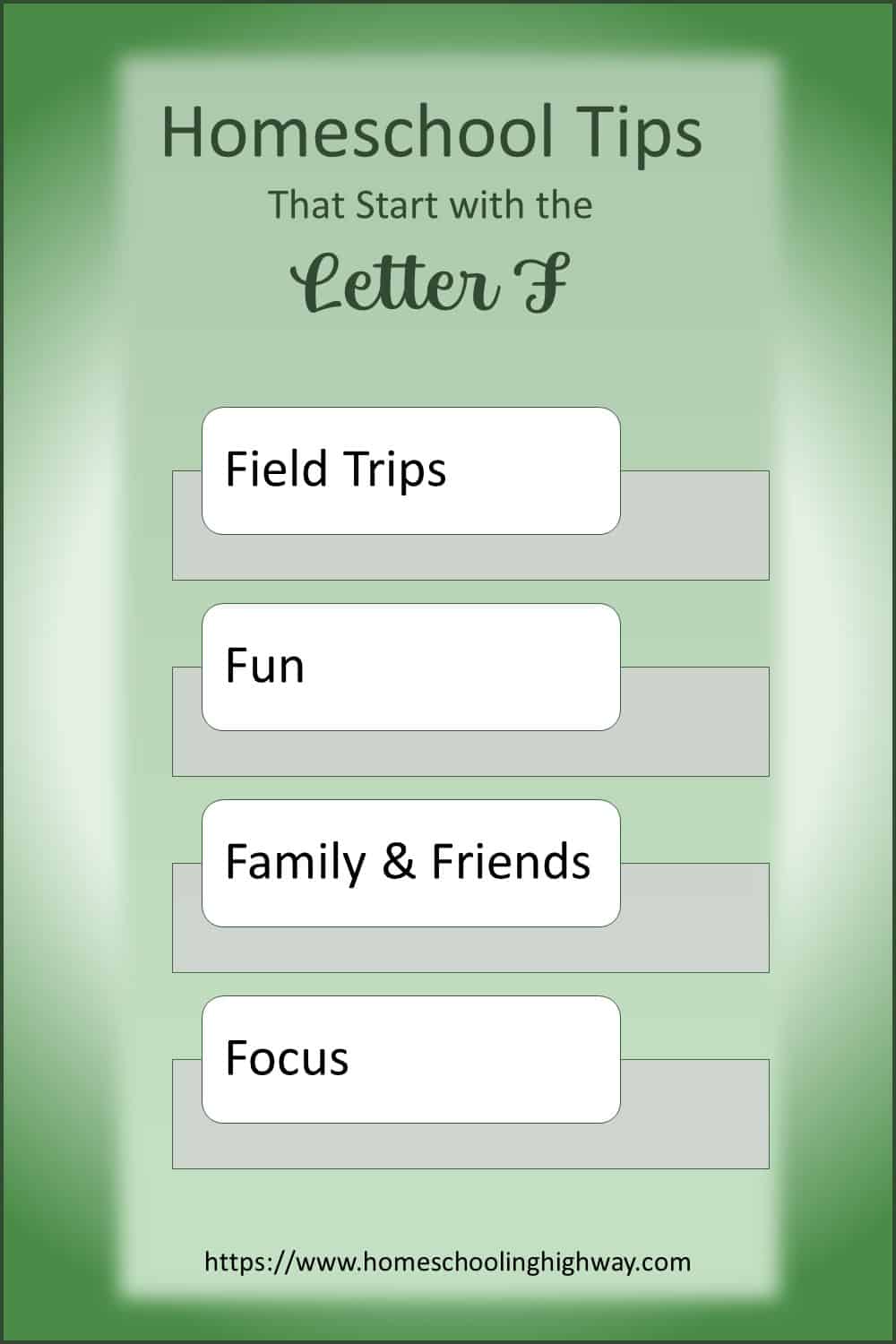 Hi Friend! This week all of our homeschool tips begin with the letter F.
Homeschool Tip #1: Field Trips
Field trips are a must if you homeschool, even if it's a trip right down the street.
Don't overlook the obvious places, like the errands that you run.
The grocery store can provide learning experiences that are beneficial for adulthood. A child's sense of direction, finding objects, comparing prices, trying new foods, trying and cooking new recipes, etc.

The library is also another great place. You can teach your child about each of the library sections, and how to find the books they want, or ones they have ordered online.
You can teach them how to check out their books and how/when to return them. This is a great place to learn responsibility. If they're old enough, get them their own library card.

The gas station may not be something special, but it is educational. Does your child know what to do if there is a fire at the gas station? Teach them to look for the emergency gas shut-off button at every gas station. Also, never smoke while pumping gas.

Public transportation is also good. Teach your kids how to keep their wallet/purse safe, and to be careful with strangers around.

Banks. Maybe you and your child can come up with some questions to ask the teller the next time you go. If they're not busy, maybe they'll show you something interesting in the bank.

Restaurants. If you have a restaurant that serves food from other countries, this is a great way to teach your kids to try new things. Restaurant outings are great to add to any country study that you may be doing.

Post Office. Where does that letter go, after you give it to the postmaster? Ask. Maybe they'll show you, or at least tell you.

Veterinarians, Animal shelters, etc. Possibly shadowing at these facilities for even one day would be educational and fun.

Medical Clinic. It's not fun going here when you're sick, but if you're just going for a tour, than it's not too bad. Meet the staff and be prepared to ask questions. They may even let you listen to your heartbeat with their stethoscope.

Jewelry store. This field trip is a sparkly one. Ask your jeweler to walk and explain the displays of jewelry. What is your child's favorite piece?

Hotel/Motel. Kids love to spend the night at a different location. The experience is so different from the normal that they're used to. Take the opportunity to teach them the correct ways to serve themselves from the breakfast area, how to use the elevator, hotel phone, and look at the fire escape plan. See if your child can follow the directions on the sheet.

Hardware stores. Tools, tools, tools. For some people this is just like heaven, but not for me. Give me a bookstore, craft store, or music store any day.

Greenhouse. Be prepared with questions, or maybe they'll let your shadow them for a day. How many different types of flowers are there?

Funeral Home. Yes, it's no place fun to go when the family is in mourning, but what is it like behind the scenes? Sometime when you have time, ask them, maybe they'll give you a tour.

Dentist. I know the dentist can be scary, but he/she doesn't mean to be. If you take a little time and get comfortable in the surroundings, there's plenty to see and learn. The dentist can explain lots of stuff!
To see some of the places that we've visited, just click on the tabs below.
Homeschool Tip #2: Fun
I know that getting out of the house for a field trip is fun, but you can have fun homeschooling even if you have a regular day at home doing school.
Enjoy your time together as a family making your memories. Laugh over the funny stories your kids write, the comedy drama that is performed, the recipe that doesn't come out right, and the science experiment that explodes or doesn't explode!
Games make learning fun too. Anytime you can add in a competition, it helps reinforce the material.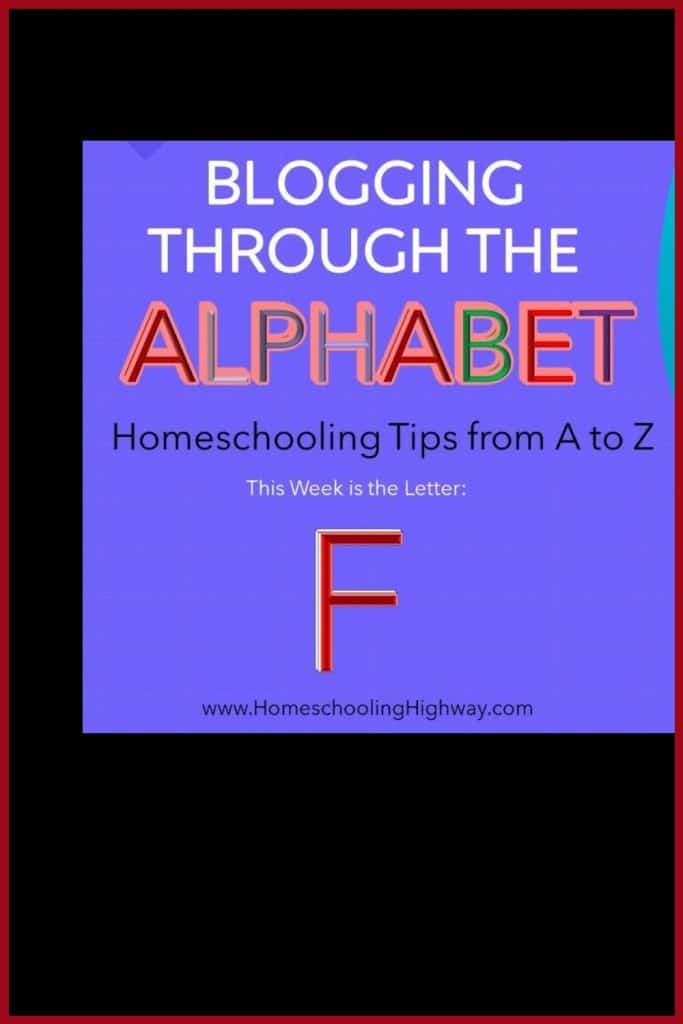 Homeschool Tip #3: Family and Friends
Family members and friends are great assets to have around when you homeschool. You'll want to use their talents, knowledge, occupations, and hobbies to your kids' advantage.
Family and friends also provide encouragement. This is especially true if you have other friends or family that also homeschool.
Family and friends provide that extra incentive for your child to do their very best. When your kids know that grandma is coming to read the story they wrote, they'll put in the extra effort to make it good.
Family history and genealogies can't be completed without some older family members. Interviews about life experiences make history come alive from a real perspective.
Homeschool Tip #4: Focus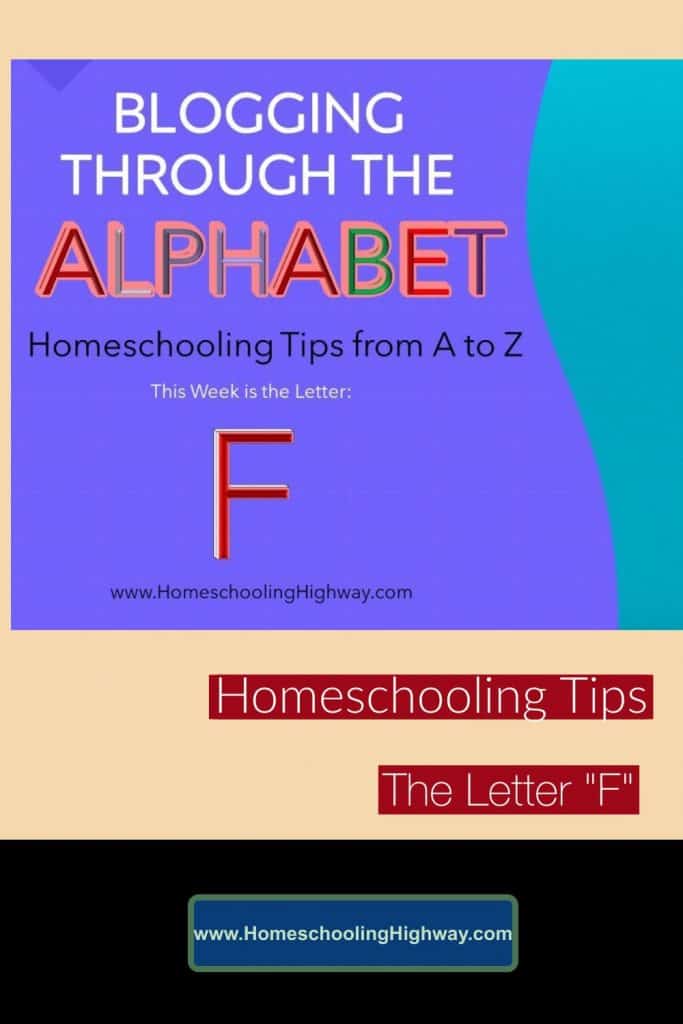 Homeschooling can be challenging, not just for you as the parent/teacher, but also for the children. Having multiple children of different ages in the house while you're trying to do your school work is hard.
Here's some focus tips that you may find helpful.
Put in earplugs
Run some background noise like a fan or white nois
Use a timer to encourage your child to concentrate and get his work done before the timer goes off.
Create a check off list of work that needs to be completed. There's satisfaction when you get to check something off of the list.
Try a different place or room in the house.
Different colors of papers, pens, and highlighters may provide enough different options that your child will do his work just to be able to use these different items.
Break up assignments into smaller tasks and then praise him for getting that completed, and then move onto the next small task.
Can you think of any other homeschooling tips that start with the letter F? If you can, just let me know in the comment section below.
If you'd like to read more from other homeschool mom bloggers, just click on the link:
I'll list last week's "E" posts below, just in case you missed them. They are really good.
Lego ABC's: E is for Easy, by Our Homeschool Notebook
Encouragement for Weary Homeschool Mothers, by Every Bed of Roses
E is for Elmira Prison, by A Mom's Quest to Teach
Discovering the "E" Rabbits of the World, by At Home Pets
E is for Edgewalk, by A Net in Time
Elgar – Composers ABC, by At Home: Where Life Happens
If you would like to read more Homeschooling Tips from A to Z, just click on the alphabet letter below.