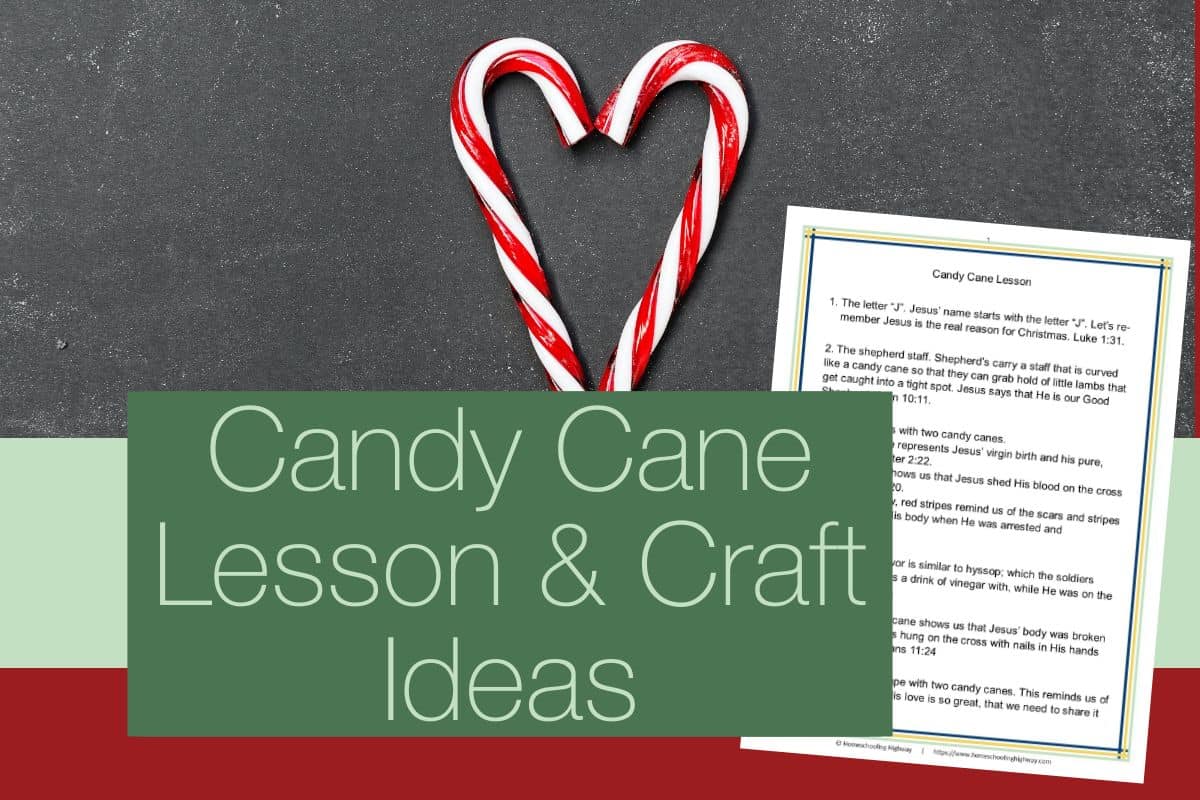 Candy Cane Lesson and Craft Ideas
Have you heard all the different things a candy cane represents?
One year at my church, we put together a child's Christmas program with the main element being large candy cane yard decorations.
Each child held their large candy cane a certain way and then recited their section. It was very informative.
Afterwards, each person in the audience received a homemade candy cane ornament. I have a list of websites after the lesson information so that you can choose the perfect ornament.
Also, if you would like a printable copy of the lesson information please feel free to click here.
The Candy Cane as the Letter "J"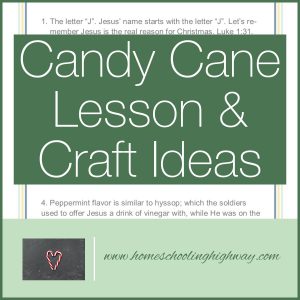 When you hold your candy cane upside down, it forms the letter "J" of our alphabet. This reminds your child that Jesus is the real reason for Christmas, as His name starts with the letter "J".
Luke 1:31 says, "And behold, thou shalt conceive in thy womb, and bring forth a son, and shalt call His name Jesus.
The Candy Cane as a Shepherd's Hook
When you turn your candy cane right side up it reminds us that it looks like a shepherd's staff or a shepherd's crook.
Jesus is our Shepherd and we are His flock. A sheep follows his own shepherd, knows his voice, trusts him, and knows that he is totally safe with him. The sheep will follow no other shepherd than their own. In the same way, if we belong to Jesus, we are to follow him.
John 10:11 says, "I am the good Shepherd; the good Shepherd giveth his life for the sheep."
Two Candy Canes Make a Cross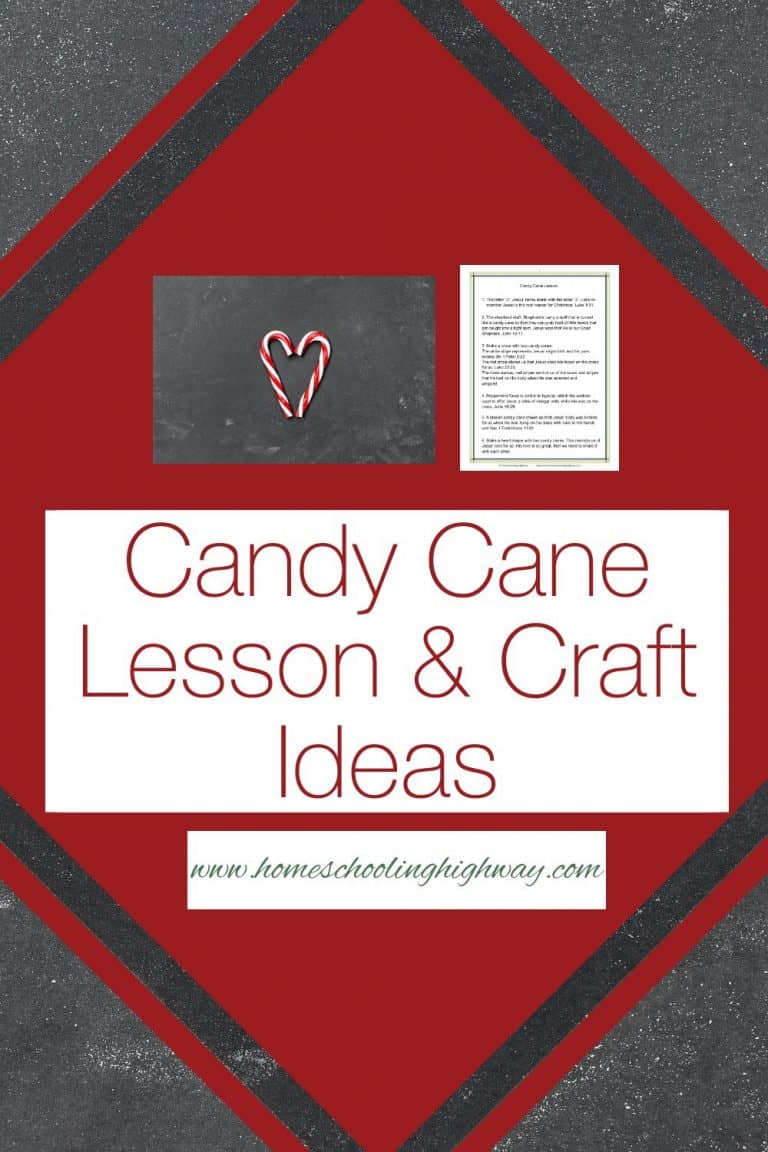 When you make two candy canes into the shape of a cross, the white stripes represent Jesus' virgin birth and His pure, sinless life. He is the only human being ever, who never committed a single sin, even though He was tempted just as we are.
I Peter 2:22 talks about Jesus and it says, "who did no sin, neither was guile found in His mouth."
The red stripe on the candy cane represents the blood Jesus shed on the cross for each one of us, so that we can have eternal life through Him. He restores us and cleans us with His shed blood – the only thing that can wash away our sin.
Luke 22:20 says, "This cup is the new testament in my blood, which is shed for you."
The three narrow stripes on the candy cane symbolize Jesus' stripes, or scars, which He received when He was arrested and whipped. The Bible says we are healed (of sin) because He took those wounds.
I Peter 2:24, "Who His own self bore our sins in His own body on the tree, that we, being dead to sins, should live unto righteousness; by whose stripes ye were healed."
Peppermint Flavor of the Candy Cane
The peppermint flavor of the candy cane is similar to hyssop. Hyssop is of the mint family and it was used to offer vinegar to Jesus while He was on the cross.
John 19:29, "Now there was set a vessel full of vinegar; and they filled a sponge with vinegar, and put it upon hyssop, and put it to His mouth."
The Broken Candy Cane
When we break a candy cane, it reminds us that Jesus' body was broken for us. When we have communion, it is a reminder of what He did for us.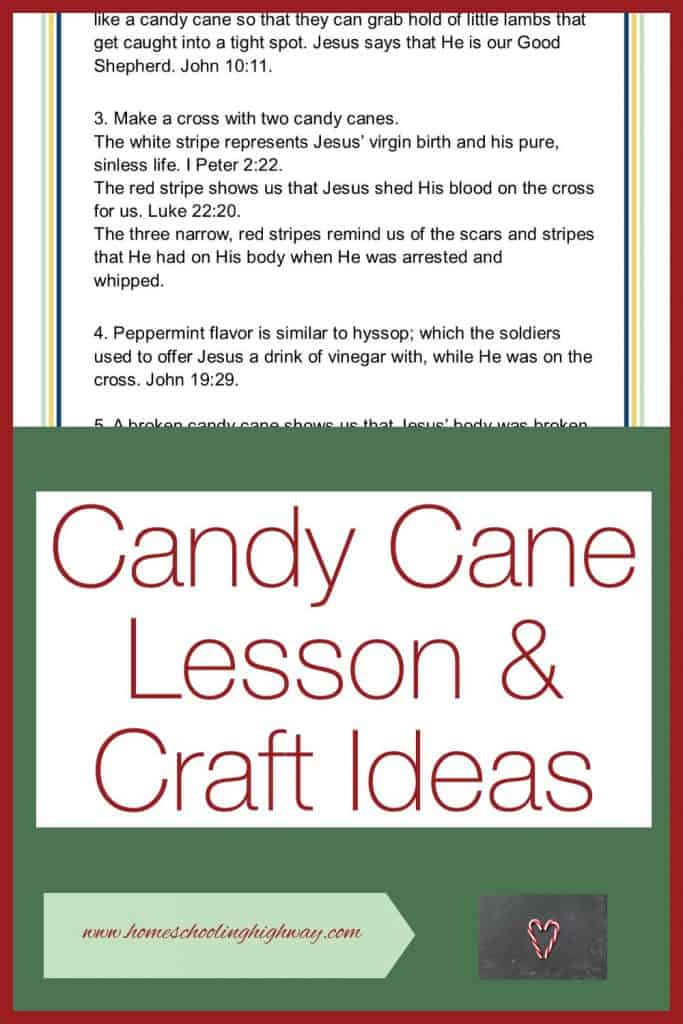 I Corinthians 11:24, "And when He had given thanks, He broke it, and said, 'Take, eat; this is my body which is broken for you; this do in remembrance of me.'"
Two Candy Canes can Make a Heart
When we hold two candy canes in the shape of a heart, it reminds us of Jesus' wonderful love for us.
As we share our candy cane and the meaning of it, we are sharing the love of Jesus.
Click here if you would like a printable version of this lesson to share with children that you know.
Candy Cane Christmas Ornaments
This first candy cane ornament uses melted candy canes. This is a great idea if you have broken pieces!
This second candy cane craft in the kitchen uses old fashioned salt dough. This was so fun to do with my son. We loved salt dough.
My kids loved painted pasta shapes. They enjoyed gluing them on construction paper to form pictures. This also an excellent idea to create candy canes with them.
I never realized that you could make candy canes with all sorts of different materials. This craft uses burlap. So different and awesome!
How about buttons? What a creative idea. I love it!
Any kind of personal souvenirs from my small children always pulls on my heartstrings. These candy canes made from your child's fingerprints are sure to make you smile.
Break out the paper and markers for this next one! My girls love markers especially the bright neon colors.
I love doing jigsaw puzzles. Unfortunately, my kitten likes to play with the pieces too. The last two puzzles I've done I've been short of pieces. This would be a great way to use the pieces of my unfinished puzzle!
This idea is perfect for little hands that want to "sew" like Mommy. You can't go wrong with this craft!
Don't forget the pipe cleaners!
Or the beads!
Now this next craft uses the candy cane as the trunk of the felt Christmas tree. So cute.
This clear ornament is so pretty. Inserting a small candy cane makes this so unique.
Don't forget to make a complete new creature out of your candy canes. Remember these reindeer? These will never go out of style.
When doing crafts, who can forget some science? Ever hear of making candy cane shapes out of homegrown crystals? Really neat!
If you get a chance to make one of these cute candy cane Christmas ornaments, let me know in the comment section below. And once again, if you want to have a printable version of the Candy Cane Lesson just click here.
Merry Christmas!