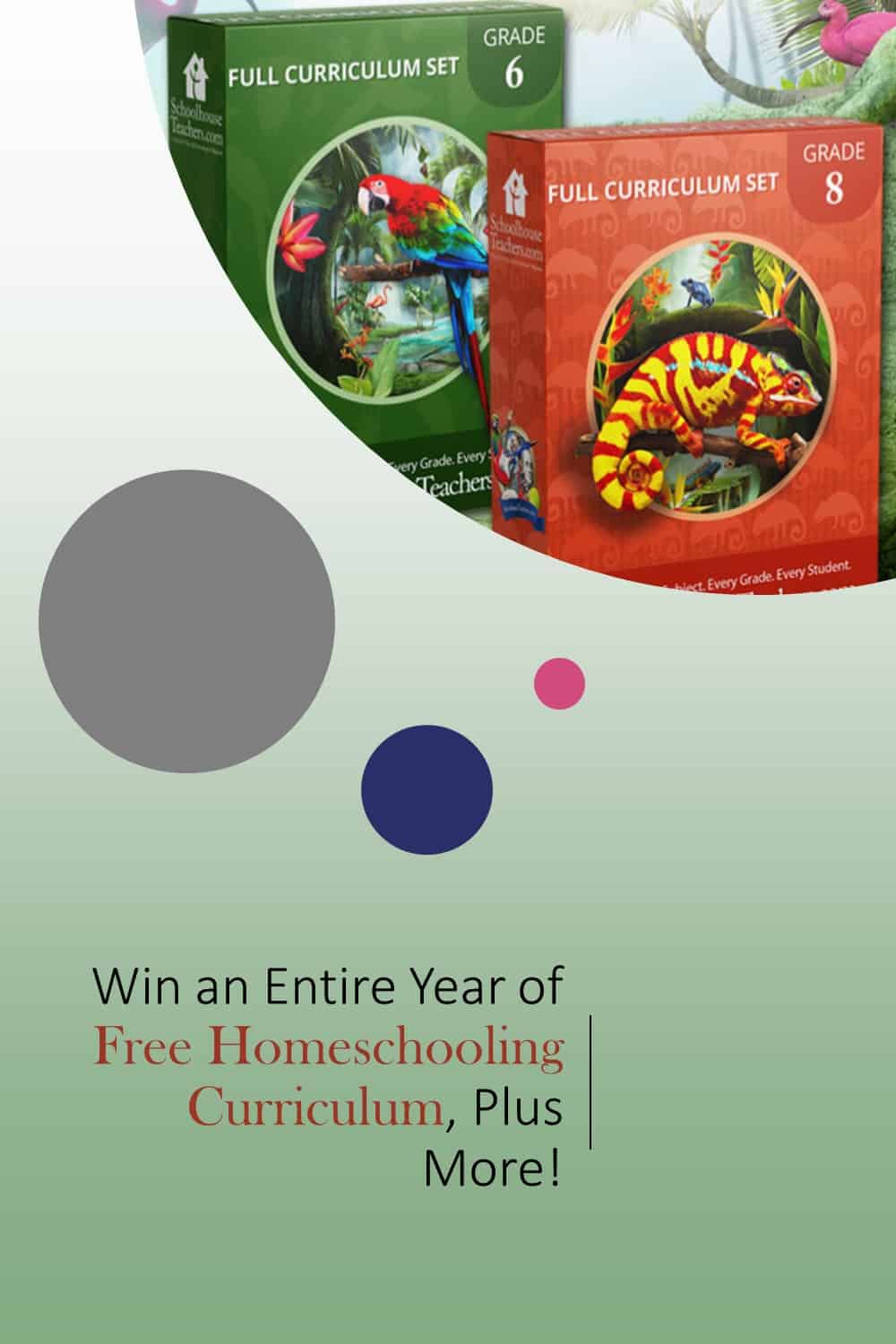 Yes, my friend, you read that right.
You have the opportunity to win an entire year of free homeschooling curriculum for every child in your family. This is a $200.00 value.
What is SchoolhouseTeachers.com?
I'm glad you asked.
SchoolhouseTeachers.com is a membership site that gives you access to over 450 courses and classes for any age or grade level. Pre-K to 12th grade.
Actually, parents can take courses too.
What Kind of Courses are There on SchoolhouseTeachers.com?
All of the main subjects are covered.
Math
Algebra 2
Algebra for Kids
All About Shapes
Building a Foundation with Kindergarten Math
Daily Math
Decimal Workshop
Everyday Games
Fraction Workshop
Geometry in Real Life
Hands-On Math Help with Cuisenaire Rods
How to Teach Elementary Math
Let's Do Math Outside
Multiplication and Division Practice Unit
Pre-Algebra
Precalculus
Starting Out with First Grade Math
Statistics
Staying Sharp with Sixth Grade Math
Steaming Ahead with Fifth Grade Math
Stepping Up with Second Grade Math
Strengthening Skills with Fourth Grade Math
Stretching Higher with Third Grade Math
Trigonometry
Plus lots more……..
Language Arts
Essay Writing 101
Everyday Copywork
Everyday Games
Expanding Your Writing Skills
Experiencing Epics and Poetry
Exploring Creative Writing
Exploring Literature
Exploring Poetry with Notebooking
Fundamental Elements of Literature and Composition
Fun with Fairy Tales
Great Books with Dr. Hake, Part One
Great Books with Dr. Hake, Part Two
High School Literature from a Biblical Perspective
How to Do Research
How to Write a Resume
Independent Morning Work for Kinders
Into the Elements
Introducing the Many Faces of Poetry
Lapbooking
Literature
Little Language Arts
Loving Literature through Chapter Books
Making Shakespeare Important
Monthly Book Lists for Families
Navigating the World of Research
Plus lots more………..
Bible
A Different Kind of Bible Study
A Study of Extraordinary Women in the Bible
Addressing Cultural Issues
Advanced Apologetics
Adventures of Donkey Ollie
Apologetics: Creation vs. Evolution
Bible Adventures
Bible Stories for Kids
Bible Study for Preteens
Camping with Jesus
Creation Apologetics from CMI
Creation Worldview
Digging for Treasure
Discovering Our Amazing God
Plus lots more…………….
Science
Exploring God's World with Third Grade Science
Friendly Anatomy
Friendly Chemistry
Fun with Gravity and Climate
Fun with Science
General Biology by Core Academy
Geology
God's Beautiful Creatures
Having Fun with Kindergarten Science
Introduction to Life Science
Introduction to Physical Science
Introduction to Physics: Middle School
Lapbooking Through Science
Let's Do Science Outside
Life Science
Nature/Outdoors
Physical Science
Physics (High School)
Red Wagon Biology for High School
Plus lots more………..
Social Studies
Free Market Economics
Free Men and Free Markets: Government and Economics
Globally Connected: High School Social Studies
Growing in Citizenship in Second Grade
Kindergarten Social Studies
Learning About World Cultures
Mock Trial
Rights of Citizens for Third Graders
Rights of Citizens for Fourth Graders
Seven Principles of Liberty: Government from a Christian Perspective
Stepping Through History: Starting with You
Stories of Great Americans for Little Americans
Strengthening Behavioral and Social Skills
Plus lots more…………..
Art
Digital Art and Product Designs for Small Business
Discovering Art History
Drawing in Pen and Ink
Drawing with Realism
Elementary Art
Everyday Easels
Exploring the World of Art
Inkscape Online Adventure
Learning About Art
Let's Do Art Outside
Studio Art for Teens
Plus more………..
Music
Advanced Music Theory
Appreciating the Gift of Music
Beginner Drum Lessons
Composing with the Masters
Fun with Music
Great Musicians
Guitar
Plus more…………
Computer/Technology
How to Use Microsoft Word
Internet Entrepreneurship for Teens
Keyboarding
LibreOffice Writer Basics
Podcasting to Change the World
Web Game Design
Plus more………
Health/Fitness
Growing Healthy in Fourth Grade
Health 101
Kindergarten Health
Nourishing Nuggets
Preventing and Responding to Emergencies
Understanding Middle School Health
Plus more…………
Geography
Exploring Elementary World Geography
Geography of the Bible
Learning Across the USA
Let's Visit Denmark
Living Geography
Trek to the Holy Land and Beyond
Wonders of the World
Plus more…………
Drama and Speech
Advanced Public Speaking
In the Limelight
Public Speaking (Introduction)
Reader's Theater
Simply Shakespeare
Foreign Languages
Advanced Spanish Fluency
ASL Adventures (Introduction)
Basic Conversational Korean
Beginning Latin
ESL Language Arts
ESL Vocabulary
French for All Ages
Latin II
Latvian
Elementary Spanish
Spanish 1 (High School)
Spanish 2 (High School)
Electives
Business Plan Creation
Career Exploration
College Choice Guidance
Filmmaking
Fun with Cooking
Hands-On Architecture
Hands-On Design Fun
Hands-On Learning Activities Through Crafts
Heritage Crafts
High School Home Economics
Home Economics
Homesteading
Image Editing and Creation
Introduction to Architecture
Introduction to Graphic Design
Logic
Media Socialization
Money 101
Personal Finance in Bite-Size Chunks
Photography
Plus More……………………
Preschool
Donkey Ollie and the Ten Commandments
Everyday Games
From Aardvark to Zucchini
Manners and Healthy Habits for Preschool
Preschool Playground: Arts, Crafts & Music
Preschool Playground: Language Arts
Preschool Playground: Motor Skills
Preschool Playground: Numbers, Patterns, and Cognitive Skills
Preschool Playground: Social Studies
Pre-K Activities: Read and Play
Preschool in a Box
Small World Sensory Science
Plus more…………
Parent Help
Mom, don't feel like you have to put all this together by yourself.
School Boxes
SchoolhouseTeachers.com has created "School Boxes" for each grade level.
Each School Box consists of grade level courses already chosen and arranged, just for your child.
But, I can hear you now…. What if my child doesn't like a subject in the School Box?
No problem. Just choose something else. It's that simple.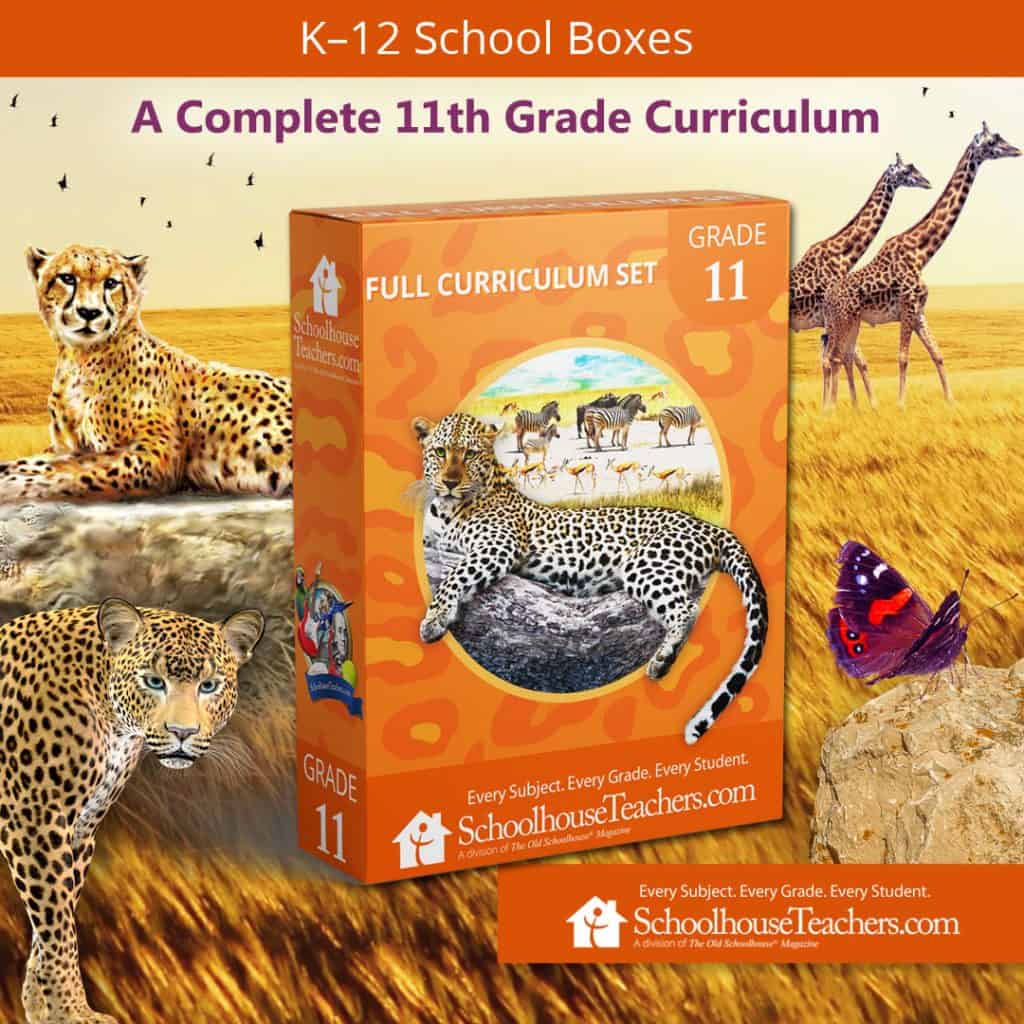 Smart Mama Planner
If you're anything like me, then you like to be on top of everything.
The Smart Mama Planner helps you keep track of your monthly menus, chore lists, lesson planning pages, budget pages, goal tracking, transcript pages, monthly and weekly calendars, prayer journaling pages, devotional sheets, plus so much more.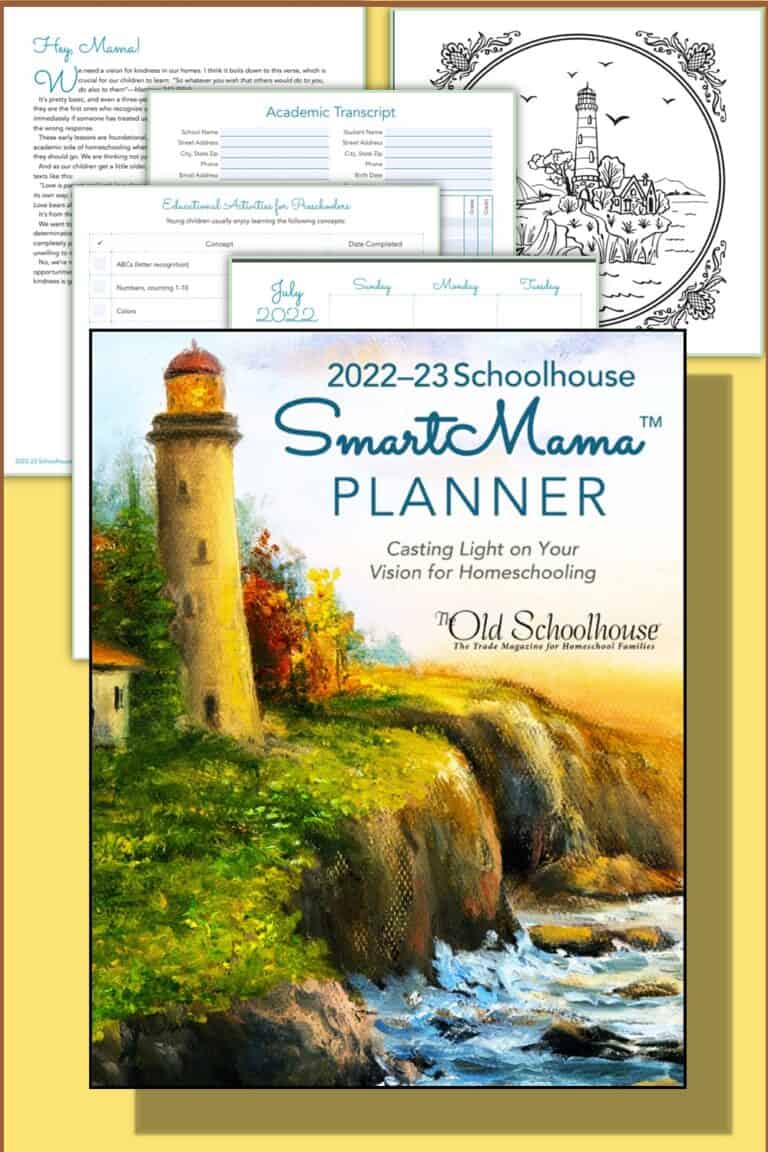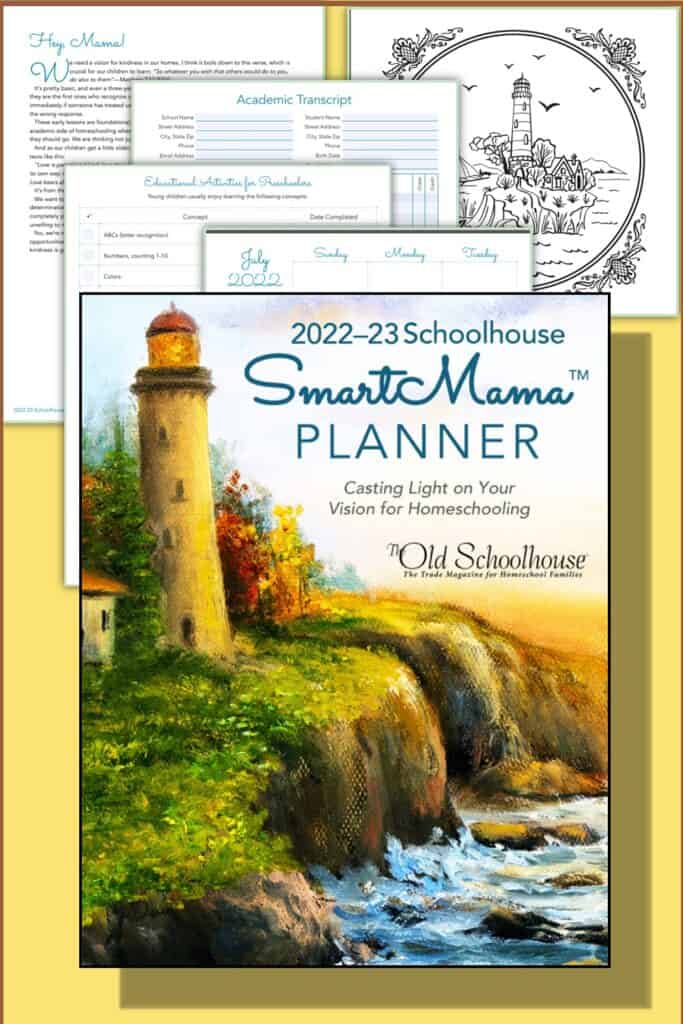 Connections
Take the opportunities to connect with other SchoolhouseTeachers.com members and staff with the Hey Mama! Members' Lounge events.
There's also the Hey Mama! Bright Spot Chat that gives you the opportunity to get inspired and educated on homeschool topics.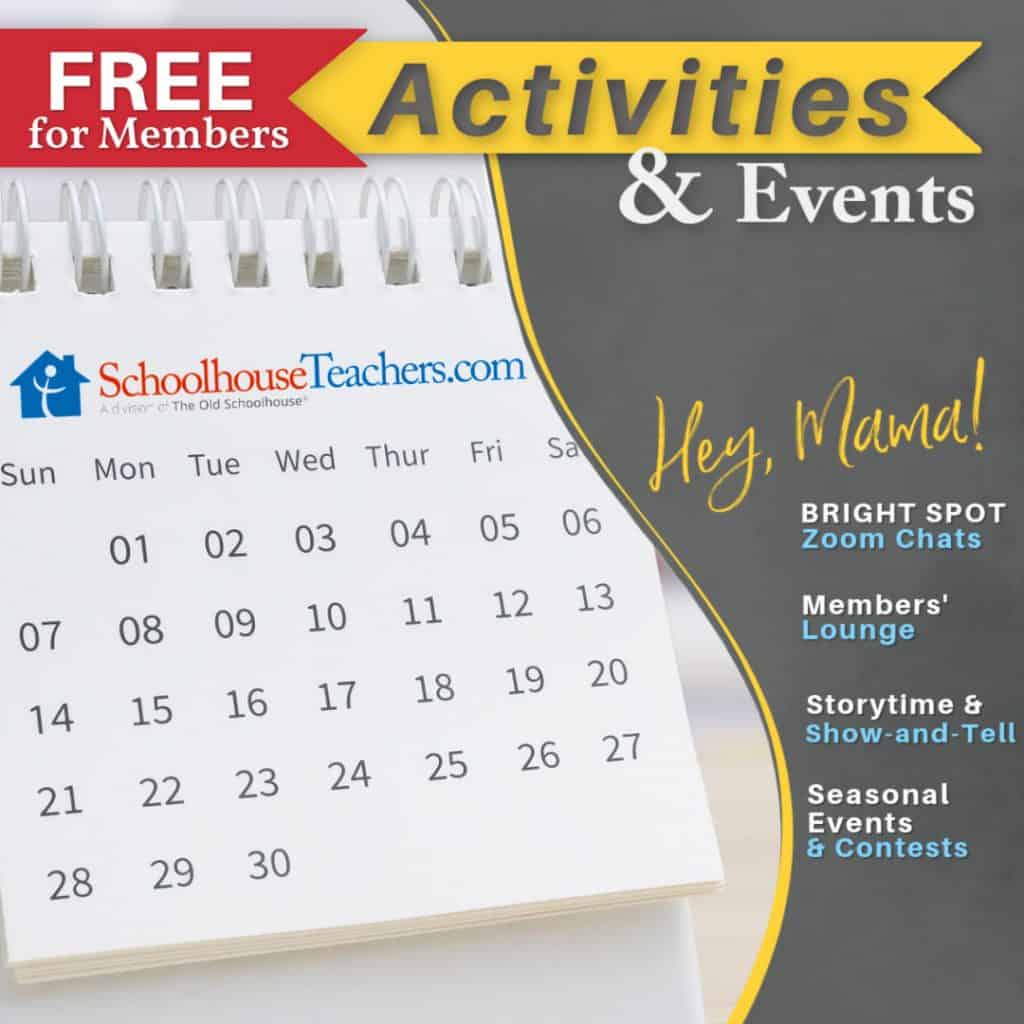 Tips to Teach the Tough Stuff
Every homeschooling mom needs some new and innovative tips and tricks when a child is having trouble with a concept. A membership to SchoolhouseTeachers.com gives you access to parental help with difficult topics.
Charlotte Mason Homeschooling
College Choice Guidance
Creating and Implementing A Personal Strategic Plan
Disconnected: Connecting with Teens in the Digital Age
Encouragement for Homeschool Moms
ESL Language Arts
ESL Vocabulary
Everyday Organization
Finally Conquer Fractions
Growing in Homeschool Confidence
Hands-On Math Help with Cuisenaire Rods
Plus a lot more…………….
Virtual Competitions and Fun for the Entire Family
National Academic Homeschool Competition
New this year, SchoolhouseTeachers.com has partnered with the College Options Foundation to give their members detailed help and assistance to get your child ready for college.
Part of this help is the opportunity for your child to compete in the National Academic Homeschool Competition.
This competition gives your child the practice they need to take the SAT and/or ACT.
Prizes and awards are given after the competition is completed.
Registration for the competition is open now.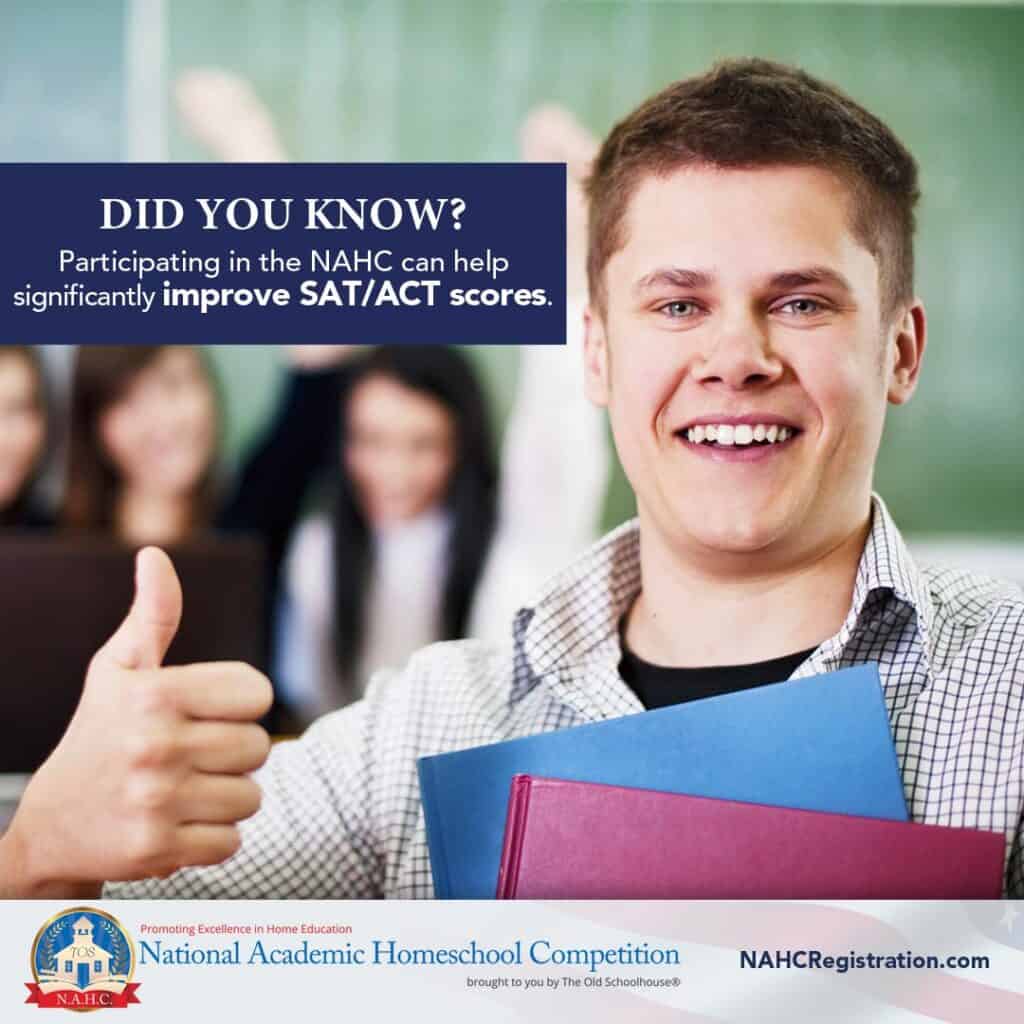 Family Movie Night
This is a new event that SchoolhouseTeachers.com is doing. The details aren't out yet, but they should be soon. I know that seating is limited, so keep your eye on the Member Dashboard for new information.
Storytime and Show & Tell
Takes place once a month during the school year.
Art & Photography Fair
More details coming in the Fall of 2022.
Talent Showcase
More details coming this Winter of 2023.
Science Fair
More details coming the Spring of 2023.
Graduating Senior Recognition
More details coming this Spring 2023.
Summer Challenges
More details coming Summer 2023.
Enter for Your Chance to Win