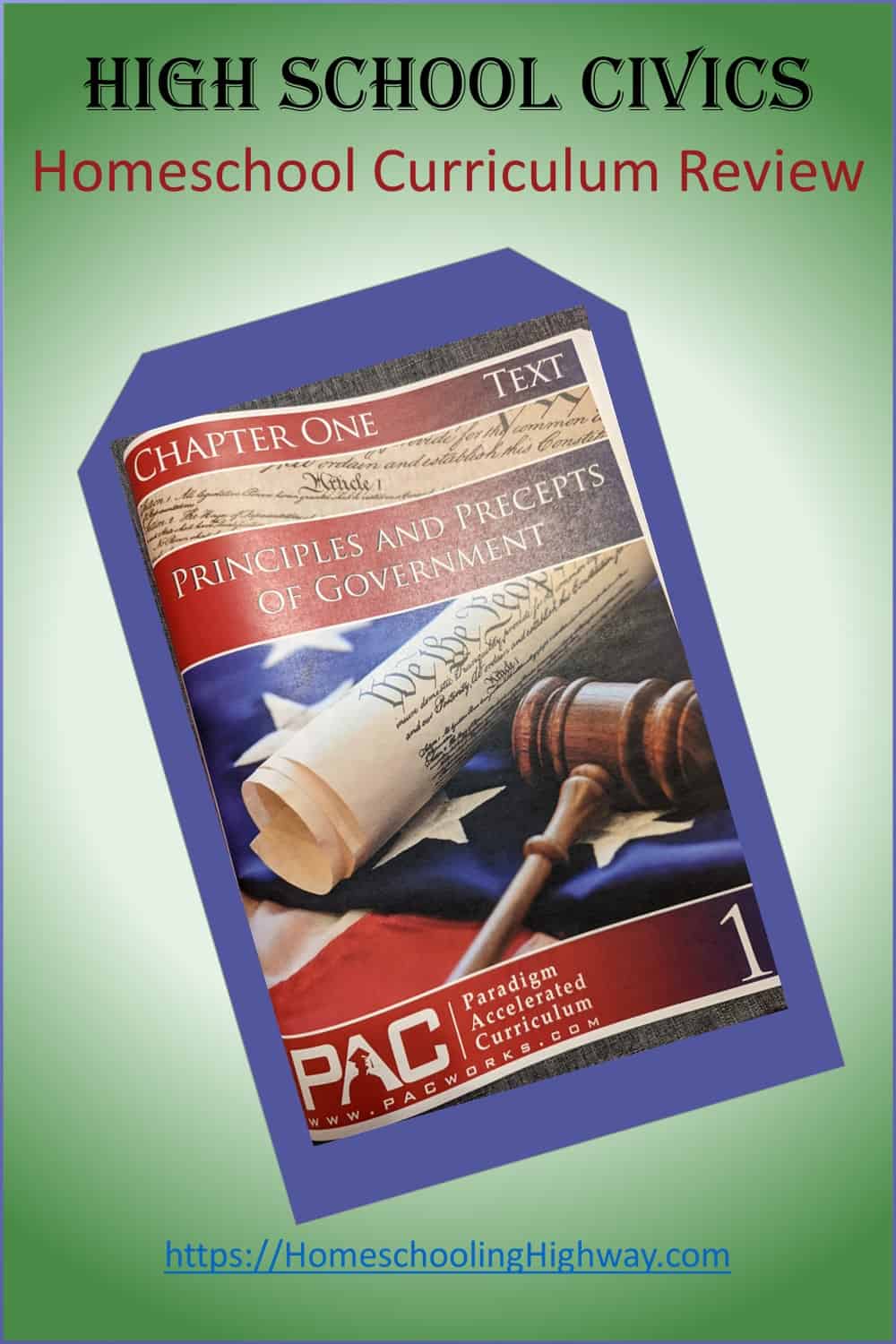 I received this complimentary product from the Homeschool Review Crew.
Being part of the Homeschool Review Crew, my daughter and I have had the privilege to use and review Principles and Precepts of Government from Paradigm Accelerated Curriculum (PAC).
I was never a big fan of government classes in high school; I was just never interested in it, so I didn't learn much. Fortunately, while homeschooling my own kids, I now have a greater appreciation for Civics classes and enjoy learning about how the government works and is run. These feelings are true for me too, with history classes.
Principles and Precepts of Government easily takes what was once uninteresting for me and makes it more understandable, relevant, and enjoyable to learn.
Principles and Precepts of Government: Course Material
Paradigm Accelerated Curriculum (PAC) was kind enough to send printed course material as well as give us the digital version. The material is the same in each, just in a different format. If you decide this curriculum is right for you and your family, you get to choose which format you like the best.

The course is to take one semester to complete and is 0.5 of a high school credit.

The printed material comes with three Chapter Texts, three corresponding Activity Workbooks, and a Teacher's Resource Kit. We'll look at the Chapter Texts first. Each chapter text is its own little soft cover textbook.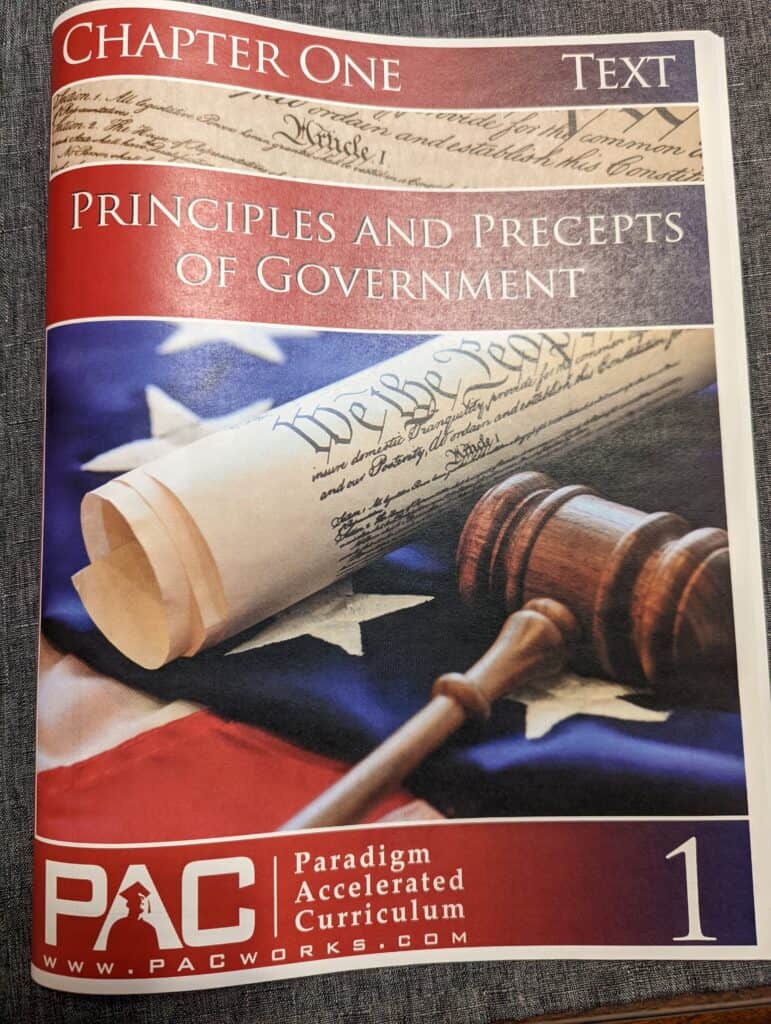 Principles and Precepts of Government: Chapter One Text
PAC lays the foundational historical groundwork of teaching students how government, in general, began and incorporates that knowledge smoothly into how our own government was started here, in the USA.
You can see how this foundational information is laid out in the Table of Contents for the Chapter One Text below.
Chapter One Text: Table of Contents:

Section 1: Evolution of Government
Topic 1: Foundations
Topic 2: Transition to Roman Government
Topic 3: Roman Government
Topic 4: Roots of US Government
Topic 5: US Government Foundations

Section 2: Emergence of US Government
Topic 6: The Virginia Colony
Topic 7: The Plymouth Colony
Topic 8: Enlightenment
Topic 9: "The Shot Heard 'Round the World'"
Topic 10: Fathers of Liberty

Section 3: Establishment of US Government
Topic 11: Values and Views of the New England Colonies
Topic 12: Defending Life and Liberty in the Middle Colonies
Topic 13: Pursuit of Happiness in the Southern Colonies
Topic 14: Undergirding Principles of the Declaration
Topic 15: Casting the Nation's Foundation
Principles and Precepts of Government: Chapter Two Text
In the Chapter Two Text, PAC tackles the Constitution, Bill of Rights, and begins examining our modern-day government set-up. The text is easy to read and easy to understand. In the Table of Contents for the Chapter Two Text, you can see the depth that PAC goes into.
Chapter Two Text: Table of Contents:

Section 1: Exploring the Constitution
Topic 1: Introducing the Constitution
Topic 2: Overview of Article 1
Topic 3: Building the Legislative Branch
Topic 4: The Executive Branch
Topic 5: Article III: The Judicial Branch

Section 2: Analyzing the Bill of Rights
Topic 6: The Bill of Rights
Topic 7: Understanding American Rights
Topic 8: The First Rights of the Bill of Rights
Topic 9: Rights of Security
Topic 10: Is Our Constitution a Living Document?

Section 3: Modern US Government
Topic 11: Bringing the Constitution Up-To-Date
Topic 12: How Our Government Works Today
Topic 13: The Upper Chamber of Congress
Topic 14: The Executive Branch of Government
Topic 15: The Third Branch of Government
Principles and Precepts of Government: Chapter Three Text
Principles and Precepts of Government doesn't stop there though. Through the Chapter Three Text, our local and state government is discussed and plenty of information is given concerning the election process and public responsibilities. Let's take a look at the Chapter Three Table of Contents and then I'll tell you more of what I found.
Chapter Three Text: Table of Contents:

Section 1: Exploring US Government
Topic 1: Understanding Citizenship in a Republic
Topic 2: The Role of State Government
Topic 3: Local Governments
Topic 4: Representative Government
Topic 5: The Election of a President

Section 2: Rights and Responsibilities of US Citizens
Topic 6: Understanding Rights and Responsibilities of US Citizens
Topic 7: Public Rights and Responsibilities
Topic 8: Legal Rights and Responsibilities
Topic 9: Political Rights
Topic 10: Integrity and Ethical Responsibilities

Section 3: Parliamentary Procedure
Topic 11: Understanding Parliamentary Procedure
Topic 12: Introducing Business to a Deliberative Assembly
Topic 13: Maintaining a Business Atmosphere
Topic 14: Taking a Second Look to Improve Business
Topic 15: The Art of Chairing a Deliberative Assembly
Additional Information about the Chapter Texts
This course has a copyright date of 2018, so you do see pictures of President Trump and his executive team in some of the pictures. For my daughter, this made the curriculum more applicable since she knows who Former President Trump is.
When learning about the Supreme Court, controversial topics are mentioned such as Roe v. Wade. PAC has not included any opinions on any controversial topics in the entire course. Roe v. Wade and other topics are given as facts, explaining that this case was one that went all the way to the Supreme Court.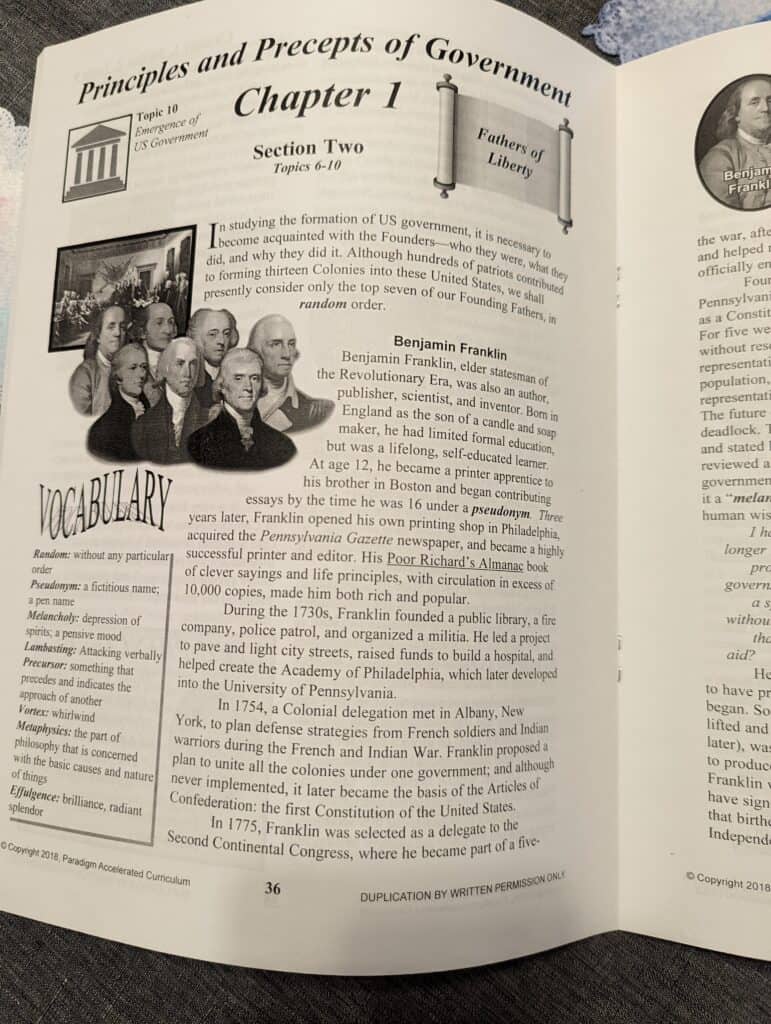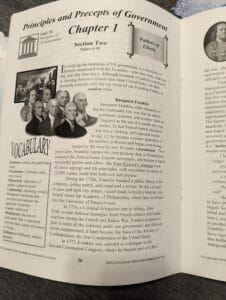 When discussing Freedom of Speech and Freedom of Religion, there were no opinions noted here either. PAC does a fantastic job of just stating the facts and staying neutral and informative.
New vocabulary words are introduced in each Chapter Text. The new words are typed in a bold font, with the definitions written out in the margin.
Pictures, maps, and small timelines break up the text into manageable sections.
One QR code is in the course, located in the first Chapter text. Unfortunately, after scanning it, the video was unable to be found.
Principles and Precepts of Government: Activity Books
The corresponding Activity Books consists of fill in the blanks, true/false, multiple-choice questions, and matching. The answers are in the Teacher's Resource Kit.
Students are encouraged to read a small portion of the Chapter Text and then refer to the appropriate Activity Book to answer any questions related to what they just read.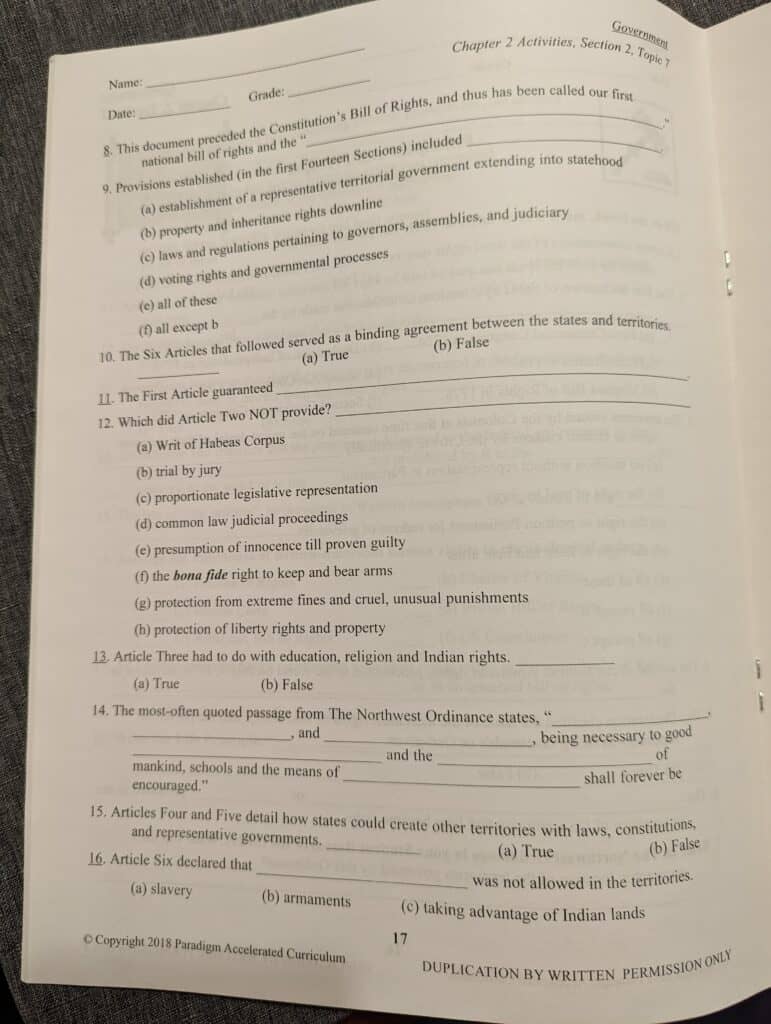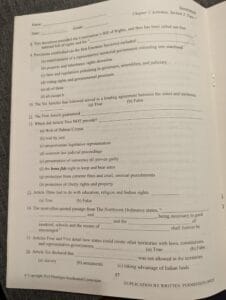 Principles and Precepts of Government: Teacher's Resource Kit
The Teacher's Resource Kit comes as loose, hole-punched papers; ready to place in a three-ring binder.

The Teacher's Kit is 140 plus pages that includes the Table of Content for the Chapter Texts, the Activity Answer Keys, Section Quizzes & Answers, Chapter Tests & Answers and general school forms.
The school forms are not necessary for completing the course, but do include a Transcript Planner, Academic Contract, Academic Goal Chart, Daily/Weekly Wisdom Quotes.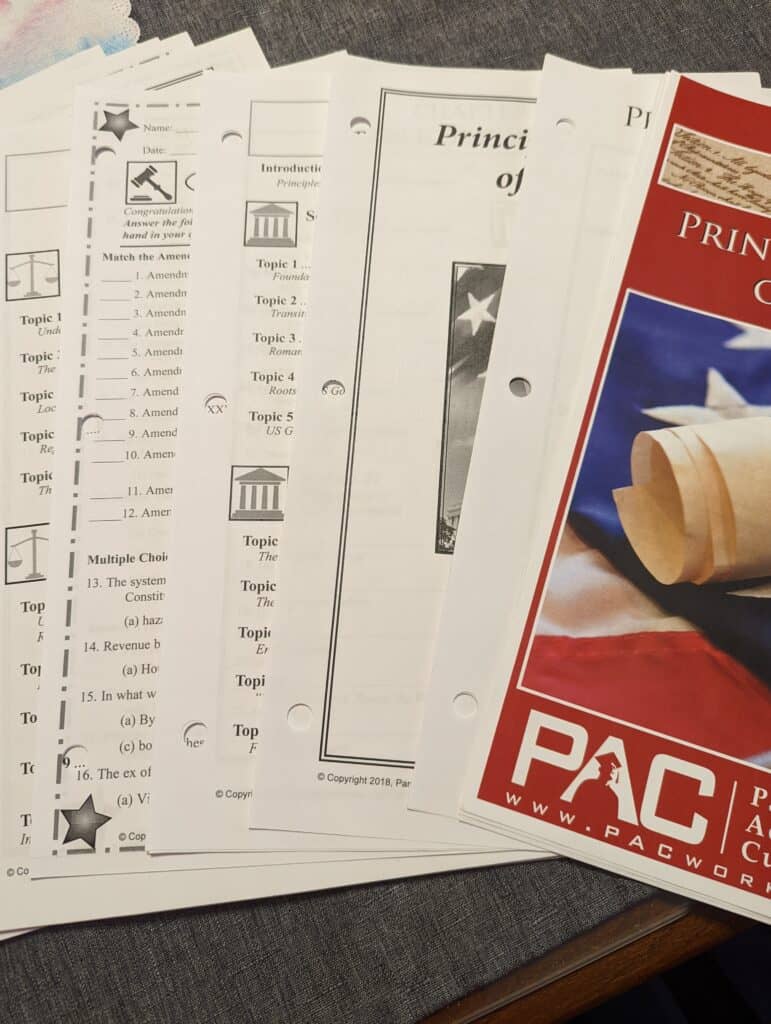 I enjoyed reading the Wisdom Quotes. They are small nuggets of gold for different situations. For example, one quote is, "What counts is not the number of hours you put in, but how much you put in the hours."
Recommendations
I would highly recommend Principles and Precepts of Government from Paradigm Accelerated Curriculum.
Students will learn a ton of information about the US Government with this easy-to-use format and easy-to-read text. The variety of Activity Book questions, keep students engaged with the content.
The only thing I wish would be changed is the QR codes. I wish there were more QR codes to scan as that makes the course more interactive, and I also wish that the one and only one that is available would have worked.
My Favorite Text Portions
These two snippets of text spoke to me:
Students who will be the governors of emerging generations should be challenged to study and comprehend the original intent of the Framers of the Constitution, in order to make wise political choices and defend their liberties by defending the Constitution against those who may see its neutering (rendering incapable of its original purpose).
The goal in studying US Government is to …. realize that citizens are the government.
Follow Paradigm Accelerated Curriculum
Facebook: https://www.facebook.com/PACWorks
More Reviews
The Homeschool Review Crew Bloggers were able to use and review other curriculum from PAC besides just their Principles and Precepts of Government course. To read more reviews, just click on the banner image below.
– English Communication Skills (7th grade)
– English Grammar Skills (8th grade)
– English I Language Skills (9th grade)
– English II Composition Skills (10th grade)
– English III Writing Skills (11th grade)
– English 1V Literature and Philosophy (12th grade)