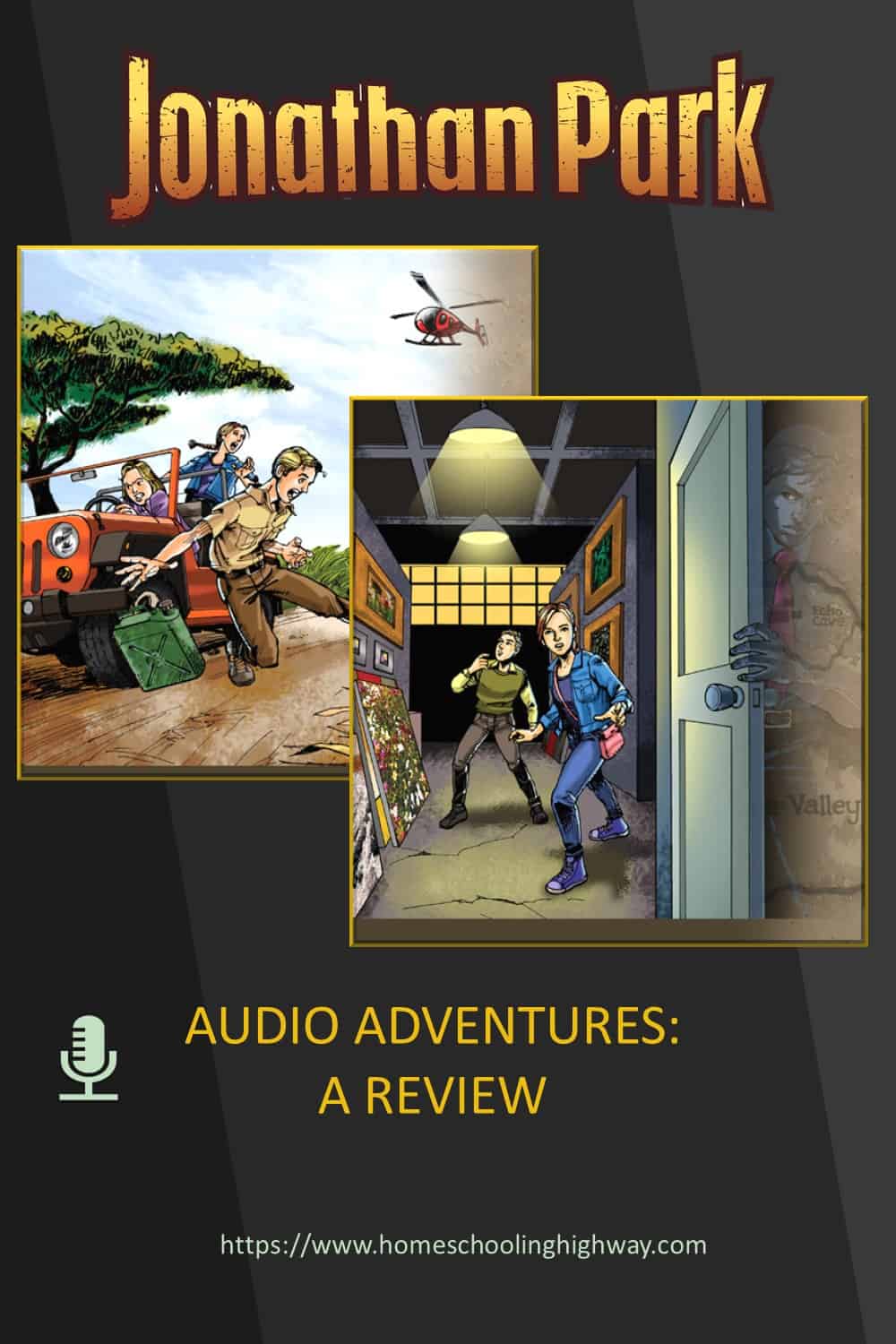 I received this complimentary product from the Homeschool Review Crew.


Being part of the Homeschool Review Crew, my daughter and I had the opportunity to listen to The Adventure Begins, Series 1. This series is from Jonathan Park.
We had never listened to Jonathan Park before, even though I had heard of the name, so I was very excited for my daughter and I to have the opportunity to listen to these audio adventures.
The series is from a Christian perspective, and they don't hesitate to talk about God in their stories. In fact, one of their goals is to teach kids about a young earth created by God and the evidences of a world-wide flood.
Science topics are woven into the stories to help give plenty of examples and evidence of God's creation and the flood. With Jonathan's dad being a paleontologist, his profession gives plenty of room to bring up dinosaur bones and fossils in unusual places.
These stories are dramatized very well. Each character has an actor doing the voices, there's also sound effects, and music to enhance the adventures.
My daughter and I listened to these stories while we were doing volunteer work for church. As we placed address labels on the church's gospel tracts, the stories really helped pass our time while we did this repetitive task. We actually didn't want to quit doing the labels, so that we could listen to more!
I don't want to give away any of the storyline, but there's plenty of adventures with two families that become friends, bad storms, localized flooding, raging rivers, thieves and other bad guys, disappearing vehicles, threats, and computer chip hijackers.
All of these problems will keep the entire family listening and asking for more.
Get Your Jonathan Park Audio Adventures Today
We received The Adventure Begins, Series 1 via digital download and it was very easy to do.
You can also purchase the series on a CD set. Currently, Jonathan Park.com is offering a sale of 60% off the set, on their website. Also, if you use code: jpcrew22 when you check out, your shipping is free. The free shipping is for US orders only.
My Recommendations
I would highly recommend the Jonathan Park Audio Adventures to any family. These are perfect for rainy days, family time, and for traveling in the car. You won't be disappointed.