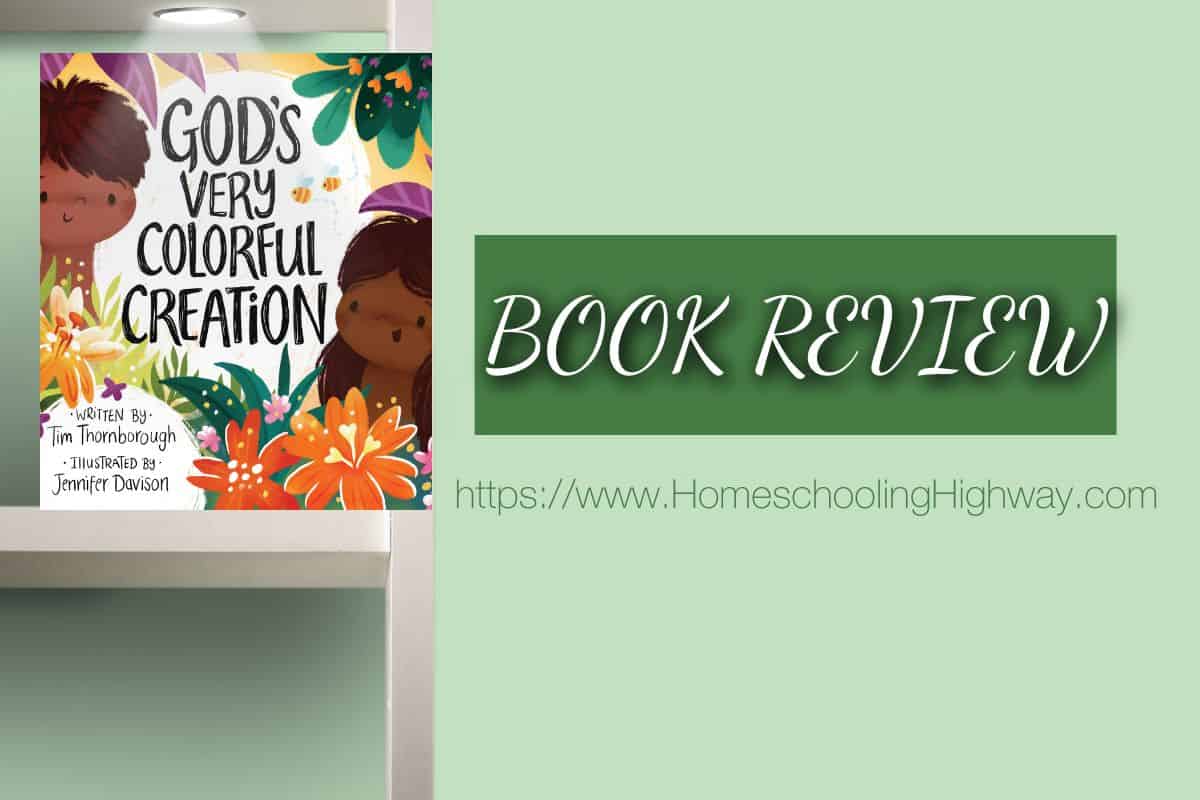 I received this complimentary product from the publisher for my honest review.
Tim Thornborough has written another great Bible story picture book for preschool age children.
God's Very Colorful Creation is part of Mr. Thornborough's Very Best Bible Stories Series, which can be found at The Good Book website.
"In the beginning, God created the Heavens and the Earth." Isn't that a great way to start a book?
It's never too early to be teaching our little ones that God created the world, and this book will help you do just that.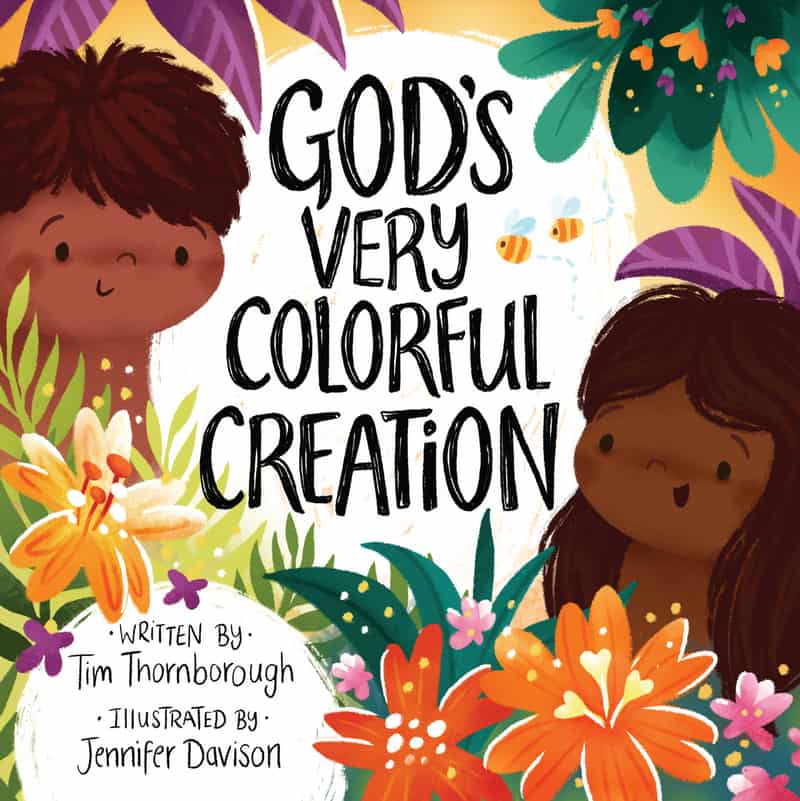 In the introduction, Mr. Thornborough suggests that the reader point to the colors on the page while reading the story. This is a great way to keep the children engaged.
There's plenty to point to. Jennifer Davison has done another excellent job with her illustrations.
The pictures are vivid, bright and beautiful. The shading is so detailed that it shows us the many different hues of each color.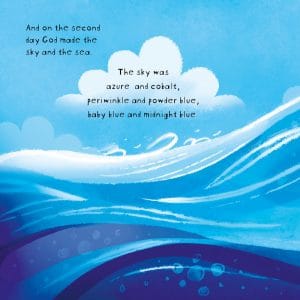 Instead of just light blue, there's azure, cobalt, periwinkle, powder blue, baby blue and midnight blue.
The little kids' faces are so cute in these illustrations, they make you smile. They easily captivate a young person's attention with their expressive faces.
Each page introduces us to a new day of God's Creation. I love how Mr. Thornborough correctly introduces each new item that God creates. "And God said, 'Let there be…'"
The vocabulary in the book is full of new adjectives that we can introduce our children to; words that we don't normally use, like shimmering, shiny and dusky.
The book is really fun to read, with either rhyming words, repeating words, or phrases that begin with the same letter. For example, mighty majestic mountains and practically perfect peacocks. It's just really fun to say!
The story may even have us adults looking things up to learn new things. What is the color ocher?
When Mr. Thornborough gets to day six, he writes exactly what God says in the Bible, "Let us make people in our own image."
I love the fact that Mr. Thornborough makes it clear that God created all of us, and we are each different in our own way.
We have different skin tones, hair color and lots of variety, and you know what? God said that it was good.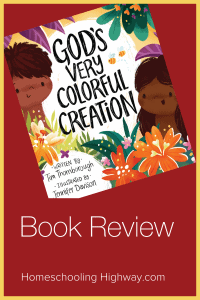 At the end of the book, we learn that God rested and enjoyed His Creation, and that we can rest and enjoy it too.
This book, along with the others in this series, are perfect for getting fundamental truths into the minds and hearts of our little ones.
This book would be great at home, but it would also be a valuable asset in any church nursery or preschool classroom.
I would highly recommend God's Very Colorful Creation. The bright colors, illustrations and vocabulary will keep even little kids engaged, entertained and learning about God.
The Very Best Bible Stories Series
Other books in The Very Best Bible Stories Series are:
Moses and the Very Big Rescue
Noah and the Very Big Boat
Deborah and the Very Big Battle
Jonah and the Very Big Fish
Daniel and the Very Hungry Lions
David and the Very Big Giant
Esther and the Very Brave Plan
A Very Happy Easter
A Very Noisy Christmas
About Mr. Thornborough
Mr. Thornborough is the founder and Publishing Director of The Good Book Company which is an international book publishing company. Their aim is to provide biblical and relevant resources that will encourage Christians and help them grow spiritually.
If you would like to follow The Good Book Company on social media:
https://www.facebook.com/thegoodbookcompanynorthamerica
https://twitter.com/thegoodbookusa
https://www.instagram.com/thegoodbookcompanyusa/
https://www.youtube.com/c/thegoodbookcompany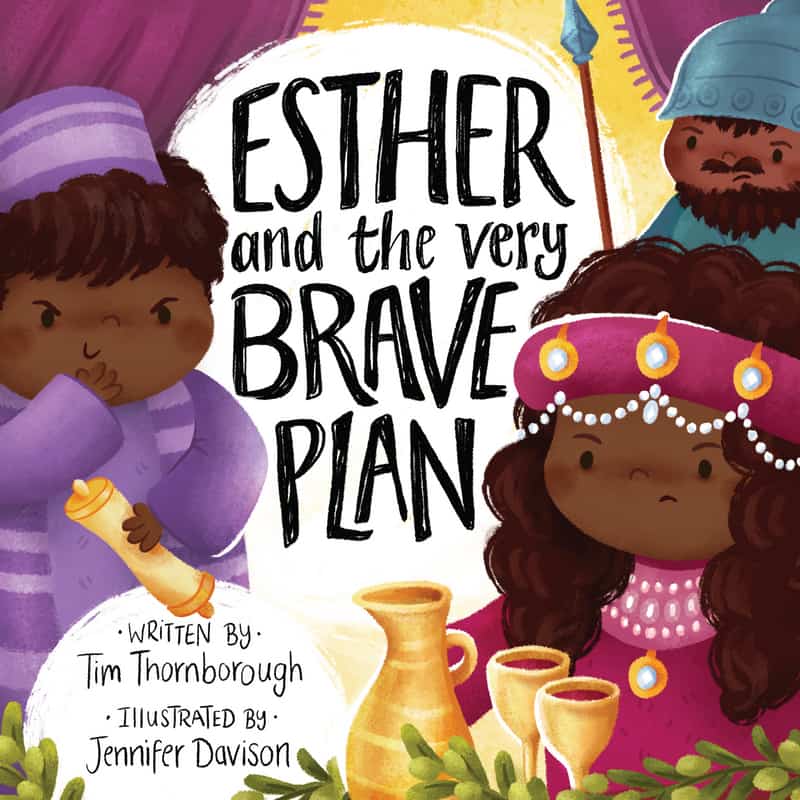 Another great book of Mr. Thornborough's is, Esther and the Very Brave Plan.
Just click on the colored words if you would like to read my review of Esther and the Very Brave Plan.