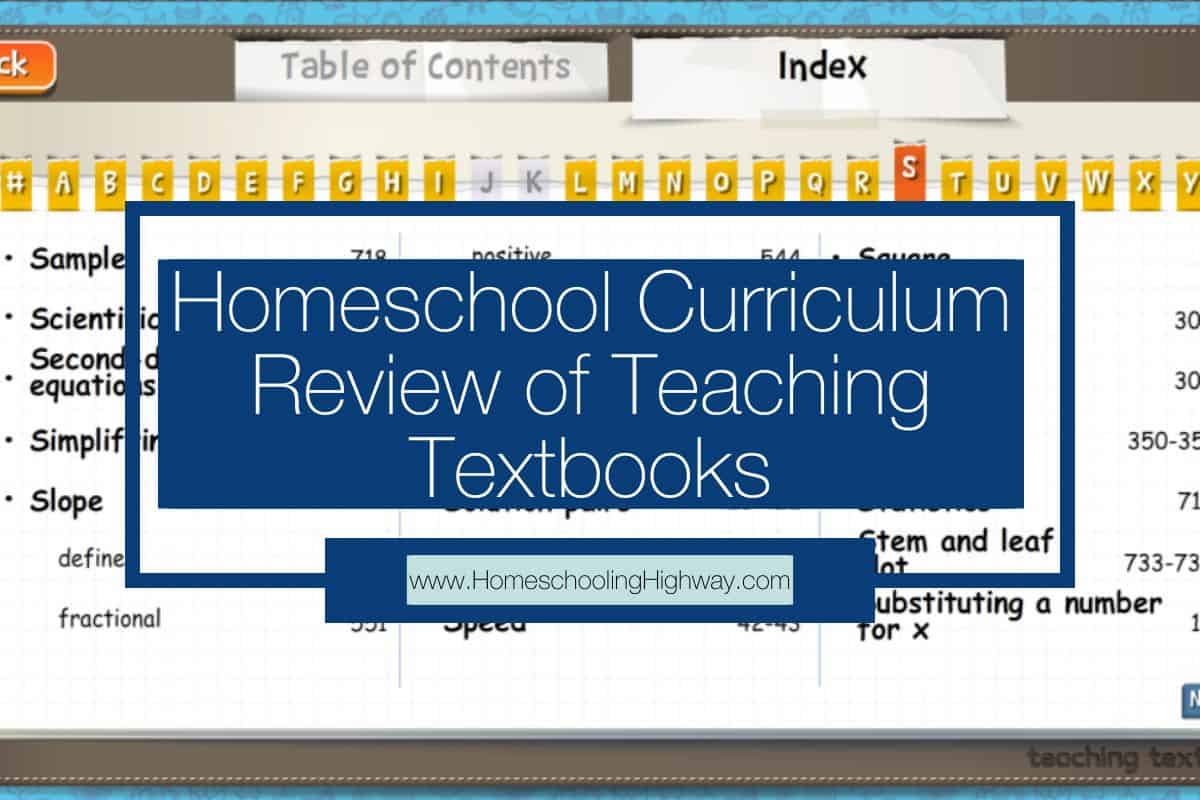 I received this complimentary product through the Homeschool Review Crew.
What is Teaching Textbooks Math 4.0?
Teaching Textbooks Math 4.0 is a digital, online, homeschool math curriculum publisher that has courses ranging from Math 3 to Pre-Calculus.
What does a Parent need to do with Teaching Textbooks Math 4.0?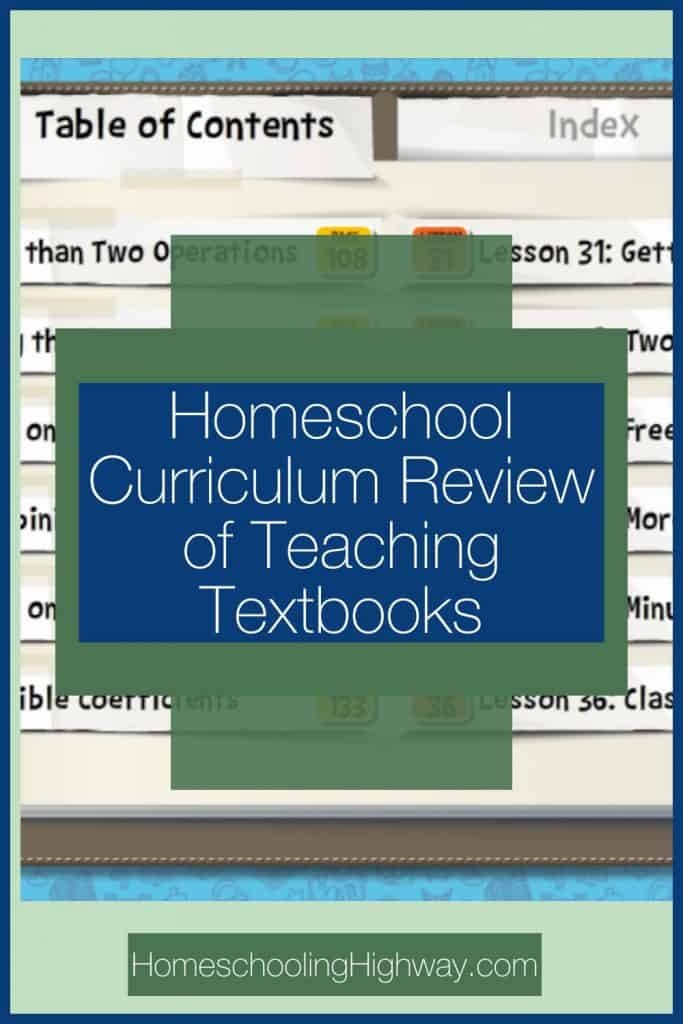 The first thing a parent should do when wanting to purchase a Teaching Textbooks course, is to determine the correct course for your child's skill and knowledge level.
Teaching Textbooks has free placement tests that will help you determine the correct course to purchase.
When you purchase a course, your child has access to the course for an entire year.
You, as the parent, have lifetime access to your child's gradebook, just in case you would ever have to prove a math course was completed, or to get grades.
Within that year of your child finishing a course, you have the opportunity, if needed, to pause the course for a total of 3 months time. You can use these pauses in 7 day increments.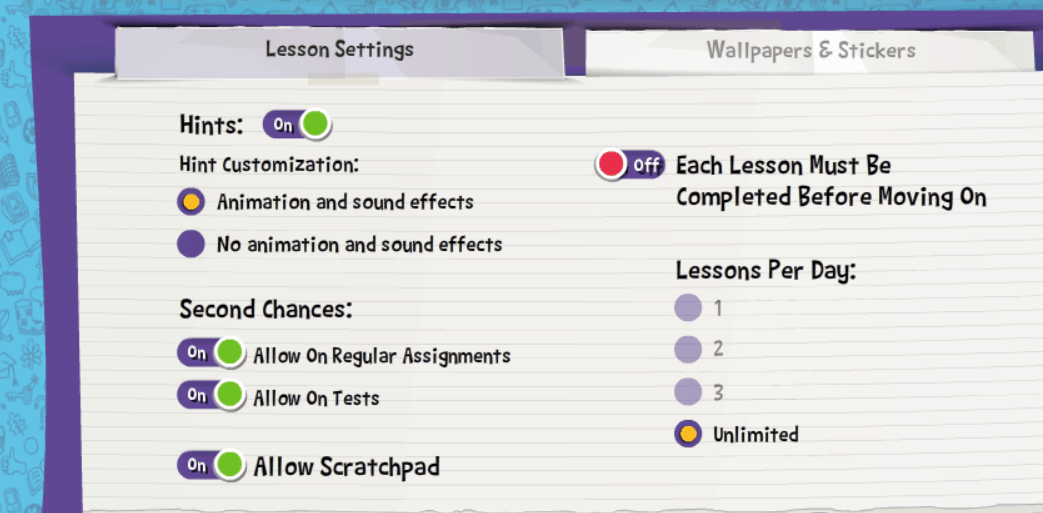 This is really nice of Teaching Textbooks to do in case there is a family emergency or a break that needs to be taken.
Once your course is purchased, you can download and install the course app, and begin setting up your student and parent accounts.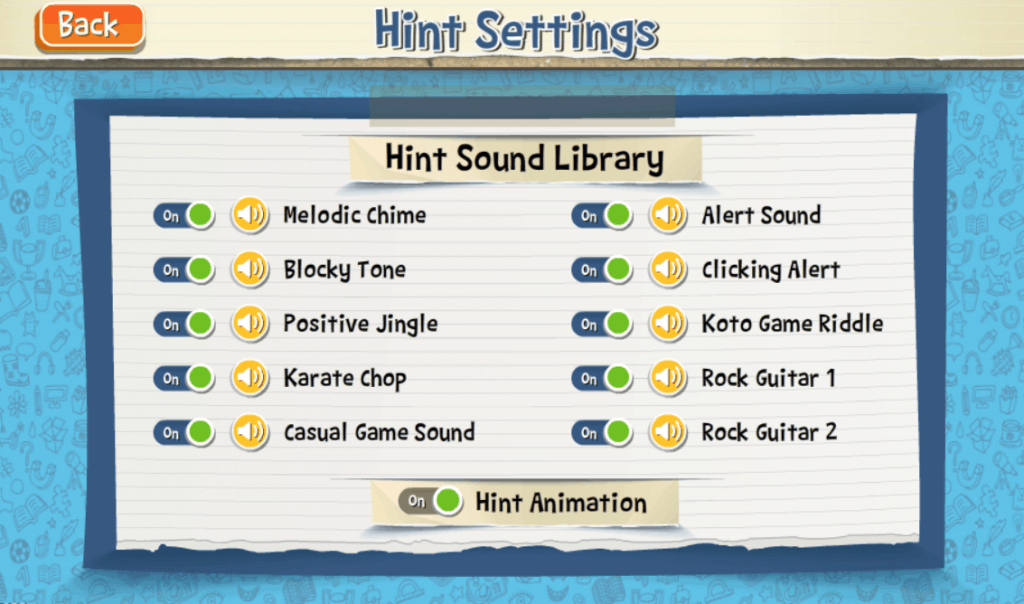 There's a lot of student options that the parent has control over while your child completes the course.
1. Allow hints: on/off
2. Allow animation and sound effects with hints: on/off
3. Allow second chances: on/off (lesson questions and tests)
4. Allow scratchpad: on/off
5. Each lesson must be completed before moving on: on/off
6. Amount of maximum lessons to be completed per day: 1, 2, 3, unlimited
If you allow your child to have animated and sound effect enhanced hints, there is a hint sound library that the parent can turn certain sounds on/off. If your child would get too distracted with certain sounds, and you want to keep things simple, then you are more then welcome to turn them off.
There are other things that you as the parent can do too. On your Parent Home Page, after signing in, you can:
Get into the gradebook
View Answer Key and Book
Manage Courses
Change Parent or Student Passwords
Change Student Settings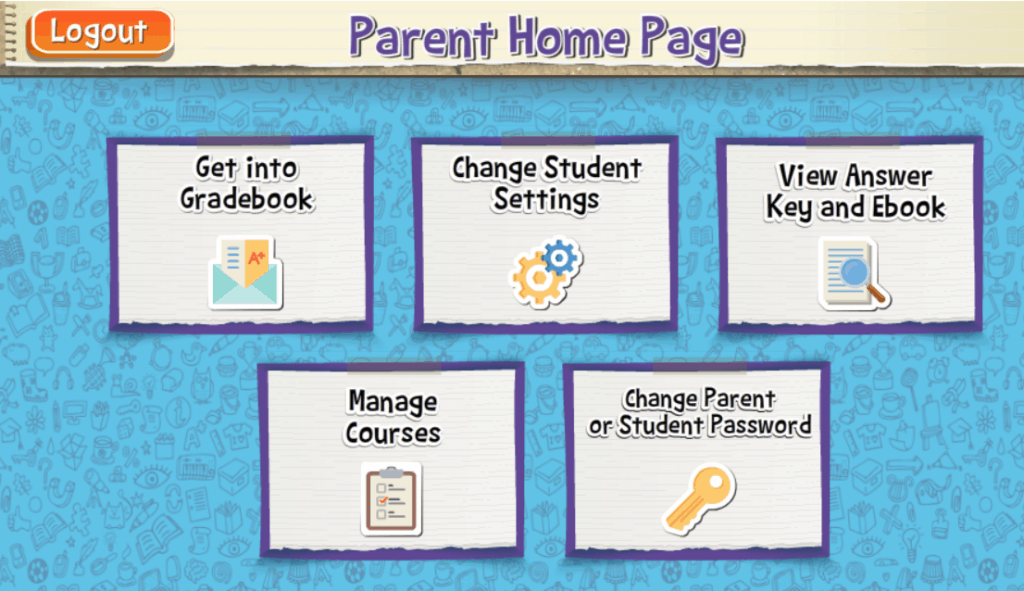 How does my Child Access his Teaching Textbooks Math 4.0 Course?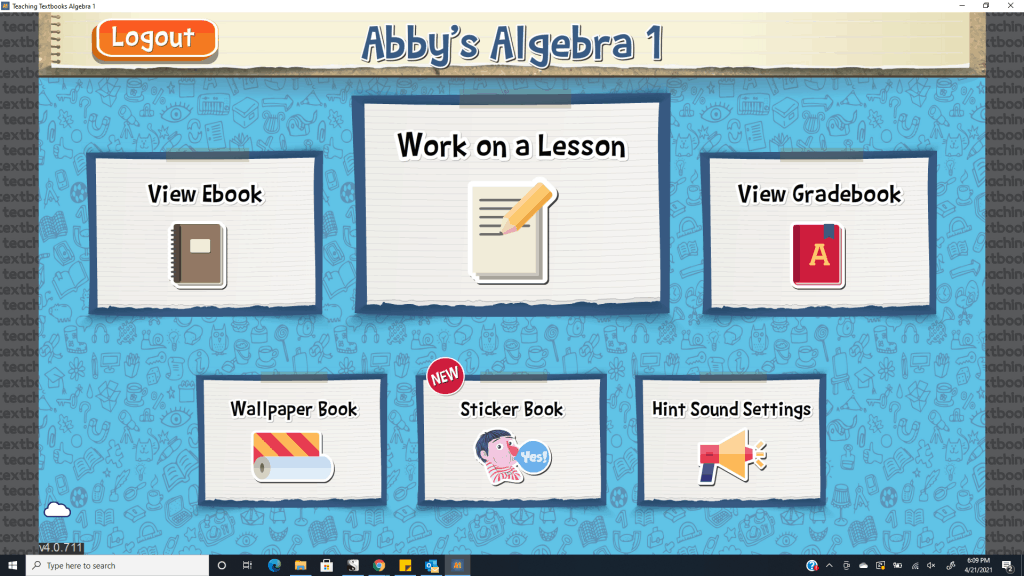 Once your child is hooked up to the internet, he can click on the installed course app.
He'll put in his password, and then he will have access to his Student Home Page.
On this page, all he needs to do is click on "Work on Lesson", and it will take him to the next lesson.
Additionally, your child has other choices too.
He can view the Ebook for the course
View Gradebook
Change the course wallpaper
Choose stickers
Change the hint sound settings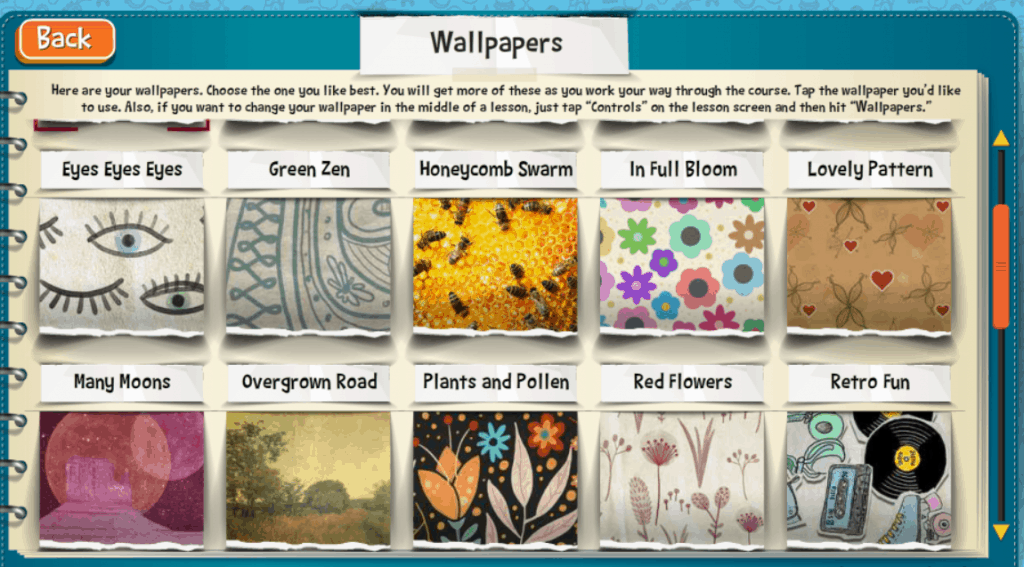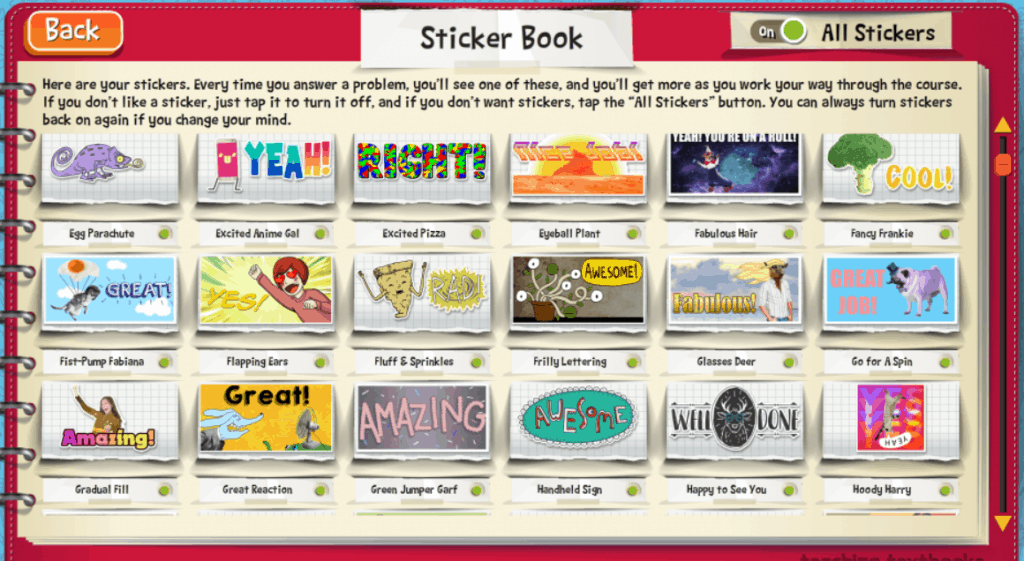 Teaching Textbooks Math 4.0 Gradebook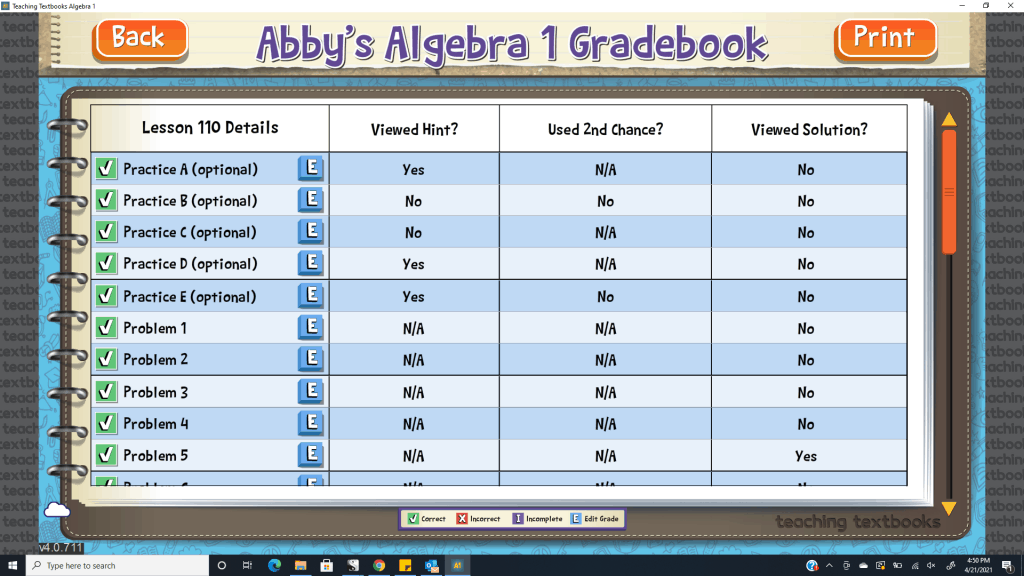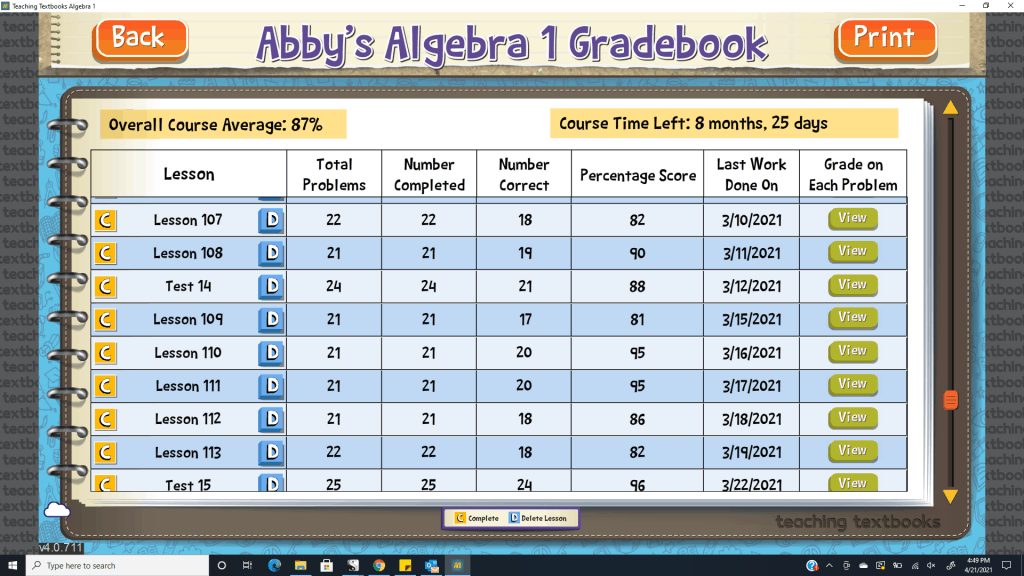 My daughter is currently doing the Teaching Textbooks Math 4.0 Algebra 1 Course.
Here on the left you can see how the gradebook is organized. If you click on "View", you will get more details about which problems were correct or incorrect, and how many times it took to get the correct answer.
The gradebook is completely printable, if you need it for your records.
I also love the fact, that Teaching Textbooks keeps an ongoing overall average score. With the previous Teaching Textbooks versions, I had to figure out the overall grade myself.
Another great feature that I've had to use, is to delete the answers to entire lessons. Under the Parent Account you have control to either delete all the answers to the entire lesson, or just to certain problems.
As we use Teaching Textbooks, we have the rule, that my kids have to come tell me if they get a lesson grade below 80. I'll go in to the gradebook and delete the answers for that lessons, and then the next school day they have to watch the lesson and do the problems over. Every single time I've done this, my child has improved, and it seems to help on the following lessons as well.
Teaching Textbooks has plenty of review problems in each lesson, but sometimes my kids just need a little extra.
Teaching Textbooks Math 4.0 Algebra 1 Coure Ebook
As my two daughters have worked with Teaching Textbooks' courses (Algebra 1 and Pre-Calculus), we have never had to refer to the Ebook for either course.
It is available for your use, however, if you would happen to need it. The pages are printable, and you can find what you're looking for either by the Table of Contents or the Alphabetical Index.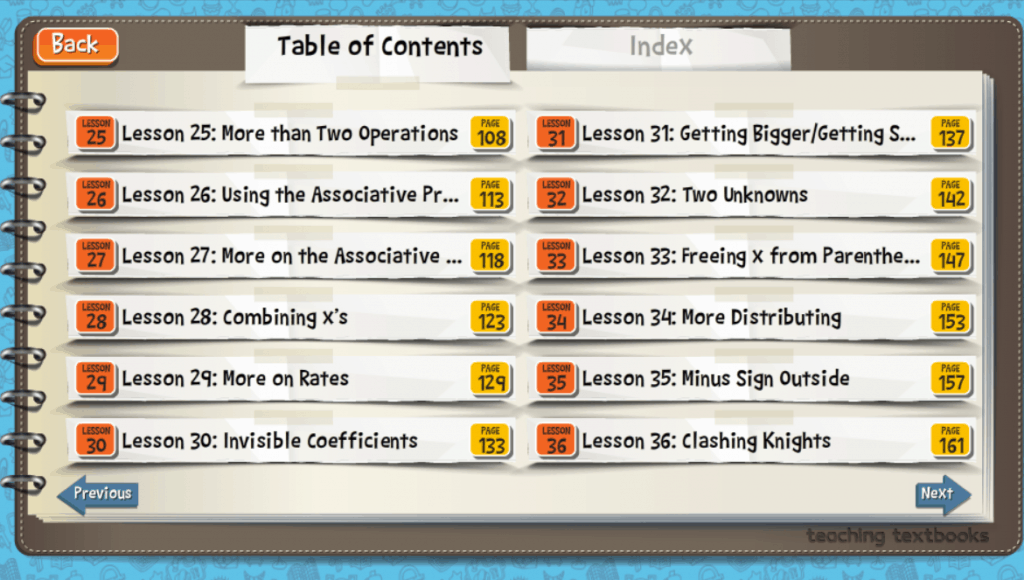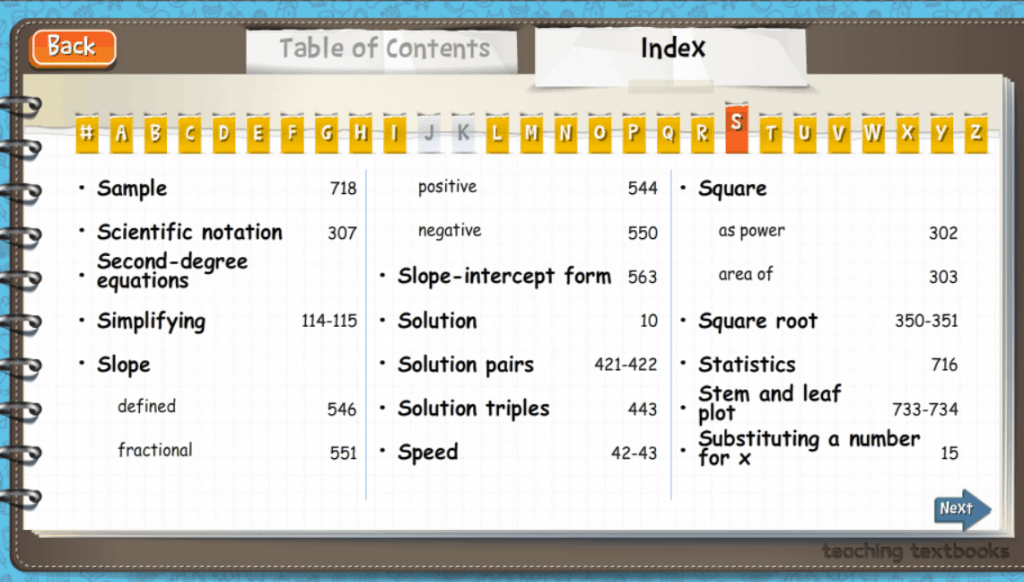 What is a Teaching Textbooks Math 4.0 Lesson Like?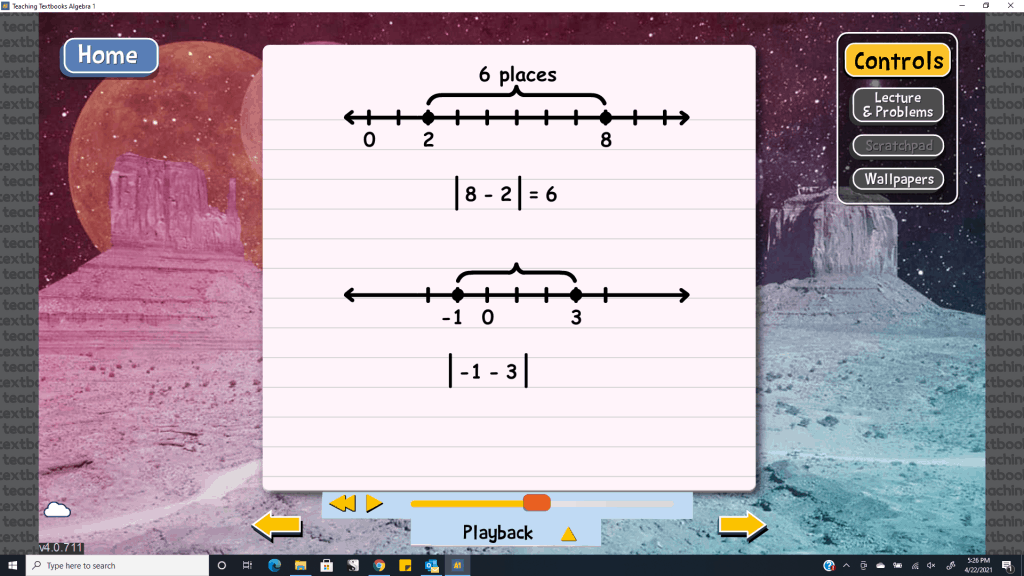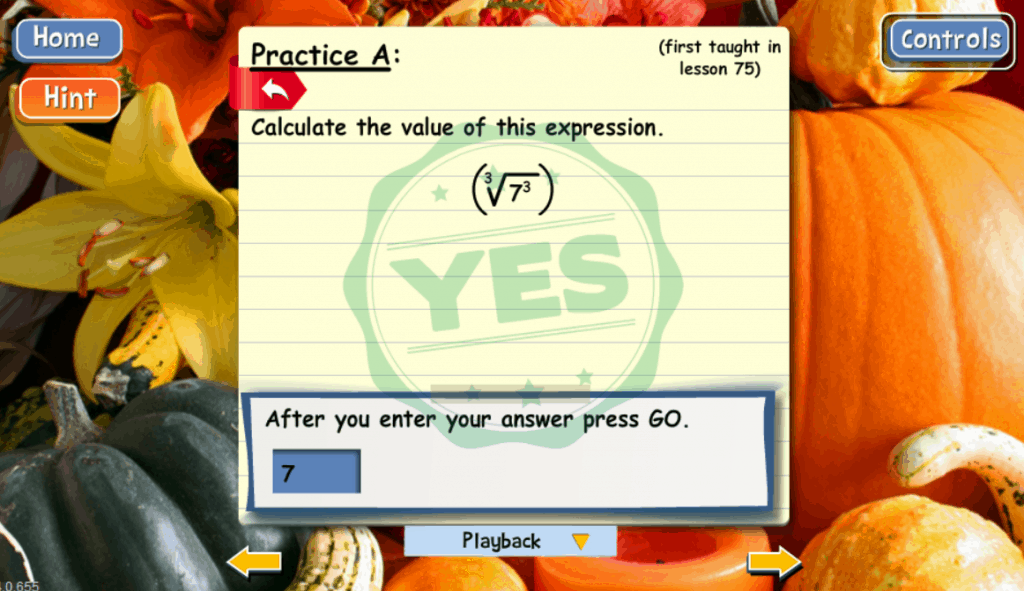 With a Teaching Textbooks Math 4.0 lesson, you do not see a physical bodied teacher. Instead, you hear the teacher speaking and the numbers and symbols show up on the digital notepaper.
The lessons are easy to understand and the math topics are introduced in easy-to-manage chunks. Teaching Textbooks makes math so much easier!
During the lesson, there are plenty of questions to keep the student engaged and motivated.
If the child answers incorrectly, the question and answer is explained in detail.
Answers to math problems are either typed in numerically, chosen via multiple choice, or answered with true or false.
After the lesson instruction is completed, there are a few practice problems, and then about 25 problems that consist of review problems from previous lessons, and from the current day's lesson.
Depending on the preferences that the parent makes for the student, the child can have second chances to answer correctly, and also hints from their little "digital buddies".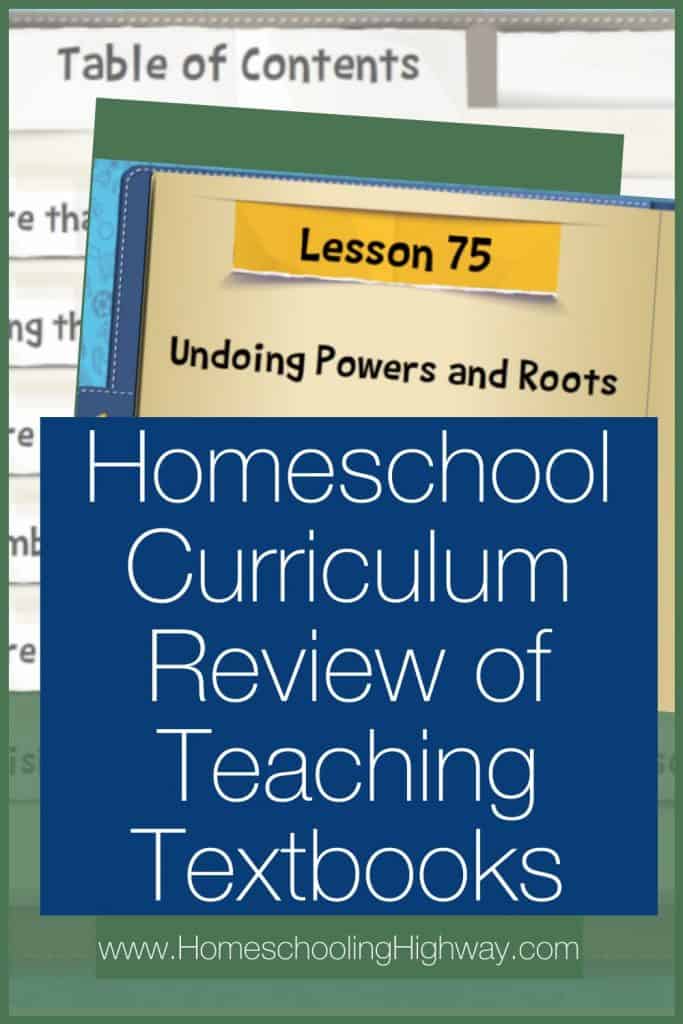 If the child gets the second attempt wrong, they can watch and listen to the teacher go over how to do the problem correctly. I love the fact that instant feedback is given for every problem. If a child does one type of problem wrong at the beginning of the lesson, and then watches/listens to the teacher's explanation, the child can than get similar problems correct in the rest of the lesson.
When I used other math curriculum in the past, my poor son would do an entire math lesson of 30 problems, and when he was finished, I would check his answers. Unfortunately, math didn't come easy for him and there were times when we would both be surprised by the amount of problems that were incorrect. It was just so discouraging.
What my Kids like about Teaching Textbooks Math 4.0
My kids love Teaching Textbooks; we've used their curriculum for the past five years.
Here's what they like the best:
They can change the wallpaper whenever they want
They can change their hint buddy
They can see their grade on the lesson while they are doing the lesson
No textbook to carry around
Math is done on the computer with fun noises and animations
What I like about Teaching Textbooks Math 4.0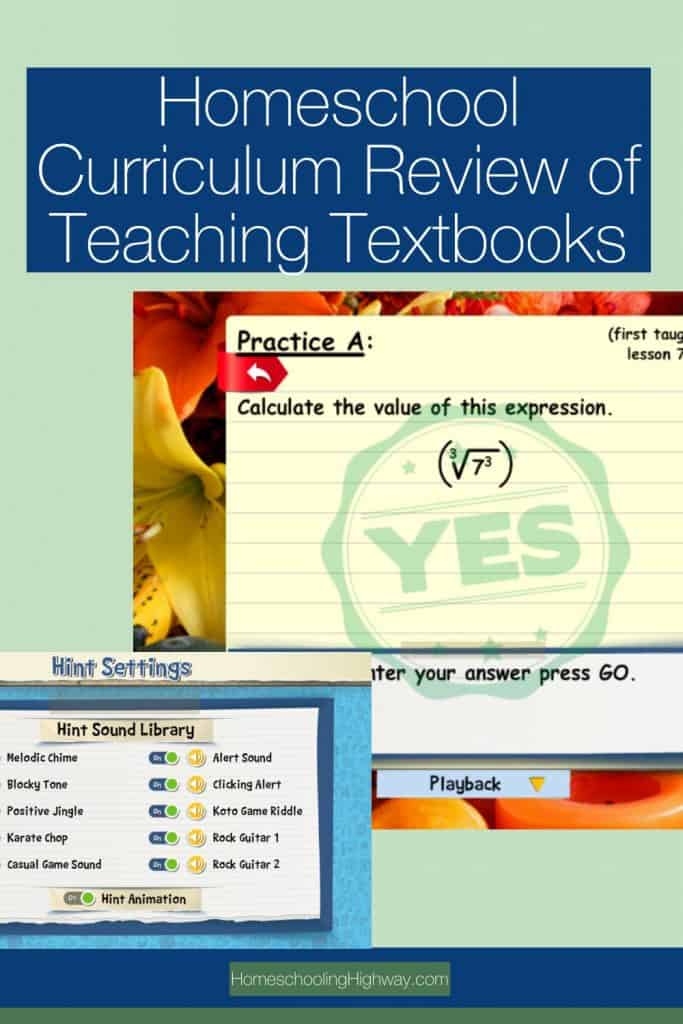 There are a lot of great things about Teaching Textbooks Math 4.0 that I like:
Printable gradebook
Gradebook shows the ongoing overall average score
Gradebook accessible for life
Parent can delete lesson or problem answers
Grading is done by Teaching Textbooks
Plenty of review
The kids think it's fun
Audiovisual solutions available for every single math problem
Interactive math lessons that keep kids engaged and motivated
Able to watch the lesson over as many times as needed till the child understands the concept
Would I recommend Teaching Textbooks Math 4.0? You betcha! I give it five stars, and I am sticking with Teaching Textbooks for the rest of my children's homeschooling. (I'll also be recommending it for my grandchildren!)
Follow Teaching Textbooks on Social Media
Facebook: https://www.facebook.com/Teachingtextbooks
Twitter: https://twitter.com/TThomeschool
Instagram: https://www.instagram.com/teachingtextbooks/
YouTube: https://www.youtube.com/channel/UCVlomrjY7xTs2cRxSsuKCrw
Read more Reviews from the Homeschool Review Crew
If you would like to hear what other homeschool mom bloggers are saying about Teaching Textbooks, just click on the banner image below.
Get Notified About New Reviews
Are you interested in reading about new homeschooling curriculum, books, products or games? If so, just fill out the form below, and I'll be sure to add you to my list.