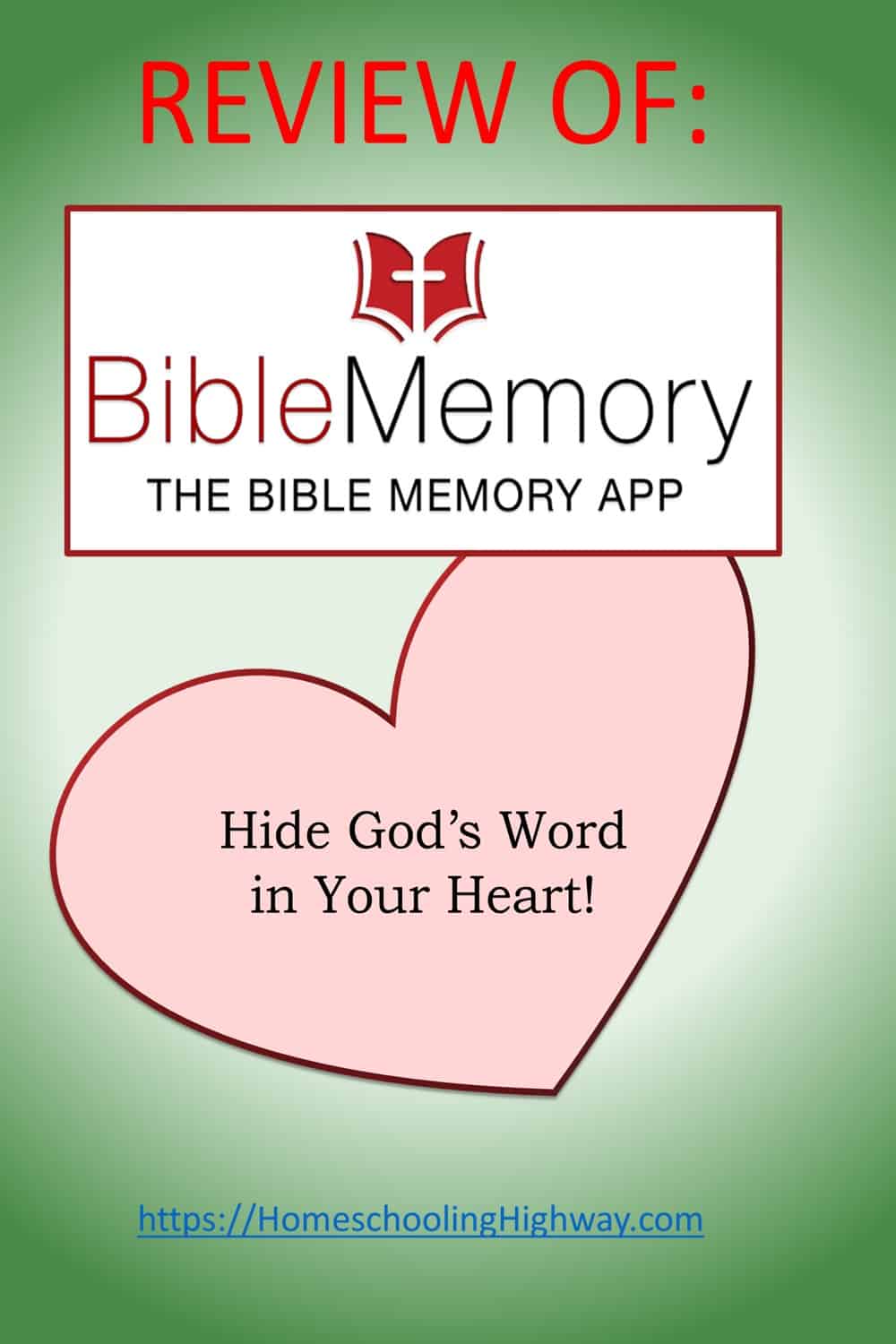 I received this complimentary product through the Homeschool Review Crew.
Being on the Homeschool Review Crew, my daughter and I had the opportunity to use and review The Bible Memory App – the Bible Memory Pro edition, from BibleMemory.com.
By using this app, memorizing Bible verses is easy, quick, and fun.
Setting up Bible Memory Pro
Setting up my Bible Memory Pro account was easy on BibleMemory.com.
The KJV edition of the Bible is already available when you set up your account. There are other Bible versions you can choose from too.
Amplified Version
Christian Standard Bible
English Standard Version
Holman Christian Bible
New American Standard Bible
New International Version
New King James Version
New Living Translation
Reina Valera
Once I created my account on my personal computer, I downloaded the app from the Google Play Store.
The app is free and all I had to do was sign in. My android phone and pc synced right up.
Once I was done setting up my own account, I could set up my daughter's.
I had to use her email address to set up her account. She only has a personal computer, so all she had to do was log in on Biblememory.com.
With the Pro version, you can have an unlimited amount of accounts, (with different email addresses) and the one-time fee is for a lifetime. That's really nice of BibleMemory.com to work it this way for their customers.
Getting Started with Bible Memory Pro
Step One: Choose your verse(s)
It's hard to choose a Bible verse to memorize without some sort of starting point, so BibleMemory.com makes it easy by giving a list of topics to choose from.
Top 100 Verses
Birth to Youth
Books of the Bible
Comfort in Sorrow
Creation
Eternal Life
Faith
Fellowship
Financial Provision
Forgiveness
Freedom from Sin
Giving
God the Father
God's Plan for Me
God, My Refuge & Fortress
God, Who Knows my Heart
Good Works
Healing
Health
Heaven & The Kingdom
Hope
Instruction
Instruction for Children/Youth
Instruction for Parents
Jesus
Jesus Saves
Long Life & Old Age
Love
Love God
Marriage
Parents
Peace
Praise
Prayer Promises
Prayer Teaching
Prayers of the Apostles
Promises
Protection
Relationships
Salvation
Share the Gospel
Spiritual Growth
Strength
The 10 Commandments
The Armor of God
The Beatitudes
The Holy Spirit
The Lord is My Shepherd
The Lord's Prayer
The Love Chapter
The Proverbs 31 Woman
The Word
Times of Trouble
Trust
Verses for Children
Wisdom
Work
This is an excellent way to get started memorizing Bible verses, but I did notice that some of the topics did not have the verses connected with them.
For example, The Lord's Prayer had zero verses, The Beatitudes only listed two verses, The Lord is My Shepherd only had one verse, The Armor of God only had one verse, and The Proverbs 31 Woman didn't have any verses connected with it.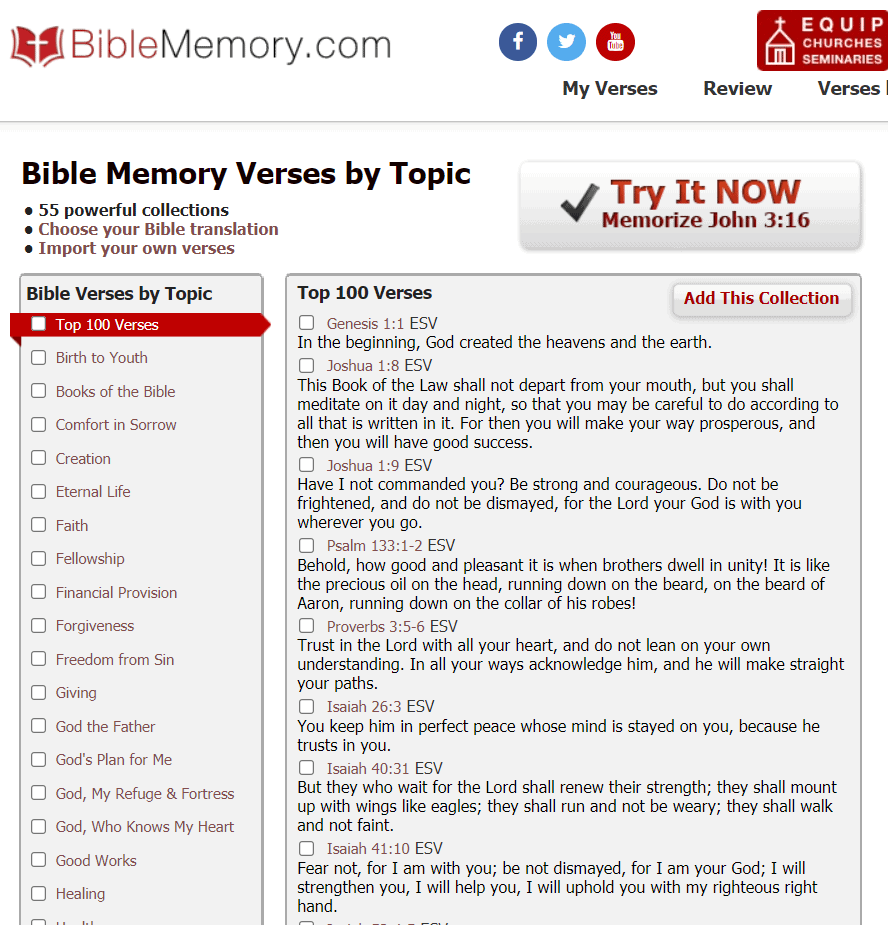 There is a way around this and that is to add the verse(s) manually to your Bible verse list. BibleMemory.com lets you create your own collection and name it what you want.
Just put in the reference and the verses that you want for the collection and press the "import verses" button. The verses come right up, and then your collection gets added to your list of verses to memorize under the collection name that you gave it. Easy Peasy.
What Should I Memorize?
Memorizing Verses by Topic
Memorize by Reference
Memorize by Chapters
Step Two: Memorize Bible Verses with Different Learning Methods
Memorize Bible Verses for Kinesthetic Learners
Anyone that enjoys using a keyboard will enjoy the typing aspect of the Bible Memory Pro app.
You can set up your preferences in a couple of different ways so that your typing and learning feels natural for you.
Memorize Bible Verses in Three Easy Steps
You can just type the first letter of each word,
You can type the entire word,
You can type the entire word and all the punctuation and complete reference.
When my husband tried it, he just typed the first letter of each word, but that didn't work well for him. His brain just doesn't think that way. He did much better typing the entire word.
For me, I enjoy the entire word too, but being the over achiever, I set mine to get the punctuation correct too. Let me tell ya, it's really hard!
Of course, my daughter did fabulous with just the first letter of each word. To each his own, I guess.
BibleMemory.com has a great way to get you to memorize the Bible verse.
First, they give you the entire verse. You just type what you see, according to the preferences you set.

Second, they take away some words. You have to type what's there plus the missing words. If you get too many wrong it has you practice it again. The missing words change, so it's good practice.
Once you get your missing words conquered, they take away everything! It was really challenging to remember the words and reference, plus the correct punctuation marks throughout the verse.
The default setting is 90% accuracy to pass, but you can change this in your settings.
Also, you can set your typing and recall to be for accuracy or accuracy and speed. It keeps your words per minute score so you can try to beat yourself.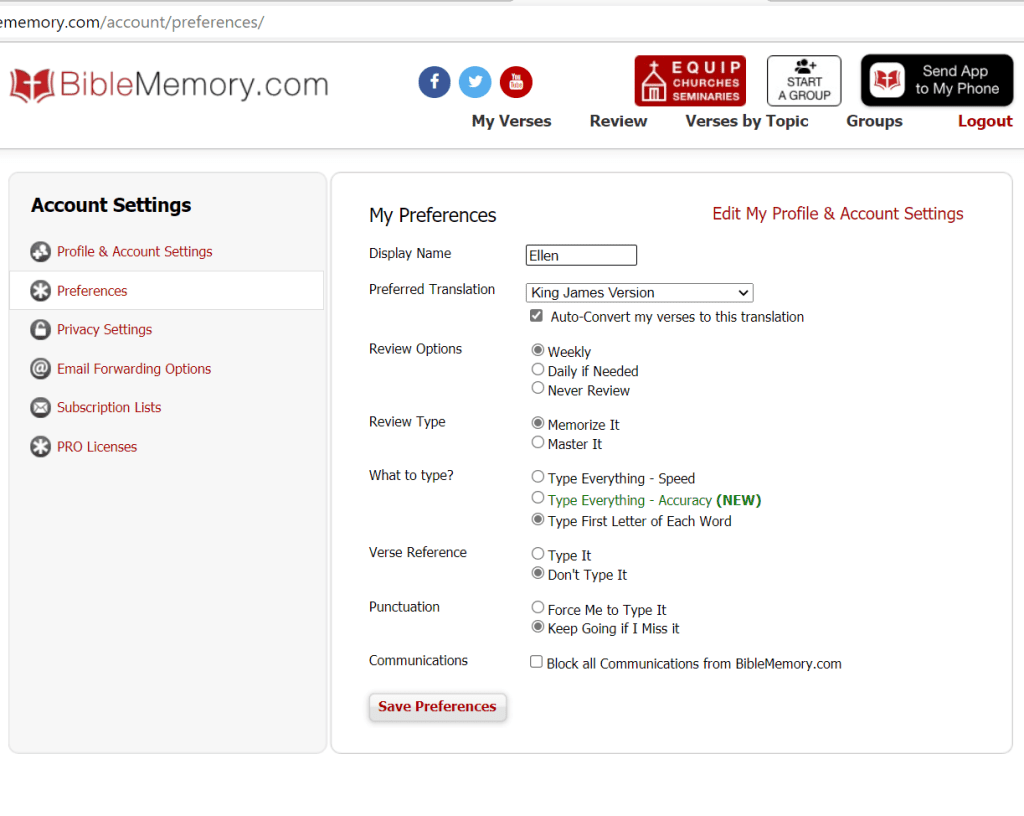 Memorize Bible Verses for Auditory Learners
If your child is an auditory learner, you can have your child record their own voice while reading the verse. Or if your child has trouble reading, then you can read and record it for them.
How about a song? You could make your own little jingle, record it, and memorize the Bible verse by singing along.
Memorize Bible Verses for Visual Learners
If you have a child who enjoys drawing or writing notes to help in memorizing, the Bible Memory Pro app allows that too. You can draw in different colors with different size points, and the app keeps your drawing with the Bible verse that you specify.
When you go to practice that verse, it will bring up your drawing or your note that you wrote to yourself.
Adding a New Verse
Organize Your Verses
Your Verses Marked
Step Three: Review Your Bible Verses for Long-Term Retention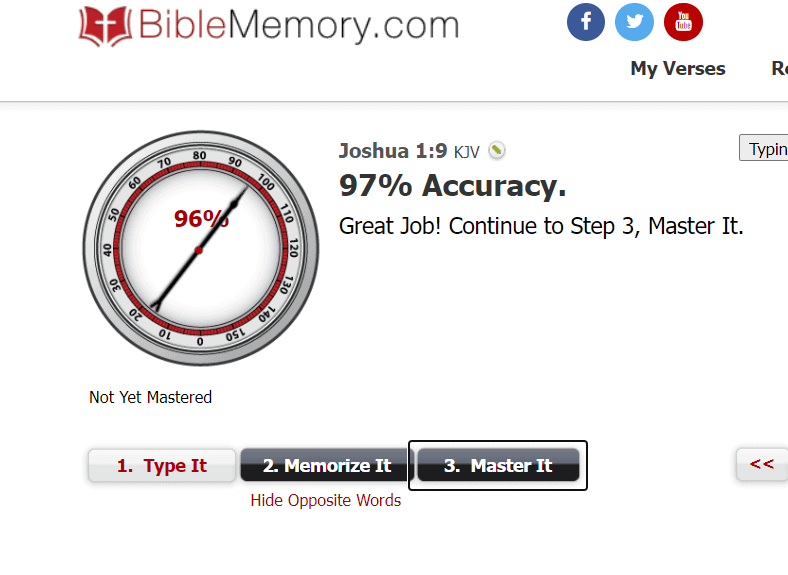 I love BibleMemory.com's Smart Review System.
You get to choose the maximum frequency of how often to review your mastered verses.
There are plenty of options to choose from. The range is anywhere between daily; every 2, 3, 4, 5, 6 days; weekly; every 2, 3, weeks; monthly; every 2, 3, 4, 5, 6, 7, 8, 9, 10, 11 months; yearly, or not at all.
As you do well reviewing your mastered verses, the review interval increases so that you don't have to review that particular verse as much as other verses that you may not have mastered for long-term retention.
Step Four: Study Your Bible Verses for Personal Applications
Another interesting detail that BibleMemory.com has added is the ability to search for information on particular words in your verse that you are memorizing.
For example, when I was memorizing the first chapter of Genesis, I was able to go into the verse editor and type in the word "created". When you click on the button that says "Search BibleGateway.com" it open another window to give you information and other verses that contain your special word in it.
This would be a great way to create your own collection of verses for your kids on other topics that you think of.
Step Five: Collect Your Bible Memorization Badge
BibleMemory.com gives out little badges for different verses you memorize as well as for different things you do with your account.
You can get a badge for organizing your verses, making a new collection of verses to memorize, recording a verse, using the flashcards, reviewing verses, and more!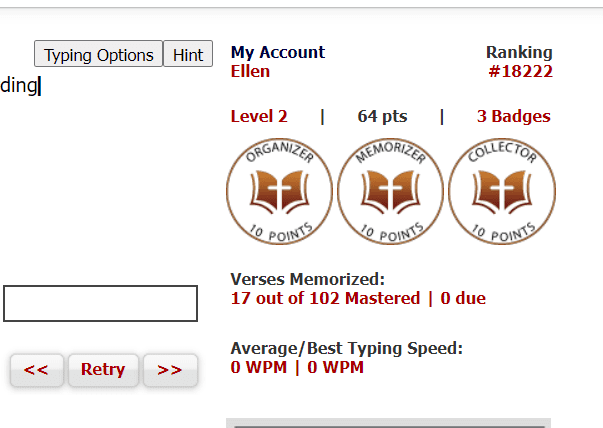 Step Six: Join a Group and Stay Accountable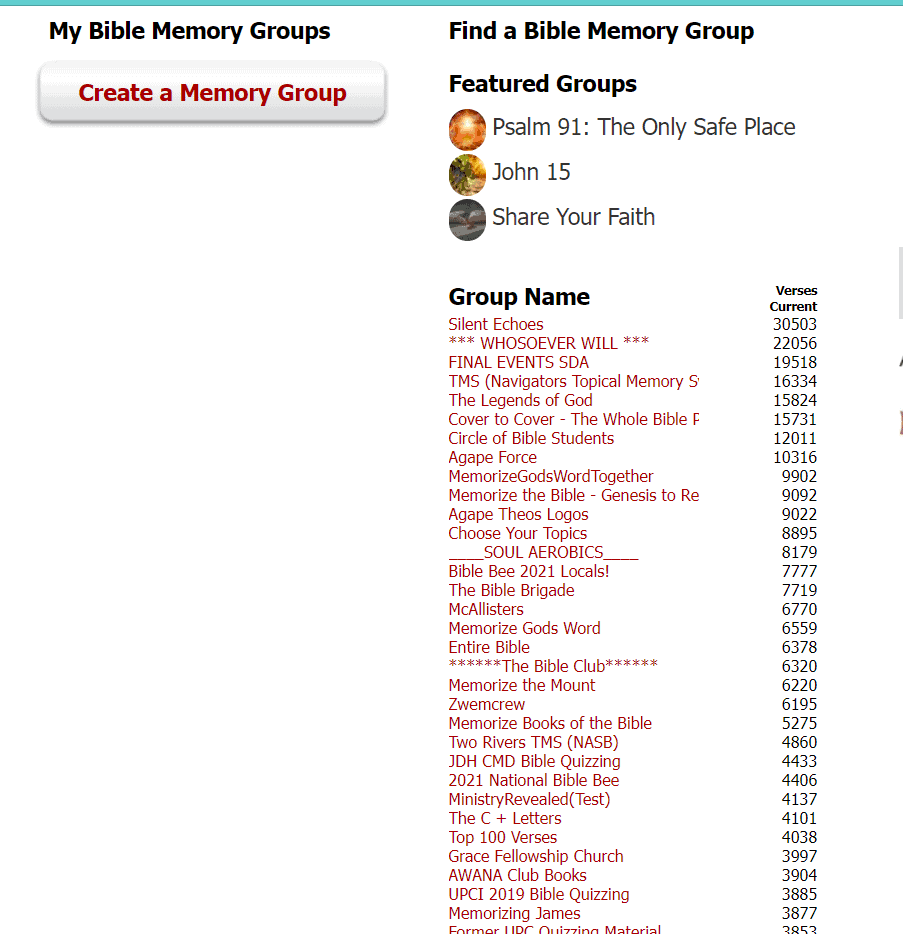 BibleMemory.com wants you to be successful and hide God's Word in your heart. They give you the option to join in with groups that already exist, or you can create your own group.
We didn't join any groups for this review, but I would imagine that if you used this app with a class of teenagers, and everyone had access to the app, that the kids would do well competing against each other to see who could memorize the most verses.
When you set up your account, you give BibleMemory.com your email address. Not only does this help in identifying your personal account, but you receive emails when you get behind on your reviewing.
It's just enough of a nudge to remind you to open that app up and spend just a few minutes memorizing Bible verses.
Final Thoughts About Bible Memory Pro
I would highly recommend Bible Memory Pro from BibleMemory.com.
With the gamification and all of the preferences that you can set to suit your own taste, memorizing Bible verses is quick, easy, and fun.
Follow Bible Memory on Social Media
Facebook: https://www.facebook.com/BibleMemoryApps/
Twitter: https://twitter.com/biblememoryapps/
#hsreviews #BibleMemory
Read More Reviews About Bible Memory Pro
Get Notified About New Reviews
Are you interested in reading about new homeschooling curriculum, books, products or games? If so, just fill out the form below, and I'll be sure to add you to my list.