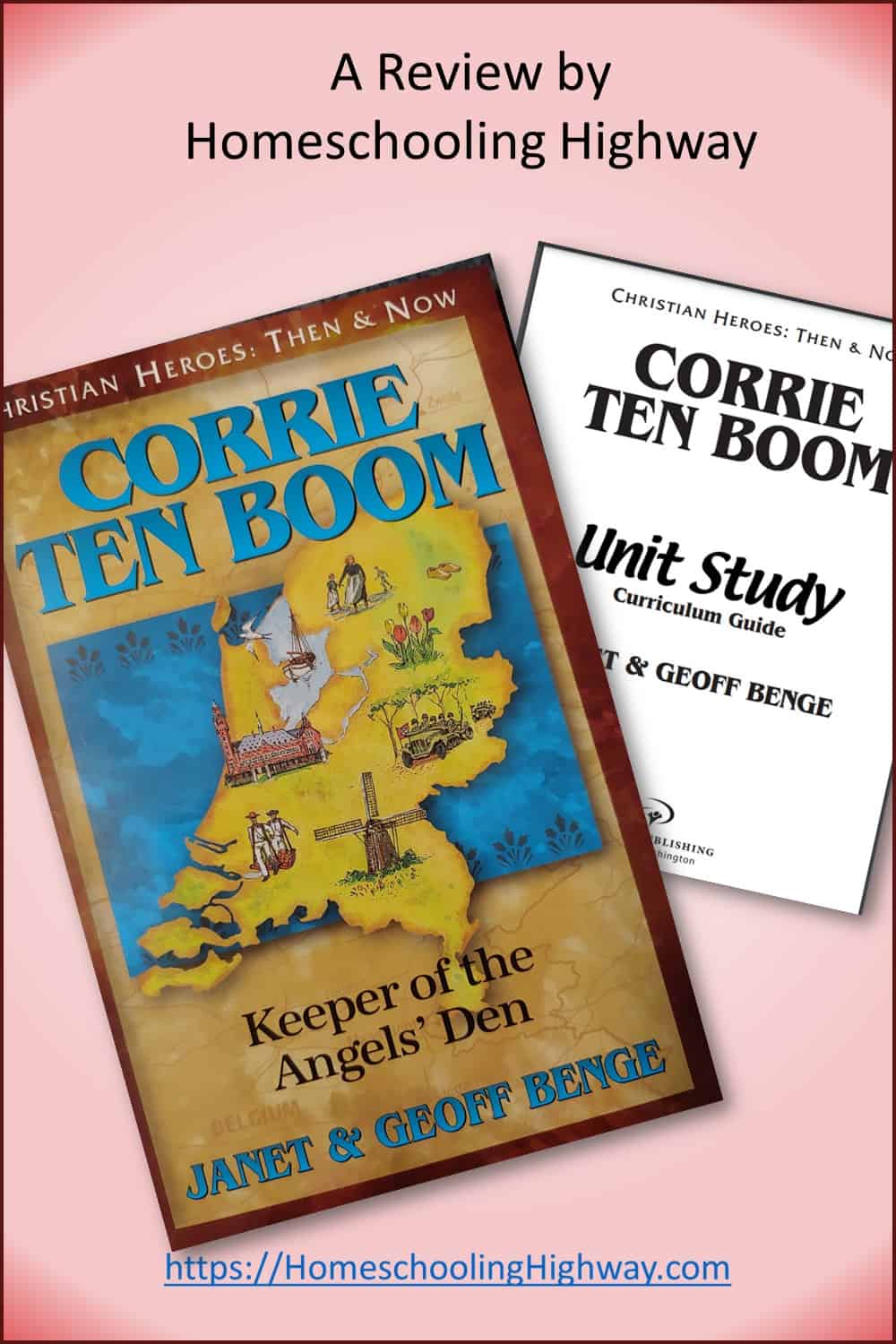 I received this complimentary product through the Homeschool Review Crew.
My family and I love this entire series, and because we love them so much, I want to share this book and others from YWAM with you. If you decide this book or series is something you are interested in and you purchase from YWAM through my link, I'll get a small commission. Thank you very much.
War. It's all you hear about these days. Turn on the news and you see the pictures of destruction, sadness, loss, and fear. But you also see people who are filled with love, peace, and hopefulness.
In some of the worst circumstances, we see the love of God shine through His people. Christians show the light of love to other people that are hated by the enemy.
In Corrie ten Boom: Keeper of the Angels' Den, we see how God can use ordinary people in extraordinary ways.
The ten Boom family showed the love of God to the Jewish people during WWII. They were willing to do whatever necessary to help these people that were facing the attacks of Hitler.
Did the ten Boom family have to put their lives at risk to help Jews? No, but they did it anyway, and this is the story of Corrie, daughter of Casper ten Boom, a clockmaker in Haarlem, Holland.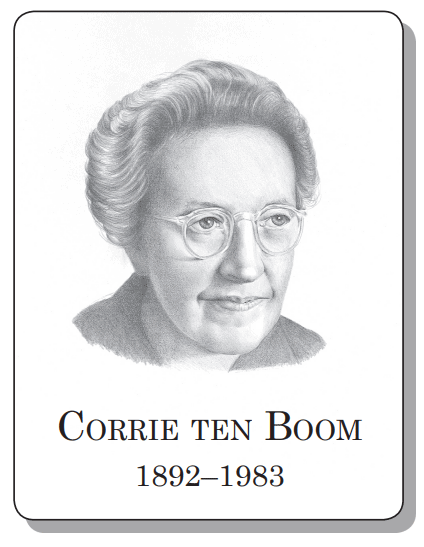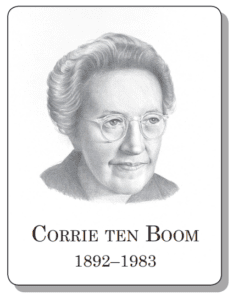 Corrie's life was one of hardships, but she was brave through it all and she wanted to teach us that God loves us.
Corrie would encourage her family and those around her by saying, "There is no pit so deep where God's love is not deeper."
Because of God's love, Corrie also taught, that we can have compassion towards our enemies and forgive those that hurt us.
Corrie also teaches us to be thankful. We take so much for granted, and I was struck by how Corrie learned to be thankful for everything.
I'm not going to give you all the details of Corrie's life. What I will do is list words that will hopefully pique your interest enough to read her story and share it with your children.
disguise
darkness
alone
handcuffs
hiding
sick
labor
train
smuggle
death
inspection
curfew
siren
concentration camp
air battle
ants
lice
fleas
Bible study
freedom
Unit Study Curriculum Guide
YWAM Publishing has compiled a 75-page unit study guide accompanying Corrie ten Boom: Keepers of the Angels' Den.
The Unit Study Curriculum Guide gives plenty of activity ideas that can be used for a wide range of grade levels and abilities. The activities contain plenty of ideas that would interest any child's learning style.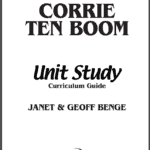 These activity ideas can filed under these subject areas:
History
Geography
Essay Writing
Creative Writing
Reading Comprehension
Public Speaking
Drama
Art

This guide includes twelve sections:
Introduction
Key Bible Verses
Display Corner
Chapter Questions
Student Explorations
Community Links
Social Studies
Related Themes to Explore
Culminating Events
Books & Resources
Answers to Chapter Questions
Social Studies Reproducibles
Key Bible Verses
Four Bible verses are given in KJV and NIV. The study guide gives ideas on memorizing, discussing the meaning of the verses, using the verses as devotionals, and display ideas.
The verse vary in length and you can choose the ones you want your child to memorize or pick your own.
The theme of the verses go along with themes found in the novel.


Display Corner
The Display Corner section gives you a large list of ideas to create your own collection of objects from the novel's time period, events, and theme. Each child is encouraged to label their object with pertinent information that pertains to the novel.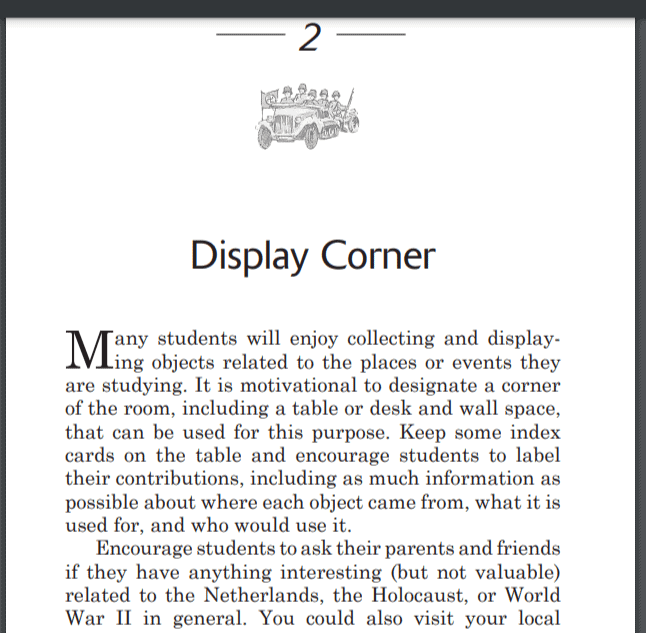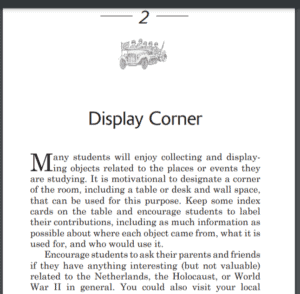 Chapter Questions
Six questions are given in the study guide for each chapter in the novel. They include:
1 vocabulary question
1 fact question
2 comprehension questions
2 open-ended or opinion questions
The answers are found at the end of the Study Guide.
Student Explorations
The Student Exploration section gives you a ton of ideas centered around different learning styles and levels of abilities. These ideas consist of:
Essay questions
Creative writing
Hands-on projects
Audio/Visual projects
Arts/Crafts
Language examples
Community Links
Community Links help you to have a successful field trip or in-classroom visitor. The study guide walks you through three steps and also gives you a list of field trip ideas that go along with the novel.
Social Studies
The Social Studies section is divided into four categories:
Places – A list of places are given in the study guide that go along with the novel, as well as ideas on what to do with these place names.
Terms/Vocabulary – This is a long list of terms that will help your child comprehend the story better.
Geographical Characteristics – This is a list of additional places around the setting of the book, that are not mentioned in the story, but are still important places. Ideas are given here, too, to help you know what to do with this information.
Conceptual Questions – These questions are listed from the most simple to more complex. Ideas are given to use these Social Studies questions as starting off points for different things that your child can do, research, and/or share about.
Related Themes to Explore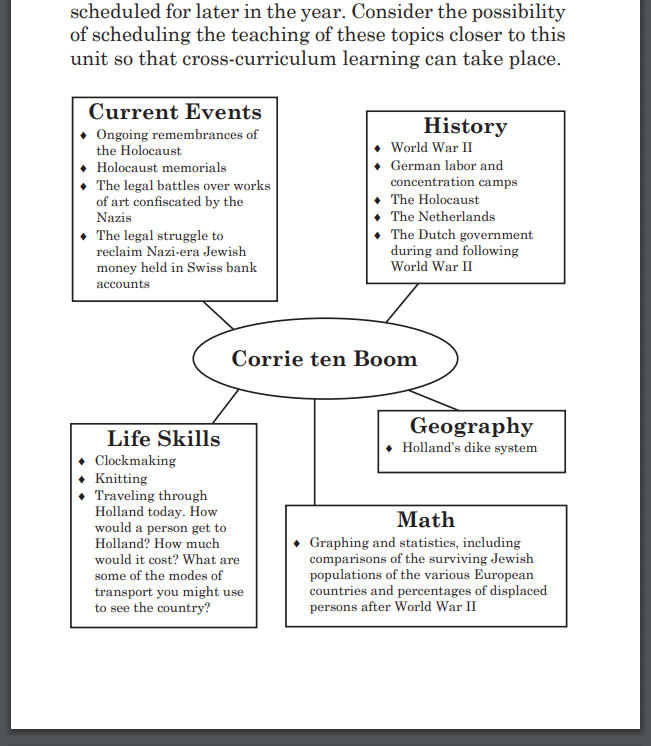 The Related Themes to Explore section takes you further in your studies with the smaller themes in the story.
A spoke diagram starts you off by breaking down ideas into different categories:
Current Events
History
Life Skills
Geography
Math
Culminating Event
The Culminating Event marks the end of the study and gives a sense of closure. Plenty of creative ideas are given so that your family can share what has been learned with other family members or neighbors.
Books & Resources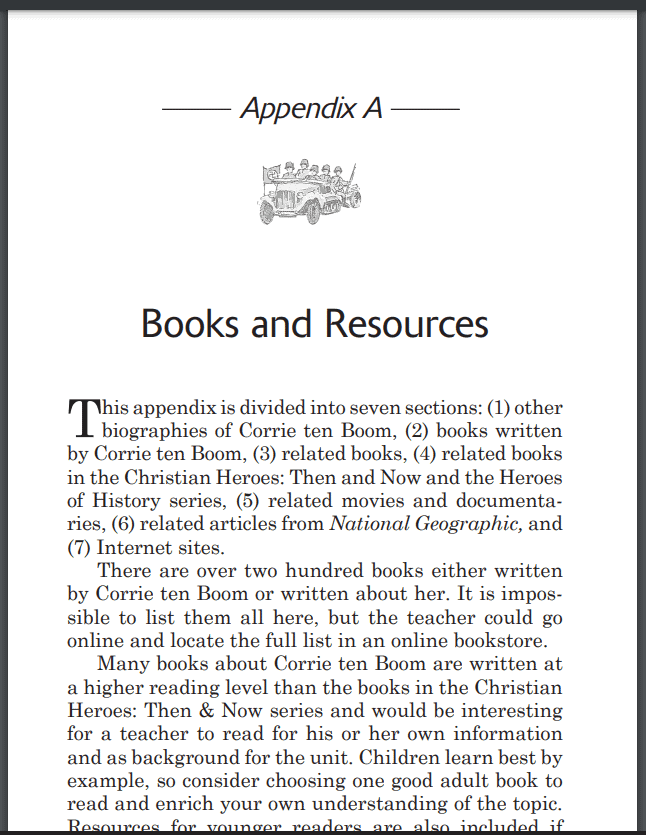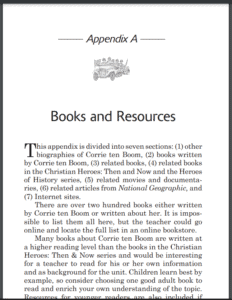 YWAM Publishing is nice to give us information where we can read more about Corrie ten Boom and other Christian Heroes. This section is divided into these categories:
Other biographies of Corrie ten Boom
Books written by Corrie ten Boom
Related books
Related books in the Christian Heroes: Then and Now and the Heroes of History series
Related articles from National Geographic
Internet sites
Reproducibles
Four pages of reproducible sheets are given in this section. They consist of coloring pages of maps and flags, as well as a country information sheet to fill in.